At the 30-game mark, the Vancouver Giants have an 11-14-3-2 record. They have had a tough stretch over their past ten games with a 4-5-1 record but were able to beat Portland and Kamloops along the way. Here are some players that have stepped up over the first 30 games.
MVP: Samuel Honzek
Samuel Honzek has emerged as not just a star for the Giants but a star across the league. His 41 points in 30 games are top amongst rookies, and he finds himself in the top 10 for points across the WHL. He was also invited to participate in the 2023 Top Prospects Game and is projected to be named to Slovakia's World Junior team for this year's World Junior Hockey Championship. If he gets named, it will mean Vancouver needs to fill a big hole, as he has been their best player this season.
Best Defenceman: Mazden Leslie
Leslie continues to be strong on the blue line and is now up to 26 points in 30 games. The 2023 NHL Draft prospect is getting better defensively as the season progresses and has found some good chemistry with Brendan Pentecost. With Zack Ostapchuk and Honzek gone for the next few weeks, watch for him to step up his game and try to produce offence from the point.
Unsung Hero: Jaden Lipinski
Jaden Lipinski may not be eligible for unsung hero soon as more and more eyes are starting to focus on the Arizona native. He was recently named to the Top Prospects Game and has been a rock for the Vancouver Giants all season. He will have elevated minutes over the next few weeks, and a strong showing from now until the beginning of January could shoot him up team's draft boards ahead of the 2023 NHL Entry Draft.
Best Performance During Last 10 Games: Zack Ostapchuk vs Kamloops
On December 13th, Ostapchuk put on a show versus the Kamloops Blazers with four assists, six shots on net and a shootout goal in a 6-5 come-from-behind win. While he didn't score, he helped the Giants erase 2-0, 3-2, 4-3 and 5-4 deficits with his four primary assists. The captain stepped up when his team needed him most and put on one of the performances of the season.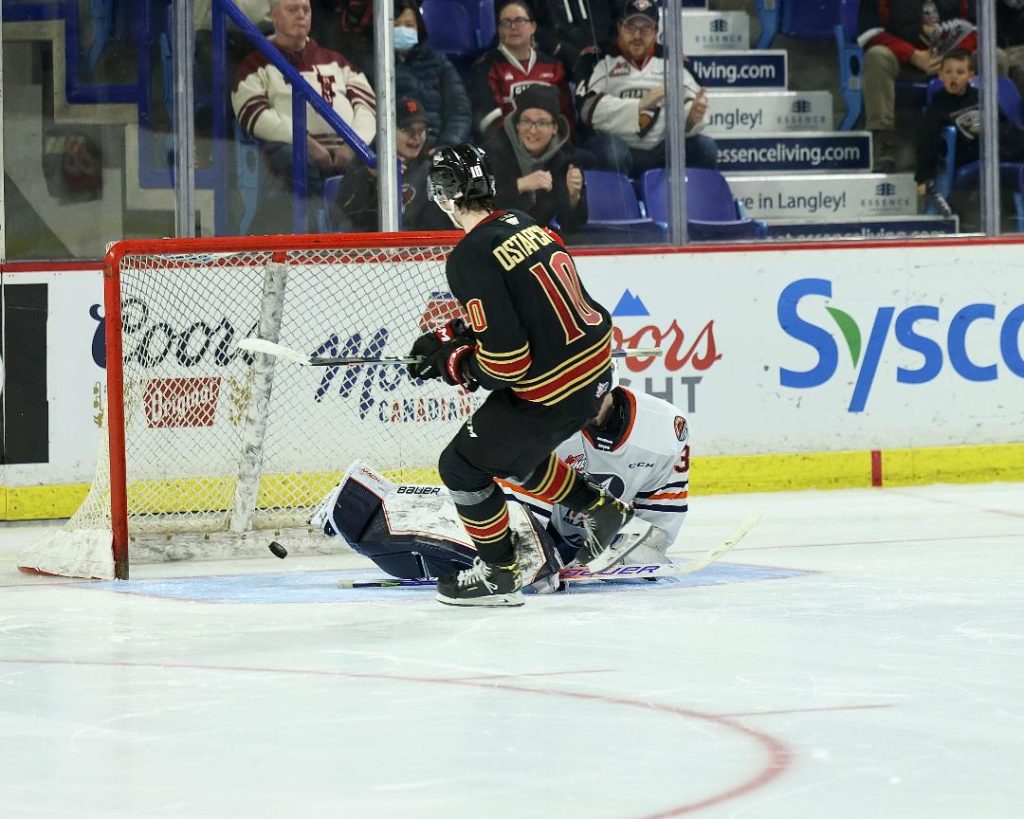 This was an important win on a couple of fronts. The first reason is Vancouver has had a difficult time beating Kamloops, having only won nine times in their last 31 regular season attempts. The other is that the Giants needed the points as the playoff picture is starting to take form, and they want to avoid clinching on the last day like last season. Either way, it was a great early holiday present for the fans.
Player Spotlight: Dylan Anderson
Dylan Anderson has been exactly what the Giants needed since his arrival. He is a steady defender that doesn't make too many mistakes in his own end and has created a strong partnership with Carson Haynes. While he does not score many goals, the Langley native did score the Teddy Bear Toss goal launching over 7,000 bears onto the ice at the Langley Events Centre. A player who does not get the spotlight has already proven to be a strong acquisition for this team.
That will do it for the Giants' 30-game update here on the Area 51 Sports Networks. Make sure to keep your eyes peeled right here as we bring you the best WHL coverage all throughout the season.