The WHL regular season is coming to a close with teams jostling for position. So far, five teams have punched their ticket to the postseason with the remaining five battling for the last three spots. While there is still a month to go, here are the first round playoff matchups as of March 7th, 2022 with some projections.
1) Kamloops Blazers vs 8) Spokane Chiefs
Season Series: Kamloops 2-0
The projected BC Division champions are projected to faceoff against the Spokane Chiefs in the first round. These two teams made a huge trade at the deadline as Luke Toporowski was sent to Kamloops in exchange for Nick McCarry and a second round pick. This series will be the perfect opportunity to see who really won the trade as both players have been driving forces for their new teams. While Spokane has been playing well recently led by some spectacular play by goaltender Mason Beaupit, it is hard to picture them pulling off an upset over a team that is the favourite to make the WHL final. That being said, don't be surprised if Spokane call steal a game and keep games close.
Projection: Kamloops Wins 4-1
2) Everett Silvertips vs 7) Prince George Cougars
Season Series: Everett 4-0
Just like Kamloops, Everett is a dangerous team that can beat teams in a number of ways. Whether it is by six goals or one, they find a way to win and have been a constant in the CHL Top 10 all season. The only way Prince George pulls off the upset here is if Braden Holt and Koen MacInnes forget how to play goal. It will be exciting to see what Prince George rookies Koehn Ziemmer, Riley Heidt and Flyers prospect Ethan Samson can do in the playoffs, but Everett should take care of them easily to move onto the second round.
Projection: Everett Wins 4-0
3) Portland Winterhawks vs 6) Vancouver Giants
Season Series: Vancouver 2-0
The Portland Winterhawks have had trouble with the Giants so far which could make this an interesting series. This will be an exciting goaltending battle as Taylor Gauthier will go up against Jesper Vikman. In the end though, Portland is the stronger team and are arguable the hottest in the CHL since acquiring Gauthier from Prince George. Can this Giants team pull off an upset, possibly, but based on how Portland is playing recently, they should be able to wrap up the series in six games.
Projection: Portland Wins 4-2
4) Seattle Thunderbirds vs 5) Kelowna Rockets
Season Series: Seattle 3-1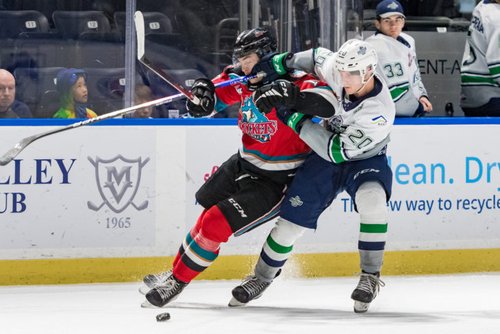 This series has game seven written all over it. These two teams are evenly matched and are only separated by one point in the standings. They both have strong top-six forward groups, strong defensive units and goaltenders that can steal games. The difference maker however will be Kelowna's Andrew Cristall. The 16-year-old is on fire and will play a massive role in the playoffs for the Rockets. If he plays as projected, Kelowna will pull out a series win in seven and move onto the next round.
Projection: Kelowna Wins 4-3