Back in December, the Vancouver Giants drafted 6'2", 180 pound defender Colton Roberts with the 11th pick in the WHL Prospects Draft. The Ridge Meadows, BC native had been playing with the Delta Academy at the time and was excited to be selected by his home town team.
"It was probably one of my number one choices." said Roberts. "I didn't want to move to far from home and I heard really good things about the organization. Now, I know a lot of people who come to the games and I just love it".
Growing up so close to the Pacific Coliseum meant Roberts and his family were able to attend Giants games on the regular. Although he was young, he still holds some fond memories.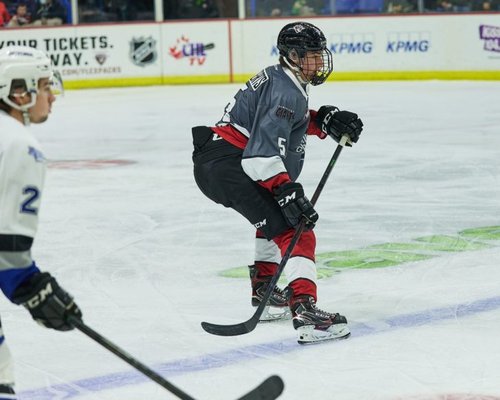 "Oh yeah! We use to live out there by the Coliseum so I've been going ever since then. Recently, my favourite Giants would be Bowen Byram. Just watching him skate and stuff like that is unbelievable."
Roberts likes to use his size and speed on the ice to make plays. As mentioned, he is 6"2 at just 15 years of age which means he has a substantial size advantage compared to most of his teammates. He tries to model his game after a mix of Shea Weber and Victor Hedman which should be exciting for Giants fans as he has a big shot and isn't afraid to play the physical style of game needed to win.
After the starting the season with Delta's U-17 team in which he put up 45 points in 31 games, he was called up to the U-18. Despite the age discrepancy, he is playing well and always improving as the team gets set for the playoffs.
"I've been trying to work really hard in the gym to get stronger so I can go harder for longer on the ice. I'm really trying to move my feet to get a little faster especially in the corners."
Roberts played so well this season he even received a call up to the Giants. So far, he has played in three games this season including his debut at home versus Victoria. He then collected his first career point a few months later in his second appearance with the club in Prince George.
"(Playing in front of family) was an unreal experience. As soon as I first stepped on the ice, I was like wow, this is crazy." "(On my first point) the puck popped out to the line and I just turned around, hit it and the puck bounced to Fabian Lysell who just popped it in. It was unreal. I didn't think I was going to get a point being a 15-year-old."
When it comes to Roberts development, it must be mentioned the time and effort Delta Hockey has put in to help him grow as a player.
"(Delta Hockey) always give us gym plans that are really helpful for those who want to make it to the next level. The trainers are always on you to succeed as they don't want you to fail. I think with them being on me, it pushes me to get better."
Roberts has the chance to be a special player for the Giants. He should get an opportunity to play with the team full time next season and should help their right shot depth with players like Connor Horning and Alex Cotton aging out this season. If his first three games are any indication, he is going to have a successful career with Vancouver.