Former Victoria Royals and Moose Jaw Warriors forward Brayden Tracey (Photo: Kavin Mistry/San Jose Sharks)
While the 2022 Rookie Faceoff in San Jose, Calif. was a first look at a lot of young prospects in six NHL organizations, it wasn't the first outing for every player. Brayden Tracey (Victoria Royals/Moose Jaw Warriors 2017-21) was one of those returning faces to rookie camp for the Anaheim Ducks, and he was excited to get the weekend rolling.
"You see a lot of good guys around here and we're just ready to come out and show what we've got. This is my third tournament now and this is the most important one to me."
With two days spent in Anaheim before heading to San Jose, Tracey and the Ducks prospects had a very short amount of time to do a lot of work. With fitness testing followed by a travel day before heading right into a morning skate and the first of three games in four days, Tracey noted that the weekend was hard on the body.
"A lot of guys are banged up and pretty sore right now, but we're just working through it. That comes with being a pro. You've got to take care of your body and take care of your hydration and things like that."
Tracey ended the weekend with two goals and eight shots between his three outings with the Ducks rookies.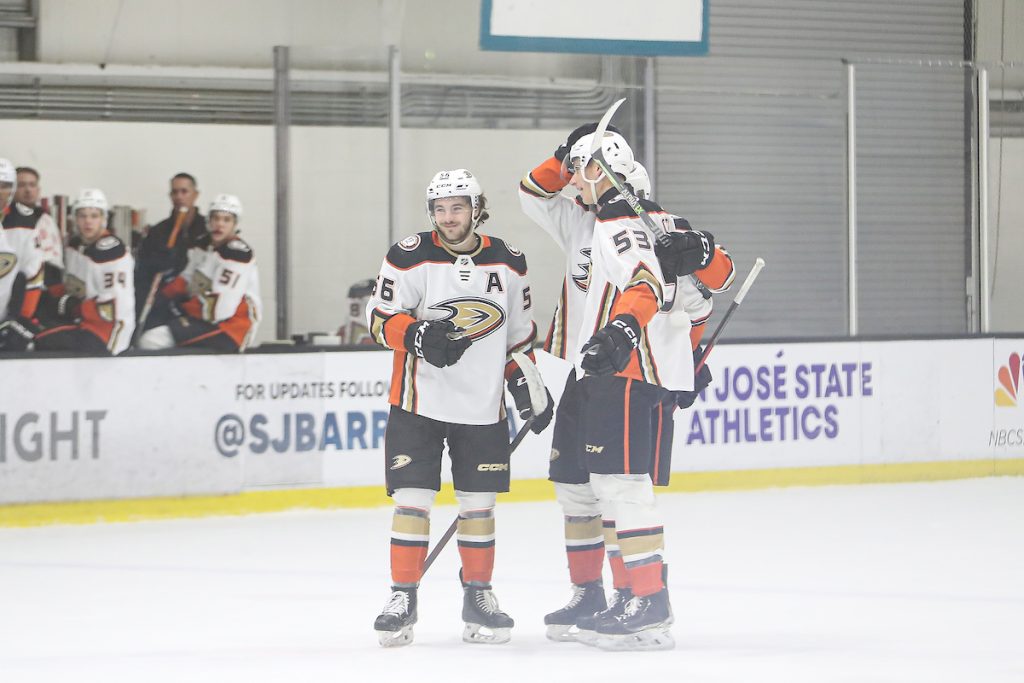 Drafted in the first round, 29th overall to the Anaheim Ducks in 2019, Tracey spent the 2021-22 season with the American Hockey League's San Diego Gulls. Coming into the new season, the 21-year-old winger is ready to show the Ducks that he's ready for the next step.
"Just the way I play," said Tracey about what he wanted to show off over the four-day Rookie Faceoff. "[The Ducks] drafted me for a reason, and I think I just have to show them that I can play that game at a higher level."
With the COVID-shortened WHL season in 2021, Tracey was able to spend 12 games with the Gulls before heading back to Victoria for his overage season. Calling the experience "huge", Tracey mentioned that his few games with the Gulls helped make the full-time transition to the pros easier, because he knew what to expect. That said, he noted that still had learning to do over the season regarding what it takes to make it to the next level.
Of course, Tracey said his time in the WHL gave him lessons that helped him comfortably make the jump as well:
"I think it's kind of cliche, but it's all those little things like speed, power, and explosiveness. For the off-ice part of things, I think it's maturity. I think it comes with a lot of maturity. You have to be disciplined. I think those are the biggest things to turn into a pro."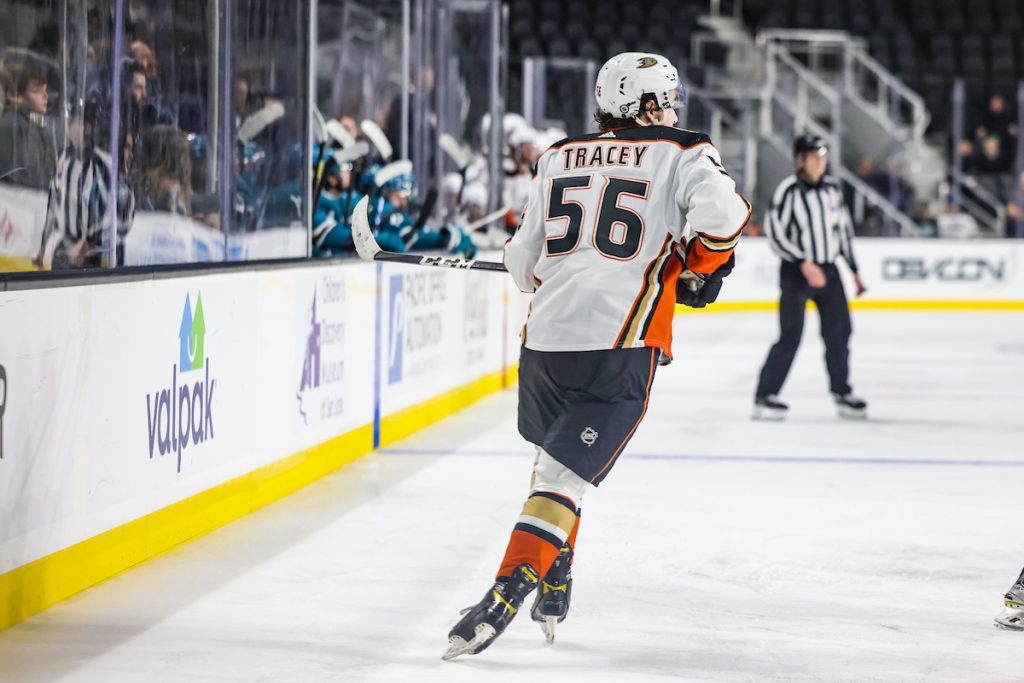 As for what he focused on over the summer, he again referenced that explosiveness in his skating, saying that is something he wants to be noticeable in his game moving forward.
"Being more explosive is only going to help me out here. I think my speed is there, but I just have to be more explosive off the start."
The 2022-23 season offers a great chance for Tracey to leave his mark, as the Anaheim Ducks organization has some new faces, including a new head coach with the San Diego Gulls in Roy Sommer.
"For a lot of [players] here, we've been here for a while but It's a good fresh start for all of us. I think Roy is a really good guy. He's shown us a lot in the last few days and we're just going to go in with [the mindset] that it's really good that everybody gets a fresh start, even with the management here."
With the Anaheim Ducks joining the San Jose Sharks, Colorado Avalanche, Los Angeles Kings, Arizona Coyotes, and Vegas Golden Knights at the Rookie Faceoff, Tracey said he was most excited to see what the Kings were bringing this season.
"I think being in Anaheim and San Diego for these last couple years, I've learned a lot that they're the rivals so I think we're looking forward to that one the most."
After spending last season playing with Jacob Perreault, Tracey said he was looking forward to taking the ice with him once again.
"We have a really good group of guys. I wish I could play with them all, so it's hard to pick out names like that. I've got a couple guys I played with last year like Perreault. He's one of my good buddies. Seeing him out here, and how much he's improved brings a smile to my face."
A Quick "Get to Know" with Brayden Tracey
Who has your favorite nickname on the team?
"I'm going to say Perreault. We just call him JP, but I don't really know how it started. We just didn't know what to call him and we just went with his initials. It sounded pretty cool, so we stuck with it.
What's your nickname?
"Trace"
(Takeaway from this: Ducks need new nicknames)
If you were a fruit, what fruit would you be and why?
"I'd probably be a pineapple because it's my favorite fruit. You gotta go with your favorite."
A Word of Advice
If he could give advice to guys in the WHL, looking to find their way into the pros, he'd tell them to just take it all day-by-day:
"Don't look too much into the future and also don't think about the past. You can't control any of that, so you just have to take it day-by-day. Keep your head up and just be positive."
However, if he could go back and give himself some advice all the way back before his first WHL game? It's all about that discipline.
"That's the number one thing. You've got to be disciplined in everything you do. To become a pro, you have a lot of responsibilities and you have to be aware of your surroundings and do the things you need to do to be the best."
That discipline and work ethic has been something that has helped Tracey stand out during his time with the Ducks organization.
For Anaheim Ducks Fans
"Be ready."