Brayden Schuurman (Photo: Jay Wallace/Victoria Royals)
*This was originally posted June 17, 2022*
Victoria Royals forward Brayden Schuurman started playing hockey when he was five years old, in his hometown of Abbotsford, BC. This summer, he's hoping to hear his name called in the NHL Entry Draft.
He's looked up to some of the NHL's best like Bo Horvat, Patrice Bergeron, and Connor McDavid and has worked to adapt aspects of their game into his own.
"Those guys have great details and habits. I think that's a big part of my game as well. Always making sure you're on the right side of the puck and then at the same time being able to put up some offence as well."
Each of those guys is exceptional to watch, but they especially stand out in the faceoff circle and that skill is something that Schuurman says he's working to improve. Throughout the 2021-22 season, the 18-year-old says he watched a lot of video on what techniques the most successful faceoff guys have been using and the little things that are helping them to find that success at the NHL level.
However, before he can replicate their success at the NHL level, he first has to get that call from an NHL team, saying they want him in their organization.
Brayden Schuurman's draft season thoughts
Hopeful to hear his name called during the upcoming NHL Entry Draft, Schuurman says he spent the season focused on team success and how he could best contribute to that with his own development. While goals during the season were not draft oriented, the fact that it was his draft season was not something that was easy to ignore.
"Obviously, it's in the back of your head and it's always going to be in the back of your head that it's your draft year, the drafts coming up. But throughout the year, you kind of just work on developing my game each and every day, each and every game to ultimately become a pro, not necessarily seeing, worrying, and stressing about the draft. That's what a lot of players might do, and I think that takes them away from the actual development standpoint and improving their game every day."
On NHL Central Scouting's final ranking of North American skaters, the 5-foot-9, 191-pound Schuurman was listed 76th overall. Seeing all of the draft talk and rankings throughout the season, Schuurman says, is hard to escape, but it's not something that he concerns himself with when he comes across it on social media.
"For me, yeah, you see it. You can acknowledge it and know it's there, but ultimately, that's not where you're taken in the draft and that's not a defining thing. So I mean, you can look at it, acknowledge it, it's a good accomplishment in some ways, but ultimately, it's whatever team takes you at any given time. So it's not really a major focus of mine."
When asked to evaluate his season, Schuurman recognized the areas where he had shown improvement compared to his rookie season in Victoria. He specifically noted that he felt that he stepped up more offensively than he had on any previous team he had been part of, but offence wasn't his only area of growth.
"I also feel like I got a lot of experience in many other scenarios, whether that's late in game, six on five and other teams pushing, penalty kill or powerplay, in any given situation, I think I've learned trust and I think I've been able to play on basically every scenario so I think that was kind of a big development thing for me. Being trusted in all areas and earning that trust from the coaches."
If Schuurman had to advertise himself to scouts, he'd point out three areas of his game:
"I'd probably say my speed and my explosiveness, my shot, and my hockey IQ my vision on the ice, the way I see the game."
With the Victoria Royals
Early in the season, the Royals were playing with a short bench most nights, and everyone felt it. Schuurman noted that the coaches would acknowledge the lack of bodies, but there were still games to play.
"It's just knowing we need every guy to contribute and we need lots of minutes out of everybody and really to just play simple, the way that we knew how, and kind of just trust ourselves. Because you don't have four full lines necessarily. Every game we would do would be down to seven, eight, or nine forwards in a given night, so we got contributions from everybody, which was a big factor."
Fewer bodies on the bench means more minutes, and in a draft year, that could be a great thing, but it's also harder on the body. Schuurman was the only player on the Victoria Royals roster to appear in every game in the 2021-22 season. It also happened to be his first 68-game season in the WHL as his rookie season was the shortened 2021 season.
"You definitely felt it when you played three games in four nights or whatever. Yeah, was definitely physically taxing on me, so you have to manage it a little bit. Pick your spots when when you want to go, but overall, I enjoyed playing every situation. I think it's ultimately going to benefit me for next year and for future years as I move on in hockey."
– Schuurman also appeared in all 22 games the Royals played in the 2021 season –
In December, the Royals went on a run, finishing the month 9-2-1-0 and the team looked to be turning their season around following a 3-13-2-0 start. Schuurman thinks there were a few reasons for the Royals' surge:
"At that time we kind of had some bodies back from injury. Bailey Peach obviously had himself a month and I guess the rest of the team kind of all fit their roles. I think everyone was just in a groove at that point and everything was clicking. When everything's clicking for a team like us, obviously you get the results that we got that we had."
– Bailey Peach picked up 14 goals and 15 assists in December –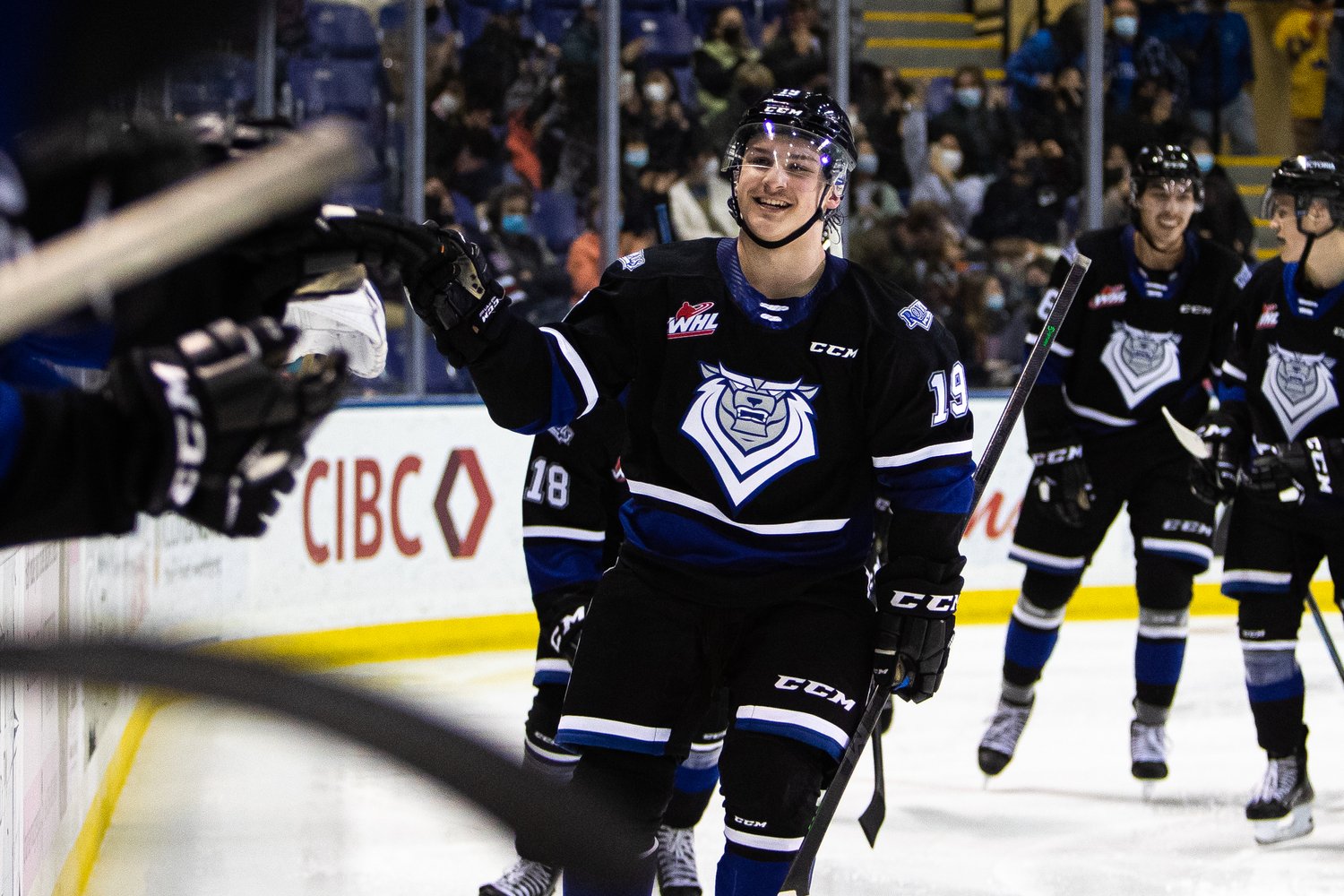 Looking back on the season, Schuurman says there his biggest memory from the season isn't a specific moment, but how the team handled adversity.
"There's a bunch of moments in the season that I will remember for sure, but I think more than anything I'll remember how resilient our group was. Fighting through injuries and fighting through a lot of stuff and a lot of adversity this year. I think that's the big story about our team, and quite honestly, I think about what we could have accomplished if we won that last game. I think we had a pretty special group and there's a lot of fun, but that's definitely the big key thing I'm going to remember this last season."
Looking ahead, the Victoria Royals have plenty to fight for when they come back to start the 2022-23 season, having missed their shot at the WHL playoffs by one point.
"To come up just short with such a great group was a little bit unfortunate for our group. There was a little nervous energy, I think, coming into that last game."
That nervous energy was warranted though, and the second-year Royals forward thinks it'll only serve to help them as they head into next season.
"We had a pretty young group, a young team, and I think some of our guys maybe felt that a little bit, but I think it's going to be exciting for next year knowing what we have in our young core moving forward."
Wearing the Maple Leaf
While the Royals just missed the WHL playoffs on the last day of the season, it allowed Schuurman, as well as Victoria teammate Kalem Parker, to join Team Canada for the U18 Men's World Championship. The Royals ended their season on April 16 while the World Championships began in Germany on April 23 and Schuurman laughed about having that short breather.
"Quick turnaround to find out that you don't make the playoffs one day and the next day you're going across the world to Germany to go play for your country. Obviously, unbelievable to get that call and be recognized for the hard work that I've put in throughout this year."
It wasn't all hockey for the team while in Germany, as Schuurman says that the guys were able to go out and explore the city they were in a bit and do some team-building activities in the area as well.
While Canada finished fifth in the tournament, Schuurman gained plenty of experience and enjoyed the opportunity to represent his country.
"Overall, great experience, not the outcome we wanted, but for me, personally, it was great to go. It was my first time to Europe so that was pretty cool, and yeah, representing your country is always pretty special."
– Schuurman finished the tournament with two goals in four games for Canada. –
Get to know Brayden Schuurman
Perfect Pizza:
"Perfect pizza would probably be, a pepperoni pizza probably with some bacon and ham on it."
Does pineapple have a place on pizza?
"Absolutely not. No pineapple on pizza."
Best locker room music:
"I'm have to go with Tarun Fizer."
Schuurman says that Fizer plays a lot of country music and that it was a relaxing vibe in the room when he was the DJ. However, hopefully there's another top choice for Schuurmann as Fizer has completed his time in the WHL, captaining the Royals for his overage season.
Worst locker room music:
"Tanner Scott."
Why?
"Scotty's a funny guy, his music is all over the place he can't stick to one genre so I think it's all over the map. I'll say that."
However, while Scott may be the teammate that has the worst music in the room, apparently goaltender Campbell Arnold is the guy who just skips through a playlist.
"He can't pick a song and stick with it. It plays for a minute and he goes to the next one."
Favorite road city to play in:
"Kamloops. I think Kamloops are good team. Good competition and their buildings always pretty loud. So I always enjoyed playing against them."
Three teammates he'd want on his zombie apocalypse team:
"I'd probably take Kalem Parker, Carter Briltz, and Tanner Scott."
What would everyone's role be?
"Well, I think in that group, I think I'd be the brain of the operation. Parks would do all the heavy lifting for us. Scotty and Briltzy, I think they'd kind of be the lookout."
Would the group survive?
"Oh, absolutely."
Pre-game routine:
"Some people know I billet with the Spizawka twins, so me and the guys will head to the rink at about four o'clock. Get out of our suits and into our workout stuff and warmup stuff. Tape the sticks up. I like to spend a lot of time taping the sticks, making sure the sticks look good. Do a little stick handling and what not in the room. Then I'll go upstairs to do some band work to get activated probably for about 15-20 minutes and do some stretching, and then the boys like to play some pregame sewer. So bring the soccer ball out and play some soccer with the guys, get the legs warm, keep them loose a couple house before the game. Then, we basically have team meetings and stuff, power play meetings, PK meetings, and team meetings to go over the game plan, and that's pretty much my pregame routine."
Perfect day off:
"I like to sleep in a little bit. Get some rest and then go do anything outdoors. Obviously Victoria is a really nice city so if it's not raining we'll go downtown or something and me and the Spiz guys we always grab sushi or something. I think that's probably one of my go toson an off day. Get a little sushi with them, and honestly just relax. Off days we kind of do homework and whatnot but it's really nice going out for food or going out for walks and downtown."