Lukas Svejkovsky (Photo: Brian Liesse/Seattle Thunderbirds)
*This was originally posted June 11, 2022*
Lukas Svejkovsky grew up iin hockey. His father, Jaroslav Svejkovský played 114 games for the Washington Capitals over parts of four seasons in the NHL, after a season in the WHL where he played for the Tri-City Americans. While the older Svejkovksy's playing career was over before Lukas was born, the current Pittsburgh Penguins prospect credits his father for his start in hockey.
The best advice Svejkovsky says he's gotten from his dad?
"Just to work hard. From a young age, he kind of engraved that into my mind. Nothing is given. You've got to take what you want. That's a message I've had in the back of my mind ever since I was a little kid."
What good advice to remember as the Thunderbirds head into their sixth do-or-die game of this postseason.
With all of these postseason games, 23 played already, and a 68-game regular season, the Thunderbirds have had their fair amount of travel together. Having joined the Thunderbirds from the Medicine Hat Tigers just after Christmas, the 20-year-old forward still had some thoughts on all of the bus time with the team.
"It's been a long year," noted Svejkovsky regarding all of the bus travel. "We have the seating arrangements and whatnot pretty settled. I have a pretty comfy spot, so I don't mind.
Now, while the Washinton native says that his spot is comfortable, there is a bit of a story that surrounds his spot on the bus.
"So, actually, I bring my own little bus mat, and I have an aisle that I go down on the foor. I'm normally across from Remps [Matthew Rempe], but he's a big guy, so I kind of have to give up my seat so he can spread his legs out."
However, don't worry, Svejkovsky says he likes the solution they've found:
"We've got the whole situation figured out. It's pretty nice, you know? He's comfy. I'm comfy. That's all that matters.."
Here we go again
Though the Seattle Thunderbirds are down 3-1 in the WHL Championship series against the Edmonton Oil Kings, you can't count Seattle out.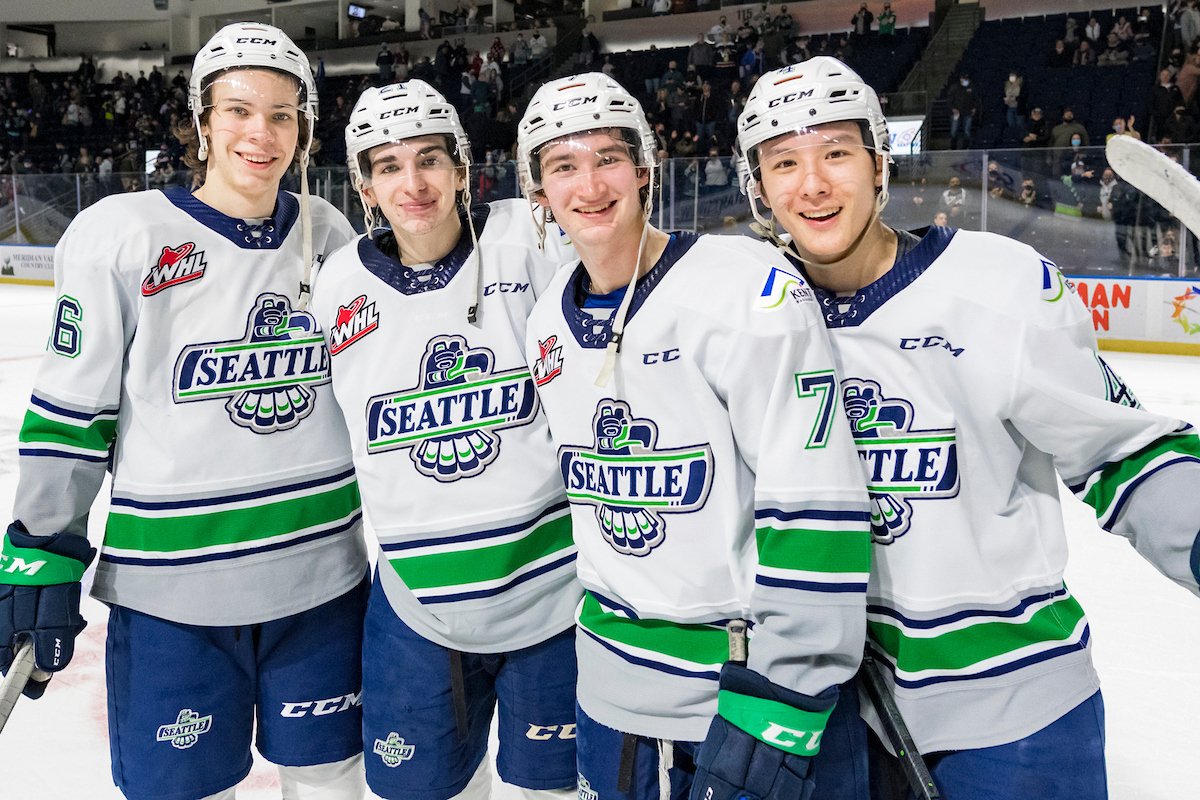 Lukas Svejkovsky has faith in his Thunderbirds teammates and, multiple times this season, his teammates have proven that they deserve that faith.
They've been in this position before, and this team has shown they have no quit in them.
Following the series win against the Kamloops Blazers that saw the Thunderbirds named Western Conference Champions, Svejkovsky said the team was happy, but there was relief in the room.
"Winning back-to-back game sevens on the road, it's tough and not a lot of teams can do that. But our group, we just pulled together and pushed through. We were just so happy after those games."
As the Thunderbirds left to head to Edmonton, spirits were high, and they were evident in the first game in this series. Repeatedly refusing to be sent home in the playoffs has brought this group of Thunderbirds closer together and they're prepared to do it again.
"It's been great. We're a super tight team. We've overcome so much adversity just getting here, to the finals. We're super excited to be here," said Svejkovsky before the series against Edmonton got underway. The Thunderbirds forward went on to say, "Coming down in the last two series, being down 3-1 against Portland and 3-2 against Kamloops, we just had that belief in the locker room that we could overcome anything. That's the reason we're here right now."
Acknowledging that the Oil Kings are a strong team, calling them "the talk of the league throughout the year", Svejkovsky knows his job is just to focus on what he can do for the Thunderbirds to keep them in every game.
"I was brought into Seattle to produce offensively, so that's that's my goal, to continue doing that. I also wanted to display a good 200-foot game and be good defensively and just do whatever it takes to help my team win.""
While Seattle went on to win the first game of this best-of-seven series with a strong performance at Rogers Place in Edmonton. They have gone on to drop the next three and the Thunderbirds once again enter a playoff game with their backs against a wall. Nothing new for this group of guys.
"We have a job and it's not finished yet."
Get to know Lukas Svejkovsky
Game day routine:
"Start off the day with a good breakfast. Try to get a stretch and in the morning, then I like to take a nap. After, I eat my lunch and head to the rink. I wouldn't say I really have a routine at the rink. I'm not too superstitious of a guy, but I stick handle and I like to play play sewer ball with the guys. A lot of guys play sewer ball, so that's really fun to do before the games. Stretch out a bit, ride the bike, and then I'm ready to go."
Perfect day off:
"It kind of depends how I'm feeling. If it's after a tough road trip or after playing a lot of games. I usually like to just take it easy at home. The weather is starting to get really nice and our billet house is right out on out on the lake. Usually I'll have a couple guys over and we'll go fishing or just relax outside. NHL playoffs are on right now so, we'll catch a bit of that game and whatnot. Nothing too crazy."
Unfortunately, Svejkovsky's Penguins are out of the NHL playoff picture, but he is still absolutely still having fun watching the games.
Signing his first NHL contract with the Pittsburgh Penguins in April:
"Yeah, it was awesome. You know, obviously, I was drafted. Kind of in the middle of COVID, so I didn't get the chance to go to Pittsburgh until around a year after I got drafted and that was for camp there. That was a lot of fun. They treat us so well. They're the facilities are unreal. I love the city. I just can't wait for the future and hopefully get the chance to put on that jersey."
Three teammates he'd want on his zombie apocalypse team and their roles:
"I go with [Tyrel] Bauer, he'd kind of be the gladiator for me. I'd put him in the frontline to do all the hard work. I'd bring along [Lucas] Ciona as well. Another big guy, big body. I know he benches a lot, so that's good. And then I would bring [Jeremy] Hanzel off for the smarts and set up a game plan and a strategy. I think we'd be good to go."
In case you were wondering, Svejkovsky says he would be the medic of the group.
He also thinks that Ciona would be the first teammate the zombies would get to.
"I think he'd just start running in and maybe get a little bit too aggressive. It depends on how many [zombies] there are."
Best locker room music:
"I don't know. I recently got on aux and all the boys are loving it so, I mean, I don't want to say me because I don't know if I can say that."
(The guys can always say that.")
"Normally, [Conner] Roulette and [Ryan] Gottfried are normally on the aux they have really good music too, so I can't complain Yeah, but I don't know the boys are seeming to love my music lately, so I'll go with me."
That being said, Svejkovsky says he's more of a morning music guy, not so much the pregame DJ.
Two of the songs he's recently had on in the room that the guys have enjoyed have been:
Praying to a God. It was a remix all the boys loved it.
Here's to Never Growing Up – Avril Lavigne
(He referred to Here's to Never Growing Up as a classic and I cried a little bit)
Worst locker room music:
Are you ready for this? No, you're not ready for this.
"I don't know, all the Alberta guys are so one dimensional. I mean, I like country music don't get me wrong, but that's literally all they listen to and it gets a little bit old after a while. The least they can do is throw anything else in here and there. Country's nice, but when you're playing it all day, I think it gets a little so all the Alberta guys."
Perfect sandwich:
"I'm just gonna go with my subway order. Honestly. I guess grain/wheat footlong. Ham, white cheese, toasted, put some lettuce on there, lives, cucumbers, a little bit of salt and pepper, honey mustard sauce, and barbecue sauce. Then, I get some chips and I just sprinkle them on there a little bit through for a nice crunch. Perfect sandwich."
For the record, Svejkovsky's perfect pizza is a barbecue chicken pizza, and he is a supporter of pineapple on pizza.
For the fans
"Thanks so much for your support. You guys have been awesome. You know, there's no way we'd be here right now without you guys. I know all of us just loved playing at home and we're going to battle super hard."