For the second straight season, the Vancouver Giants have traded their captain as Zack Ostapchuk heads to the Winnipeg ICE in a massive deal. Vancouver will receive three first-round draft picks, a fifth-rounder in 2024, along with forwards Skyler Bruce, Connor Dale and Hudson Landmark and defenceman Owen Brees. The first rounders involved are for the 2024, 2025, and 2026 seasons. The Giants captain had recently won his second straight Gold Medal at the World Juniors and recorded 29 points in his first 21 games with Vancouver this season.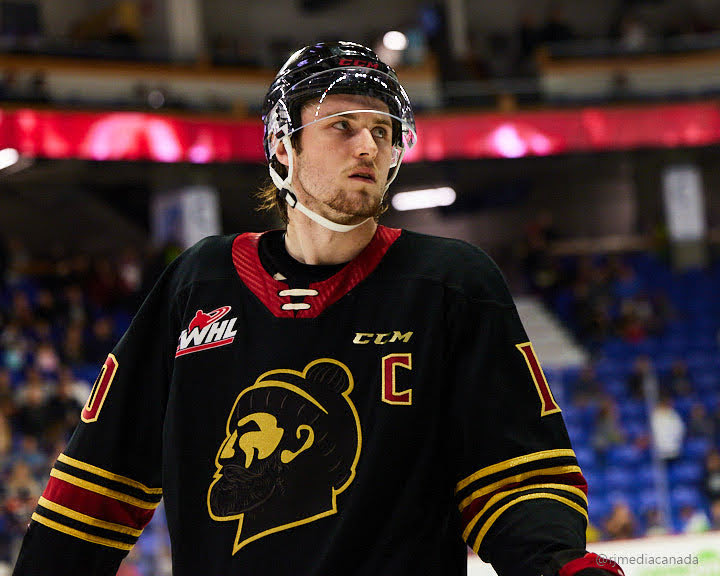 Skylar Bruce is a 5'11", 165-pound winger who comes with 135 games of experience. The Winnipeg native has seven goals and 15 points in 33 games this season who has good speed and decent hands around the net. Born in 2003, he will be looking to impress as he will be fighting for an overager spot next season.
Connor Dale from St. Albert, Alberta, is a versatile forward who can play center or wing. The 6'0″, 165-pound winger is playing in his first WHL season and has eight points in 24 games. A 2005-born player; watch for him to provide some the Giants' strong play from the bottom six.
Hudson Landmark from Sherwood Park, Alberta, was drafted by the ICE in the eighth round of the 2022 WHL Bantam Draft. He has good size for a 15-year-old at 6'1″, 165 pounds and is currently playing for Sherwood Park Kings' U18 AAA team, where he has 18 points in 24 games. He also has two short-handed assists and two game-winning goals this season. The 2007-born forward is currently unsigned, so the Giants will need to offer him a contract if he is going to play this season.
Owen Brees from Lethbridge, Alberta, was drafted by Winnipeg in the fifth round of the 2022 WHL Bantam Draft. He is currently playing in the Northern Alberta Xtreme program and has seen action at both the U17 and U18 levels. The 2007-born defenceman is currently listed at 6'1″, 176 pounds and has shown an ability to produce offensively at every level he has played at. Just like Landmark, he is unsigned, so will need to be offered a contract if the Giants want to call him up for a trial.
As for Ostapchuk, he did everything the Giants asked of him and more during his 153-game career with Vancouver. He helped them make history last season in the playoffs when they beat Everett in the first round and led by example night in and night out. He now joins a stacked Winnipeg ICE team whose eyes are firmly set on a Memorial Cup berth.