In one of the biggest trades the Western Hockey League has seen, the Kamloops Blazers have announced the acquisition of defenceman Olen Zellweger and Ryan Hofer from the Everett Silvertips. In return, Everett receives Kaden Hammell, Drew Englot, and up to ten draft picks are headed to Everett.
Olen Zellweger
Olen Zellweger has played for the Everett Silvertips his entire WHL career, appearing in 148 games and recording an impressive 131 points (28G-103A). Drafted by the Anaheim Ducks 34th overall in the 2021 NHL Draft, and with three World Junior Championship gold medals under his belt, the hockey world is familiar with Zellweger's name.
Regarding Zellweger's style and skill, DobberProspects describes him as a "puck-rushing defenseman with outstanding skating ability. Zellweger's game is built on his exceptional skating ability. His stride is clean and efficient, his four-way mobility is elite, and he loves to activate on the rush. […] Zellweger is a fine puck-mover, but improving his processing speed on retrievals and breakouts will really unlock his full potential as a top-four NHL defenseman."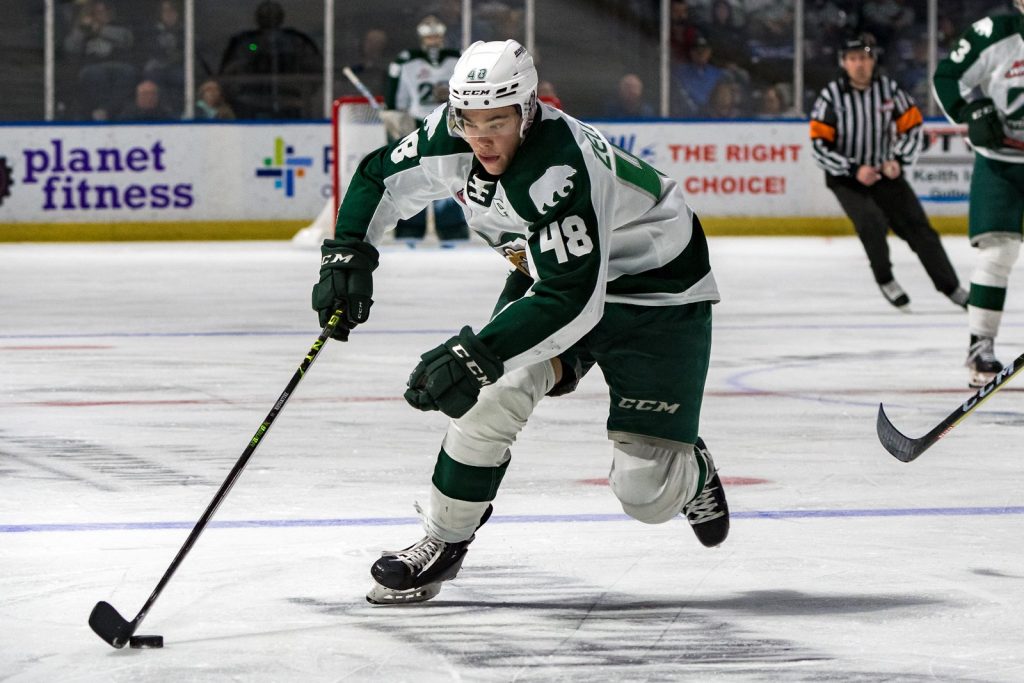 With the Blazers hosting the 2023 Memorial Cup, the team is seeking to add defensive talent and depth to their line-up, Zellweger may be just what they're looking for.
Ryan Hofer
Another NHL prospect, forward Ryan Hofer, joins the Kamloops Blazers after a full career in Everett. The twenty-year-old was drafted by the Washington Capitals in the sixth round, 181st overall, in the 2022 NHL Draft.
"He pre-scans before getting pucks, deceives by angling his feet in the opposite direction he's planning to go, and then establishes body positioning," notes EliteProspects in their 2022 NHL Draft Guide. "Throws reverse hits with perfect timing, then moves to the inside. He's mostly a shooter, showing an NHL-calibre in-stride wrister, as well as some off-puck instincts."
Hofer has played 125 games in his WHL career and has 103 points (54G-49A). The skilled forward will be an asset to the Blazers in the 2023 Memorial Cup.
Everett's Side
In exchange for their key players heading north, the Silvertips receive up to ten draft picks to support their rebuild. With other players such as Jackson Berezowski and Aidan Sutter leaving the team next year, the team will need to focus on bringing in strong prospects with the picks they received from Kamloops.
The picks Everett receives are as follows:
1st round 2023
2nd round 2023
4th round 2023
1st round 2024
5th round 2024
1st round 2025
3rd round 2025
1st round 2026
6th round 2026
Conditional 2nd round 2026
Who won the trade?
Many Kamloops fans claim the Blazers did not make the smart trade and are giving up many assets for one cup run. On the other hand, Everett fans lose two fan favourites.
"We would like to thank Drew and Kaden for their commitment and time with our hockey club," commented General Manager and Head Coach Shaun Clouston on the trade. "We'd like to wish Drew, Kaden, Rylan and Jack the best in their future endeavours. We'd also like to welcome Olen and Ryan to our hockey club."
Ryan Hofer and Olen Zellweger will suit up in blue in their return to Everett on Friday, January 13th.