Welcome to the Vancouver Giants prospect report. In this series, we look at how some of the team's prospects are doing so far this season. This edition will look at Matthew Hutchison, Jakob Oreskovic, Chloe Primerano and Hudson Landmark.
Matthew Hutchison
Hutchison is having a season to remember in the VIJHL, posting an 18-1-1 record alongside a 1.86 goals against average and a .932% save percentage. The 16-year-old goaltender has also been nominated for three league awards, including the Jamie Benn Trophy (League MVP), Larry Lamoureaux Trophy (Rookie of the Year) and Mac MacWilliams Memorial Trophy (Unsung Hero). The VIJHL does not give out an award for best goaltender, but based on his stats, he would be a shoo-in to take home that trophy.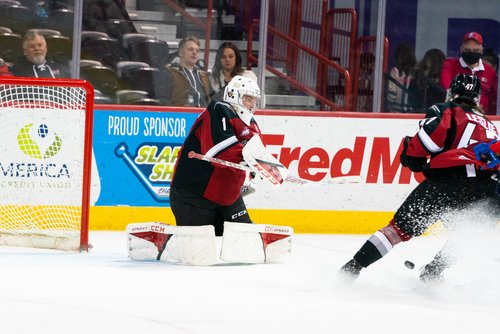 Hutchison and his Oceanside Generals teammates have three games remaining this season and have already locked up the top seed in the league. Despite having three more games, they have also established a franchise record for wins with 38 and points with 80. They will be looking to take home the Brent Patterson Memorial Trophy for the third time in franchise history and the first time since the 2008-09 season.
Jakob Oreskovic
Oreskovic continues to make strides with Delta Hockey Academy's U18 Prep team. He is now up to 24 points in 25 games and is currently on a three-game point streak. The Giants' 22nd overall pick from the 2022 WHL Bantam Draft has also played six games with Vancouver this season but has yet to record a point. Delta Hockey has already clinched a spot in the postseason with five games to go in the season.
Chloe Primerano
Primerano continues her unbelievable season with RINK Hockey Academy Kelowna's U18 Women's team, as she sits with 49 points in 29 games. She currently ranks fourth in the league in points and has a 20-point cushion on the next-highest defender. As for her goal-scoring, she is just one of four players to hit 20 goals this season. It has been a remarkable season for the recently turned 16-year-old as she now sets her sights on bringing home a Gold Medal at the Canada Winter Games as part of Team BC's U18 Women's Team.
Hudson Landmark
Landmark is a new addition to the Giants' prospect pool, as he came over in the Zack Ostapchuk trade at the deadline. The 6'1 ", 165-pound forward is currently playing for the Sherwood Park Ennis Kings U18 AAA team in the AEHL U18 league and has 25 points in 36 games. As of writing, he is on a two-game point streak, with his last game being a two-goal, one-assist effort versus the Lloydminster Bobcats. With two games left in the season, the Kings have already clinched a playoff spot with 43 points in 36 games.
That will do it for this edition of the Vancouver Giants prospect report. Make sure to keep your eyes open all season as we check in to see how the organization's top prospects are doing.