After suffering a lower-body injury at the 2023 World Junior Championships, Vancouver Giants forward Samuel Honzek made his return to the Giants after missing 20 games. In his first two games back, he recorded two goals and eight shots, showing everyone in attendance why he is a projected first-round pick for the upcoming 2023 NHL Entry Draft. With the Giants pushing for a playoff spot, his return to the lineup is massive, as his offensive production was hard to replace in his absence.
Missing almost two months of action is hard at any level, especially when the injury involves a player's ability to skate. Now fully recovered, Honzek felt good during his first two games back and is ready to build off his strong performances.
"I feel really good," said Honzek. "The doctors and therapists did a really good job. I'm ready to play and show that I got stronger and better over the break. I would say I am 100% ready. We have a couple of games left, so I have to bring my best version."
Everyone on the Giants is excited to have Honzek back, especially coach Michael Dyck who talked about the impact he can have on the ice.
"He is a guy that can just break away," said Coach Dyck. "He can break away from checks; he can break away off the walls; he has the ability to finish. You can see how much we have missed him over the last six weeks here. He is getting more confident each time he gets on the ice."
Watching the games from the sidelines is hard for a competitor like Honzek, but the time off allowed him to work on little parts of his game and see the action from a different angle.
"I realized lots of things when I was injured, watching from upstairs every game. I'd see plays that I could do better. I want to be the best. My confidence has gone up, and I'm trying to show it. It was really hard (to watch the games). It sucks, but I am here right now, and I am trying to score every goal in every game and bring my best version."
During the injury break, Honzek missed the chance to compete in the Top Prospects Game. Despite not playing, he was able to be around the players and coaches, which was a learning experience for the young Giants forward. He also had the opportunity to meet with a large number of scouts and show teams what type of person he is off the ice.
"It was really good that I could spend one day. I didn't play but it was really good to meet other top prospects for this draft and chat with them. I had the opportunity to talk to scouts, so it was really good, and I enjoyed it.
Coming over from Europe to North America is a big change for players. One major difference is the size of the ice which forces players to make decisions quickly as there is less space. As the season progresses, Honzek has gotten used to the WHL game and the different environments on and off the ice.
"Definitely the speed. The coach says something, and guys need to do it. If not, there is another guy who is waiting for your spot on the power play or PK. You need to play fast, smart and show why the coaches believe in you. We have lots of good young players with lots of potential, and (I) want to help them (play for) their Hockey Canada National Team.
"(On the North American ice surface), We definitely have less time, but that is not an excuse for me. I need to adjust my game and find a way to play on the smaller rink. It is good for me because I am big and can skate fast, so I can use that to my advantage."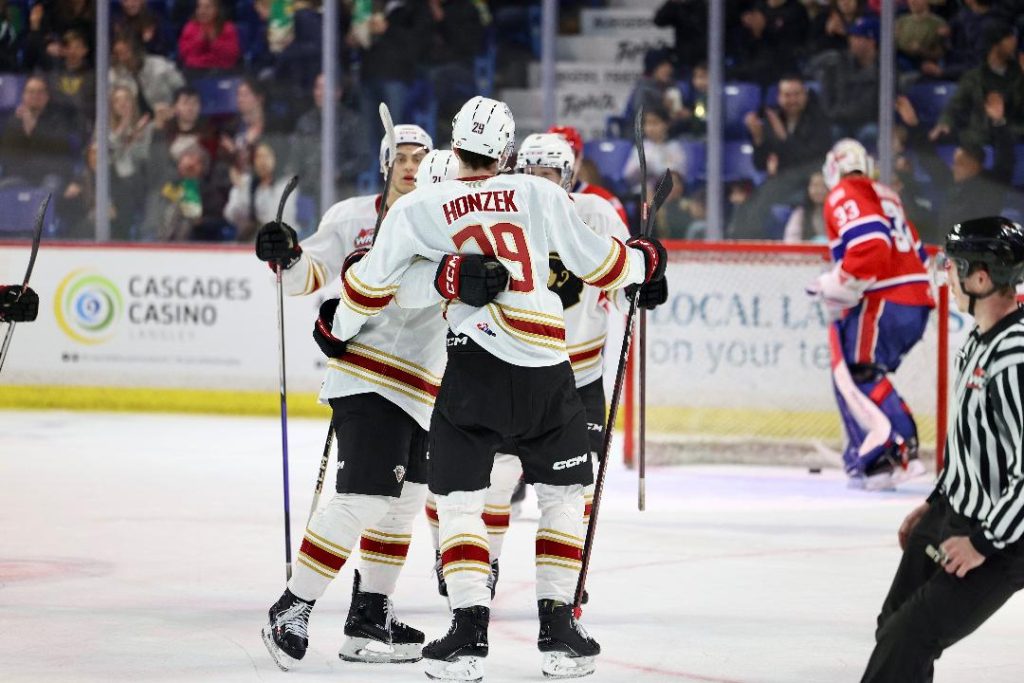 One of Honzek's best attributes is his skating. He is one of the fastest players on the ice and can change speeds at any instance. This is one skill Honzek wants to keep improving so that he can be one of the best skaters in the NHL one day.
"If I want to play in the NHL, I need to get better at skating. I have all summer in front of me so I can make progress and work on it."
Since returning to action, Honzek has been given an "A' to wear on his jersey. Being a leader and having a letter on his jersey is a new challenge for the top prospect, but one he is ready to face head-on going forward.
"It is a big thing for me. I really appreciate that they believe in me by making this move. It is really great. I would say it's the first time wearing something on my jersey. Now I need to prove that I can wear this letter."
With 15 games left before the postseason, Honzek is ready to show the scouts and hockey world he hasn't lost a step because of the injury. When he is on his game, he is one of the most dangerous draft-eligible players in the WHL and will be a key piece of Vancouver's offence down the stretch. If the 6'3″ center can have performances as he did during the second period versus Spokane on Family Day, this Giants team could turn some heads in the playoffs.