Drafted 32nd overall in the 2020 WHL Draft, Ty Halaburda is inching closer to hearing his name called at the 2023 NHL Draft this coming summer. The Victoria-born forward is having a strong second season with the Vancouver Giants, with his 16 goals on the campaign matching his total points from the 2021-22 season. A two-way player who has no problem getting back in the play thanks to his strong skating and speed, he ranked 61st among North American skaters on the NHL Central Scoutings midseason list.
As the season progresses, Halaburda continues to improve his game. As he explains, his speed and hockey IQ are some of the areas why he is having a good season.
"It's going well," said Halaburda. "As a team, we have been battling. What is working for me is my speed and my hockey IQ. My speed helps me burn guys and make plays off that."
Halaburda has been given more responsibility this season, including a more established role on the power play and penalty kill. This has allowed him to showcase to scouts in attendance how versatile his game can be and how he can make a difference at both ends of the ice.
"Last year, I was getting little sniffs of it with a little bit of powerplay. This year, it has been really great. Getting that experience to be on the power play and on the kill is great for my development."
As for what Halaburda wants the scouts to focus on when they come to watch him play, it is no surprise that speed is the first thing that comes to mind.
"Definitely my speed. I feel like I can generate a lot with my speed and my IQ. I feel like I can get in the dirty areas and compete while also throwing some hits too."
The Giants are a tight group, so having the ability to share going through the draft experience with four other teammates is a special experience for Halaburda.
"It is awesome. We push each other every day, and it is a great atmosphere to be around these guys."
Speaking of the draft, Halaburada still remembers what it was like seeing his name on the NHL's Central Scouting list for the first time.
"I was very happy, and it motivates me to keep pushing and keep striving. I feel like I can get even higher, so if I keep pushing and doing the right thing, it will happen."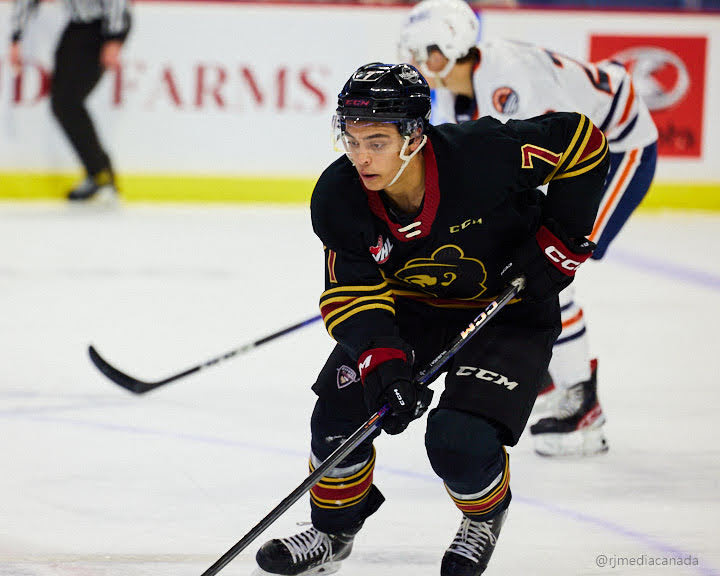 Last season, Halaburda suffered an injury that kept him out at the end of the season and throughout the playoffs. With the postseason nearing, he is ready to make up for lost time by making a difference during the Giants' playoff run.
"I am very excited. I wasn't in it last year, and it was hard to watch. I learned a lot from just watching. Learning what the gameplay looks like and how the guys are when the playoffs come around. I am very excited. That's the best time of our lives. Competing for a championship is something that no one will take for granted."
The one thing that sticks out about Halaburda's game is that he never takes a shift off. Even going back to last season, he is a player who doesn't give up on the play, regardless of the score. His style of play should shine in the playoffs and help him garner a bit more buzz from the scouts in attendance. A projected later-round pick, "Bird," as he is nicknamed, is going to be a great selection for whichever organization calls his name in the upcoming draft.