July 4th, or American Independence Day, is a holiday celebrated Coast to Coast. The 2021-22 WHL season featured a total of 39 Americans, including some who were amongst the league's best at their position. With that in mind, here are the top five Americans from the 2021-22 WHL season.
5) Braden Holt- Everett Silvertips
In his third WHL season, Braden Holt stepped up to the plate with a record of 24-6-4 in 37 regular-season games. He also recorded a 2.56 goals-against average and a .909 save percentage. Lastly, his four shutouts put him in a tie for fourth across the league as he helped Everett claim top spot in the WHL's Western Conference this past year.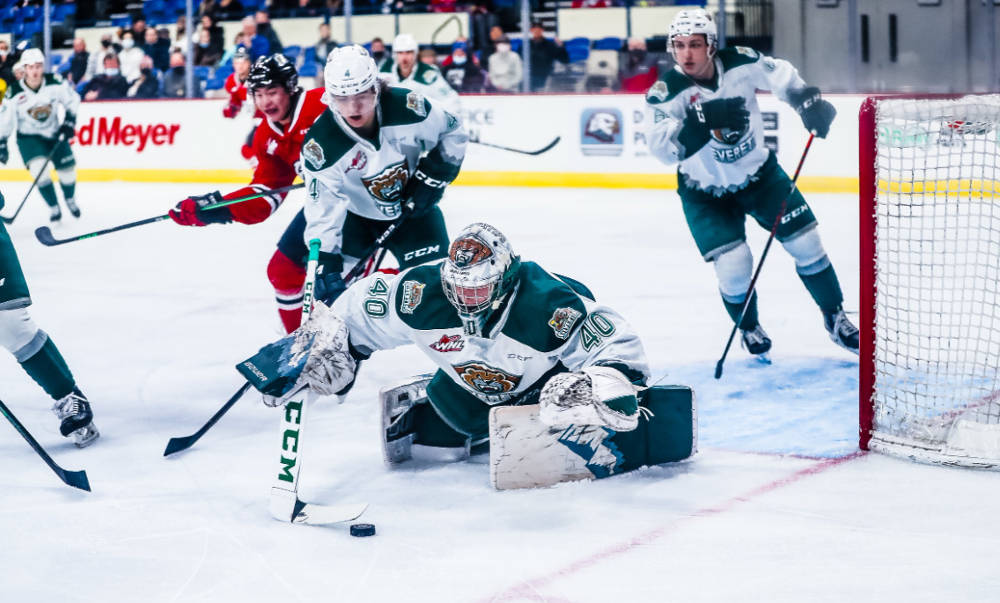 Holt's WHL career has been special as through 47 regular-season games; he only has nine losses in regulation. His play has even gotten him recognized by Team USA as he was part of their U18 team during the 2020-21 season. Now his eyes are on the NHL draft as he is the 11th ranked North American goaltender according to NHL Central Scouting. He is posed to be the starter next year for the Silvertips as he should build off an already strong season in 2022-23.
4) Luke Toporowski- Kamloops Blazers
Whether it was with the Spokane Chiefs or Kamloops Blazers, Luke Toporowski was a difference-maker. Starting with Spokane, he was over a point per game player with 15 goals and 29 points in 27 games. Despite only playing in 27 games, by season's end, he still had the fourth most goals and sixth-most points on the Spokane roster.
After he was traded to Kamloops at the trade deadline, Toporowski exploded with 20 goals and 34 points in 22 games. He and Logan Stankoven had formed one of the most dynamic partnerships in the WHL, which pushed the Blazers to within one game of the WHL finals. In the playoffs, he was electric, recording 23 points in 16 games and was later named part of the WHL's BC Divison Second All-Star Team. A strong final season for the former Chiefs star.
3) Clay Hanus- Portland Winterhawks
A leader on and off the ice, Clay Hanus finished second amongst WHL defensemen in points with 74 and goals with 18. The Winterhawks captain also had the most points by a full-time Portland defenceman in a season since Brandon Smith's 82 during the 1993-94 campaign. It was also the 16th time in franchise history a defenceman has recorded over 55 points in a season.
What makes Hanus special is no challenge was too big for him to take on. Whether it was needing a goal late in the game or having to defend a one-goal lead, he would always be on the ice. For his hard work, he was named to the WHL US First All-Star Team, which earned him a contract with the Wilkes-Barre/Scranton Penguins of the AHL starting next season. He definitely left his mark on not just on Portland but the WHL.
2) Lukas Svejkovsky- Seattle Thunderbirds
Another player who benefited from a mid-season trade, Lukas Svejkovsky, had a massive season for Seattle after coming over from Medicine Hat. During his time with the Tigers, he put together a good season with 13 goals and 30 points in 24 games. Despite not playing with Medicine Hat for most of the season, he finished as the team leader in points and goals.
After the trade, Svejkovsky took his game to another level in Seattle with 22 goals and 46 points in 33 games. During the playoffs, he helped the Thunderbirds make it all the way to the WHL Finals with 11 goals and 28 points in 24 games. After the season, he was named to the WHL US Second All-Star Team. He also has signed his entry-level deal with the Penguins and will look to make the team out of training camp. One of the most dynamic skaters in the WHL this season; he left his mark on both conferences thanks to his strong play.
1) Cross Hanas- Portland Winterhawks
Speaking of players who took their game to another level, Cross Hanas did exactly that in his fourth WHL season. He led the Winterhawks in scoring with 86 points in 63 games finishing ninth in league scoring. He was also just one of four players across the league to eclipse the 60 assist mark this season after putting up 26 goals and 60 assists during the campaign.
The Winterhawks relied heavily on Hanas, especially in the playoffs. He led the team with nine points in 11 games, scoring five times while recording 36 shots on goal. The Texas native was later named to the WHL US First All-Star Team and signed his entry-level deal with the Detroit Red Wings. After a phenomenal season, he was the top American-born player in the WHL this past season.
American Players Are Vital to the WHL
Despite some believing the WHL and CHL should strictly be for Canadiens, American-born players continue to play a central role in the league. Whether it is these five mentioned above or players like James Stefan, Bear Hughes, Ty Nash or Hunter Campbell, it is imperative the league continues to make an effort by bringing in top American talent. Happy American Independence Day to all who celebrate, and we look forward to bringing you continued coverage of the WHL all summer long.