The Spokane Chiefs finished the season with 18 draft-eligible players on their roster. Let's have a quick chat about all of them ahead of the 2022 NHL Draft.
Ten forwards, six defensemen, and two goaltenders are eligible for selection in this summer's draft.
Forwards
Erik Atchison (2002)
Erik Atchison is a player that teams need to be looking at if they want a high-energy player with a talent for driving the net and making the most of the offensive zone. While he's well aware that skating isn't his strong suit, he brings so much more to the teams he is on, especially in his attitude off of the ice. He has a talent for getting teammates pumped up and is one of those guys who set the mood on the team. As an '02 player, who put up 22 points in 45 games in the 2021-22 season, he will likely be looking for an invite to an NHL camp this summer.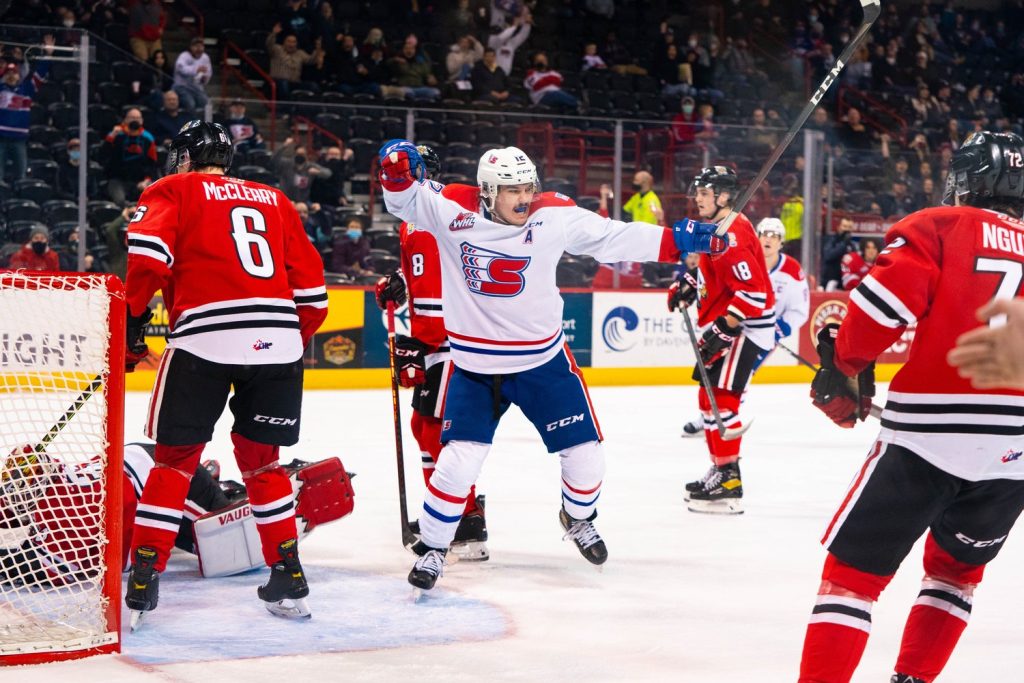 Reed Jacobson (2002)
Another 2002-born forward, Reed Jacobson picked up 12 points in 30 games for the Chiefs. While he was out from mid-October to late January, Jacobson returned and was a consistent face in the lineup for the rest of the season. However, he is perhaps not the player that draws your eye the most from game to game. Instead, you can count on the Swift Current native to be the guy to quietly become one of those guys you want good things for. Should he get an invite to an NHL camp this summer, perhaps we'll see Jacobson return to Spokane and open some eyes.
Cade Hayes (2002)
Picking up two points in the game that earned the Spokane Chiefs a spot in the WHL playoffs, Cade Hayes had a decent season following the trade that brought him over from the Moose Jaw Warriors. While it still feels like there is another level to his game that he's been just on the verge of reaching, Hayes is a fun player to watch. Most likely also looking for an invite to an NHL camp, Hayes could be one to watch that people won't be expecting in a few years.
Blake Swetlikoff (2003)
Heading into the 2021 NHL Draft ranked 160th on NHL Central Scoutings final rankings last year, Swetlikoff was left off the rankings this season. However, don't let that trick you into thinking he doesn't have a shot this year. 29 points in 62 regular-season games this year may not give you reason to take note, but Swetlikoff is capable of holding his own in any situation on the ice. He's especially a treat to watch as a penalty killer. Poised to make an even stronger statement in the coming season, teams may want to add him now.
Ty Cheveldayoff (2003)
Still considered a rookie during the 2021-22 season, Ty Cheveldayoff picked up 19 points in 60 regular-season games. He also was the guy who scored the goal that sent Spokane to the playoffs in the last game of the regular season. If an NHL team is looking for a late-round big body to pick, the 6-foot-2.5, 218-pound Cheveldayoff may just be their guy.
Grady Lane (2003)
Just as with Cheveldayoff, Grady Lane spent the season considered a rookie, despite playing 20 games with the Chiefs in 2021. For Lane, confidence has been key for the 6-foot-1.5 forward. Now with a full season in the WHL, he could take another step in the coming year and impress teams and fans with what he brings to the table. However, this year, he would be a surprise pick. Never say never.
Yannick Proske (2003)
While Proske is confirmed to not be returning to Spokane next season, he's still one to talk about. Proske picked up 30 points in 58 games during his first season in North America. Since the end of the season, he's signed with the Iserlohn Roosters in the DEL and the German forward is staying closer to home. He's shown just how well he can adapt to the North American style of play in a short amount of time, and if an NHL team was paying attention, he could find himself with a team soon.
Chase Bertholet (2003)
One of a small handful of WHL players who played more than 68 regular-season games, Bertholet was a mid-season acquisition from the Winnipeg ICE. Picking up 41 points in 47 games in Spokane following 17 points in 25 games with Winnipeg, Bertholet was a positive addition to the Chiefs roster. Absolutely his best stretch since joining the WHL, he is one to watch coming into next season. Bertholet is also a player who could definitely be a late-round gem for an NHL team that plays its cards right.
Michael Cicek (2004)
Appearing in 32 games in his rookie campaign with the Chiefs this season, Cicek picked up a goal and four assists while moving in and out of the lineup. While he likely didn't have enough consistency this year for scouts to notice what he could do, he could very well earn an invite to a camp.
Carter Streek (2004)
A trade acquisition from the Saskatoon Blades early in the season, Carter Streek became more and more noticeable as the season went on. Notching 10 goals and four assists in 41 games with Spokane, Streek is exciting hockey to watch. The 5-foot-7 forward is fast and moves well. He's one of the guys you want to watch but may also want to see control his play a bit more. Though sometimes you just like to see the chaos. It's possible scouts who caught Chiefs games feel the same way. It's also possible they want to wait a year to see what he does in his third WHL season.
Defensemen
Mac Gross (2002)
A defenseman who is fairly easy to watch, Gross is likely looking for an invite to an NHL camp. While he isn't the blueliner who racks up the points, he doesn't leave you wanting for much else. You'd like to see him take that next step in his game this fall. The 6-foot-2, 187-pound defenseman has the tools to do just that. An NHL team could help him get there.
Raegan Wiles (2002)
One of the more consistent players on the Chiefs roster, Raegan Wiles has been a fun one to watch all year. While he still has things to work on, he's a player you want to watch. You get the feeling that once everything clicks for Wiles, he'll be at the top of many teams' wishlists.
Timafey Kovgoreniya (2003)
As with Proske, Timafey Kovgoreniya will not be returning to Spokane. On a team that was outscored 289-188, the Belarusian defenseman finished with an even +/-. The 6-foot-2, 196-pound blueliner was often described as "intimidating" throughout the season and he made it work for him.
Graham Sward (2003)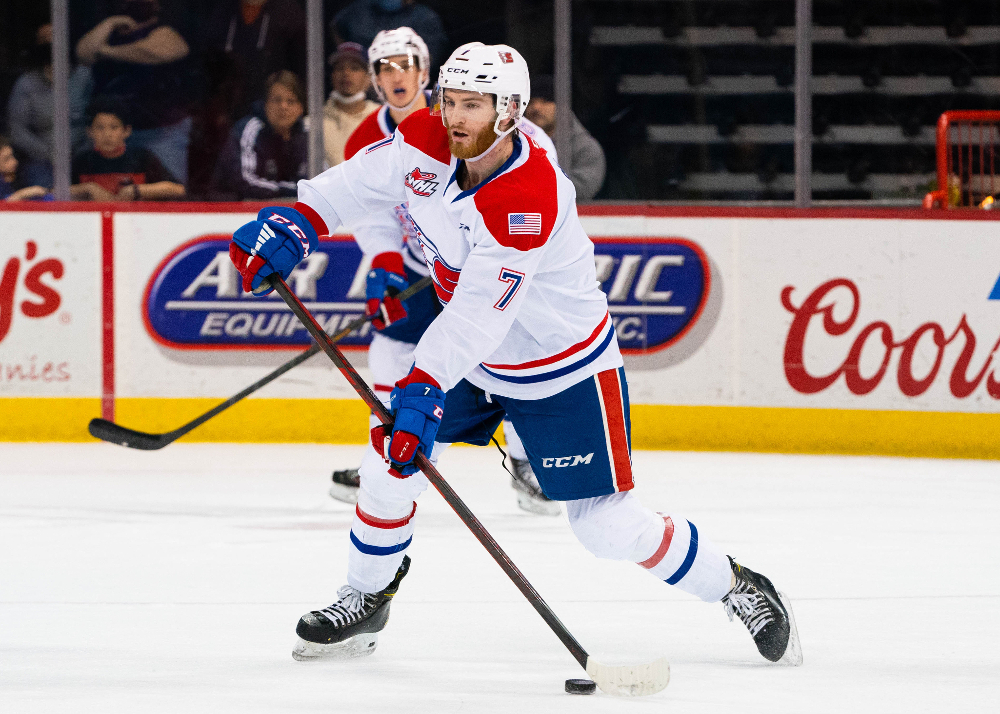 Heading into the 2021 NHL Draft, Graham Sward was listed 117th on NHL Central Scouting's final rankings. This year? He's made himself look even better to the scouts, moving up to the 93rd spot among North American skaters. With 43 points in 57 games, Sward has made people take notice of him throughout the year. He's one of those defensemen who gives you the feeling that he could do it all. You love to watch him and you always notice when he's not on the ice. He attended the Colorado Avalanche's development camp last season. Could we see him picked up by the Stanley Cup champs later this week?
Logan Cunningham (2004)
Appearing just 48 games with Spokane this season, it's probable that he needs some more games to get in front of eyes a bit more and show off what he can do. Maybe another year will give him that opportunity. He could be one that comes back next season and makes teams regret not adding him early on.
Brayden Crampton (2004)
A defenseman that often catches your eye, Brayden Crampton is another one to watch over the next few years. It's possible that scouts were intrigued with what he could bring to an NHL team. He'd be a late pick if his name is called. He has a lot of positives, but in his 60 games during the season with the Chiefs, he hadn't given that "wow" moment.
Goaltenders
Mason Beaupit (2003)
NHL teams like tall goaltenders. 6-foot-5 Mason Beaupit is a tall goaltender. Oh yeah, he's also good at stopping pucks. In game after game, Beaupit kept Spokane in the mix, well enough to help the team sneak their way into the WHL playoffs. One of the WHL goaltenders who has been tested most throughout the season, Beaupit has shown what he can do. Sitting in the fifth spot on NHL Central Scouting's final ranking of North American goaltenders, scouts have been watching Beaupit all season. It's clear they liked what they saw and there's good reason for it.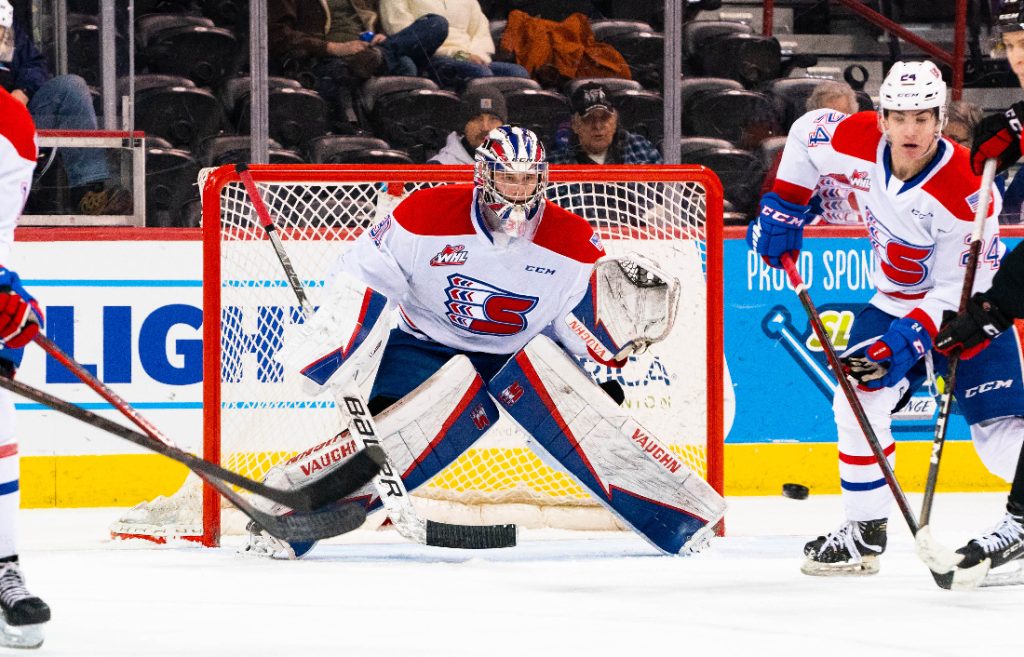 Manny Panghli (2004)
While he didn't quite have the season anybody wanted for him, Panghli had bright spots throughout the year. While you shouldn't expect to hear his name called this year, it could always happen. He's someone you want the best for, and maybe all he needs is the confidence of an NHL camp to get him going.
Lizz's Completely Biased Draft Thoughts: Spokane Chiefs
Listen, Erik Atchison's nickname when he was a kid was "Little Crosby" and he's a Pittsburgh Penguins fan. I'm just saying. The Penguins should invite him to camp.
If I had to choose a player that has been vastly under-talked about throughout the season, it's Chase Bertholet. He's fun to watch and produces. I'm hoping that scouts saw him more than it seems like at the moment. I think he'd be a really strong addition to a team who is willing to spend a few years waiting for him to develop some more.
I absolutely cannot wait to see what Carter Streek does next season, and if I were an NHL scout (it's probably a good thing I'm not?), he's a player I'd want my team to pick up. Especially as a late-round pick, I think Streek could be an absolute steal of the draft.
I do not want Graham Sward to be selected by the Colorado Avalanche. It's because I don't like the Avs, so it has nothing to do with anything real. I just want someone to grab him and I'll be happy.
Both Cunningham and Crampton are guys that I think will take big steps next season and I think that's when they'll really shine for the scouts.
Mason Beaupit is one of those goaltenders you love to watch and hate when your team plays again. If you're the type of person who just looks at a win-loss record, you won't get the whole story. Whatever team ends up selecting Beaupit this week is going to be very happy with having him in their organization.