This season, more than 150 former WHLers have played in an NHL game. From star players to call-ups, the WHL has made a massive impact on the league once again. Today, we rank the top 10 former WHLers in the NHL.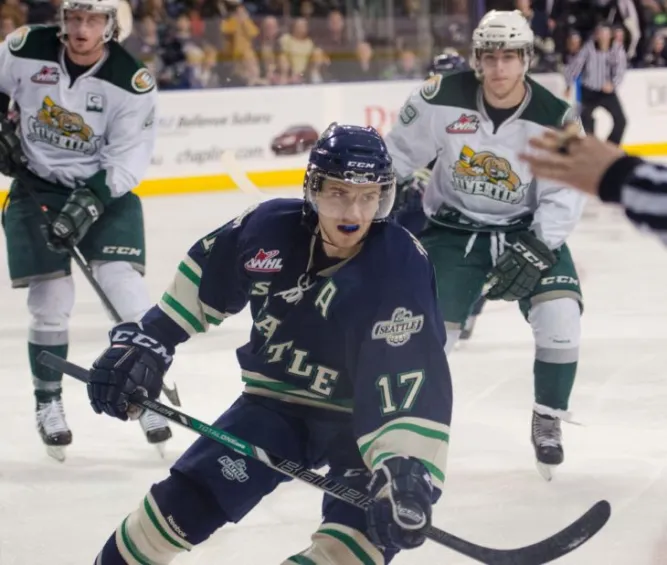 HM: Seth Jarvis- Portland Winterhawks
Seth Jarvis has become a fixture in the Carolina Hurricanes lineup this season. The former Winterhawk star has 17 points in 29 games and ranks in the top 10 for scoring on the team. His speed, ability to score and offensive awareness will ensure he stays and continues to move up this list every season.
10. Oliver Bjorkstrand- Portland Winterhawks
It has taken a few season but Oliver Bjorkstrand has finally entered the category of star in the NHL. He currently has 27 points in 37 games and is on pace for at least 50 points which would be a career high. If he continues to develop the way many have projected, the Blue Jackets will be set offensively for the next decade.
9. Tristan Jarry- Edmonton Oil Kings
Jarry has been rock solid this season for the Penguins posting 19 wins and a .928% save percentage in 33 games. The former Memorial Cup Champion is starting to show he can be one of the best goaltenders in the league which led to him being selected to the NHL All-Star Game this season. The Metro Division is stacked, so the Penguins will need the former Oil King to keep up his consistent play if they want to go on a Cup run this season.
8. Morgan Reilly- Moose Jaw Warriors
Morgan Reilly has been a leader on the Maple Leafs defence for close to a decade. He is about to pass his point total from last season of 35 and is amongst the defensive scoring leaders once again. Often forgotten based on the Stars who play in Toronto, he is a valuable piece that has stepped up this season.
7. Ryan Johansen- Portland Winterhawks
Ryan Johansen is having a career resurgence this season with the Nashville Predators. The former Winterhawk has 33 points in 40 games and is living up to his contract this season. A 25 goal season is not out of the question this year as he continues to produce night after night.
6. Sam Reinhart- Kootenay Ice
One of this biggest prizes of the offseason, Sam Reinhart is showing it was a smart move by the Florida Panthers to go out and trade for him. This season, he has 35 points in 39 games and has brought some depth scoring to a team who are projected as a Cup contender. The pride of North Vancouver may not be the first player fans think of on the Panthers, but his impact should help them finally get over the hump and win a playoff series this season.
5. Mark Stone- Brandon Wheat Kings
Once again, Mark Stone is one of the elite two-way forwards in the league. He will be in the conversation for the Selke once again this season, and is projected to be above a point per game. The All-Star and Vegas captain is one of the most dangerous players in the league, and this season is no different.
4. Brayden Point- Moose Jaw Warriors
Brayden Point is turning into one of the best playoff performers in recent memory. The former Warrior continues to be a key piece of the Tampa Bay Lightning in the playoffs and regular season as he has 28 points in 29 games so far this season. With names like Hedman, Kucherov and Stamkos, sometimes Point is forgotten about, but don't be mistaken, he is one of the best forwards in the entire NHL.
3. Chandler Stephenson- Regina Pats
Chandler Stephenson has gone from fourth liner to one of Vegas's most important players. He leads the team with 38 points in 40 games and has been Vegas's unsung hero this season. The sky is the limit for the former Pat as he has already passed his career high in points, and we aren't even halfway through the season yet.
2. Shea Theodore- Seattle Thunderbirds
She Theodore has developed into one of the top defenceman in the entire league. The former Thunderbird was getting considerations for Canada's Olympic Team this season before the NHL pulled all their players from the tournament, and is another player that should put up a career high in points by the end of the season. He is a superstar in this league, and will be a key factor in Vegas's playoff run this season.
1. Leon Draisaitl- Prince Albert Raiders/Kelowna Rockets
Leon Draisaitl is once again one of the premier players in the NHL. He currently has 58 points in 37 games and is on track to pass 120 points and close to 60 goals this season. One half of the Oilers dynamic duo, don't be surprised if he is named a finalist for the Hart Trophy once again this season.
Did we get this list right? Let us know what you think on social media or in the comment section below. One thing is for sure, the WHL knows how to develop NHL talent year after year.