The Spokane Chiefs headed into the 2022 NHL Draft with both goaltender Mason Beaupit and defenseman Graham Sward listed on NHL Central Scoutings final rankings. The draft did not disappoint for either Spokane player.
Mason Beaupit
Mason Beaupit was drafted in the fourth round, 108th overall, to the San Jose Sharks. The Spokane netminder noted that the pick was a surprise as the Sharks were not a team he spoke to much ahead of the draft. However, we can't get into Beaupit's future in teal without recognizing the organization that helped get him there and he had some positives to say about the Chiefs.
"Spokane was just a great option for me," the Surrey, BC native said when asked why he chose to play in the WHL. "They were awesome for me from the moment they drafted me. They kind of told me what their idea was for the future and I was on board with it, and I loved that plan. I was able to come in and we had a really great team of guys around me and we blended really well on and it was awesome to be around the whole time."
"I can't thank them enough," the Spokane netminder went on to say. "I can't thank my teammates enough. Without any of them, I wouldn't be here today. And Spokane just did an unbelievable job as an organization and really helped me take that extra jump, both in my strength and on the ice, and it's unbelievable."
When asked about how he sold himself to teams, Beaupit gave a short overview of his strengths but then went on to talk about his work ethic:
"I think I'm a very hockey-smart player and have the size with me as well as I think I'm a very strong skater. I'm a very hard worker and I'm not going to stop until I can crack the lineup for the Sharks. Whether that's this year, next year, or five years down the road. I'm not going to stop working until I get there."
He's taken that first step to getting into the NHL, but Beaupit's moment at the draft went by in a bit of a blur.
"Honestly, I was pretty blanked out," said Beaupit about what the moment his name was called was like for him. "I don't remember much from what happened. It was kind of just one of those moments where it was just so crazy to think about actually coming true, that I just kind of wanted to get down there and get the jersey on, that's for sure."
Of course, Beaupit had people to thank for helping him get to his draft moment, and he recognized that it took effort from many people:
"Obviously, every kid has dreams about getting here, and not very many do. So it's pretty crazy. And it came with a lot of sacrifice for myself and my family, and a lot of help from teammates, coaches, friends, and everybody along the way. It was a community effort. You know the saying it takes a village to raise a warrior or something along those lines, but it's very true and it's an amazing day."
Of course, the Sharks drafted Victoria Royals defenseman, recently named captain, Gannon Laroque last year. While Beaupit hadn't heard from Laroque when he spoke with the media on Friday afternoon, Beaupit is sure they'll have time to talk soon.
"Especially about that last weekend there," Beaupit quipped about the final two games of the season that decided whether it was Spokane or Victoria that reached the playoffs. It was the Chiefs, and Beaupit was a big reason why.
Graham Sward
Graham Sward was selected in the fifth round,146th overall, by the Nashville Predators. While Sward was not at the draft in Montreal, he still had plenty of excitement on his draft day.
"Today's been awesome," the Langley, BC native said on Friday afternoon. "Obviously, it's a dream come true. Every kid growing up wants to get drafted to the NHL. One of my good buddies, Mikey Milne from [the] Winnipeg [ICE], actually got picked a little bit earlier in the draft, so a couple of us went over to his house. We were just sitting on the couch, kind of not really watching the draft, more just talking, and [I] looked over at the screen and saw my face on it and then all my buddies went nuts."
His initial reaction to realizing he had been drafted?
"Shock."
Sward noted that he wasn't sure how to react for a moment:
"If I'm honest, I kind of froze up. Obviously, I was excited and super pumped, but at the same time, I didn't really know what to say. My first knowing of being drafted was just looking at the TV, and then like I said, my friends all went nuts. It was a great little two minutes there where I was kind of frozen on the spot, but it's kind of sunk in now. And yeah, it feels pretty good."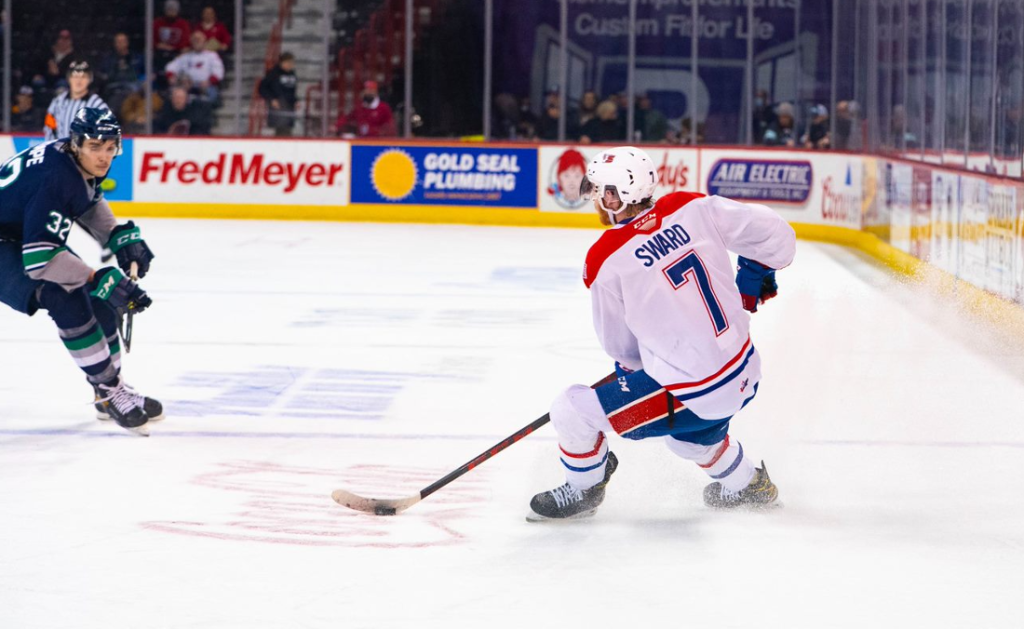 Passed over in his first year of draft eligibility, Sward was determined to prove he deserves a shot, but how much did last year's snub fuel him?
"Yeah, if you want the honest answer, it fueled me a lot. Obviously, you want to get drafted and get picked. I think that was kind of one of my bigger motivations coming into the season. Just to prove that I should have been picked last year and kind of show what I can do."
However, Sward says that missing out at the 2021 draft taught him something:
"I learned I can only control what I can control and kind of stick to that and just work hard. I think that last year, I did that. I didn't really worry about the draft, it wasn't really a big priority. For me, it was more just, go out every night and play as hard as I can, try to contribute, try to help our team win, and focus on what I can control in the moment I'm there and I think that was huge."
Sward had previously told the Area 51 Sports Network that he thought he was pushing a little too hard in his first draft-eligible season. He noted that it had led to an injury that kept him out for a large part of the shortened schedule.
Unlike his Chiefs teammate, Sward heard from the Predators and had a small sense that they may take him on Friday. Though, he mentioned that there was some limited contact from teams leading into the draft, but for a good reason.
"I switched my phone number up at Christmas time, and so all my questionnaires had my old phone number on it," the blueliner said of why he hadn't heard much. "But yeah, [the Predators] phoned me yesterday, before the draft and I had a good interview there. I thought that things went pretty well, but you never really know with the NHL Different things happen. Different guys fall to different places. So, there was kind of a thought in my mind that it might happen, but at the same time, I would have been lucky to go anywhere."