Imagine for a moment that you are a junior-hockey player. You are learning some early nuances of the game, and making friends. Friends that you will likely have for life. While you are learning the game, you realize that you are good enough to be drafted into the NHL. Then comes the NHL Draft, where you achieve your dream by hearing your name being called by the Toronto Maple Leafs, in one of the great cities in hockey, Montreal.
That is the story of Fraser Minten. He was drafted in the second round, 38th overall, by the Toronto Maple Leafs. Toronto moved down in a trade with the Chicago Blackhawks, sending Petr Mrazek and the 25th pick for the 38th pick.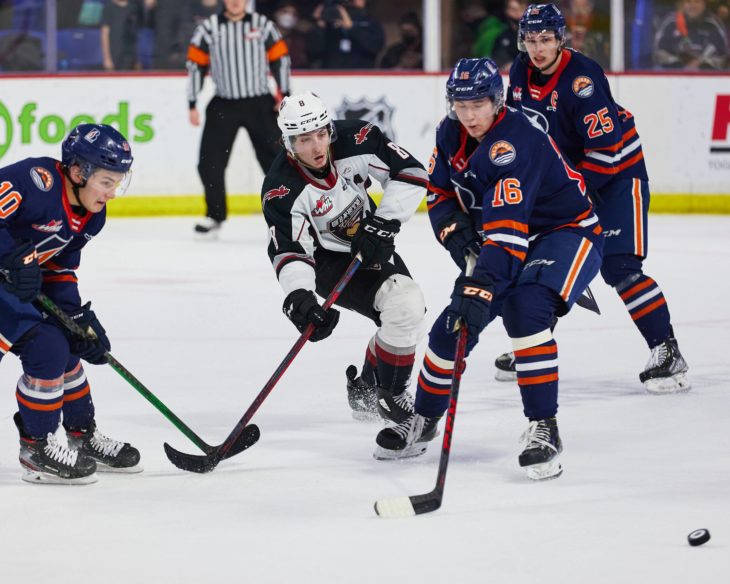 Minten told Leafs Nation that it's an amazing honour to get drafted by the Toronto Maple Leafs.
Two rounds later, one of Minten's teammates became a division rival. Mats Lindgren was drafted in the fourth round, 106th overall, by cross-border rival Buffalo Sabres.
Those were not the only Blazers drafted. Two other Blazers heard their name called at the NHL Draft. With their sixth-round pick,174th overall, the New York Islanders selected Daylan Kuefler
Five picks later,  Blazers majority owner Tom Gaglardi's Dallas Stars selected Matthew Seminoff with their sixth-round pick, 179th overall. Seminoff gets to join Blazers teammate Logan Stankoven on the Dallas Stars.
Overall, it was a great day for the Blazers. For the second straight year, at least three Blazers were selected at the NHL Draft. Last year, Stankoven was selected in the second round, 47th overall, followed by The Minnesota Wild selecting Caedan Bankier in the third round, 86th overall, and former Blazer Josh Pillar going in the fourth round, 127th overall.
The four selections were the most since 2004 when five Blazers were selected. with three being by the Edmonton Oilers. First, Devan Dubnyk was selected in the first round, 14th overall, followed by defenceman Roman Tesliuk in the second round, 44th overall, with Max Gordichuk going in the sixth round,177th overall. The other two picks were made by the Calgary Flames, who selected Kris Hogg in the fourth round, 121st overall, and the Pittsburgh Penguins selected Moises Gutierrez in the sixth round,164th overall.
The next step for the Blazers drafted players is to meet their new teammates in development camps coming up in the next couple of weeks. They will make new friends, learn new nuances, and hopefully play their first game in the NHL.