It's the best time of the year in the WHL, It's playoff time.
For the Kelowna Rockets, their playoff dreams will open up on March 31st in Kent, Washington, where they will face the top team in the west, The Seattle Thunderbirds. Kelowna went 0-4 against Seattle in the regular season and played the team before they added players like Colton Dach and Dylan Guenther. For both teams, this is a rematch of last year's first-round series, where Seattle edged Kelowna in five games.
This will no doubt be a challenge for Kelowna, but is it possible? The short answer is yes. While Seattle is an absolute powerhouse in the west, having 10 currently NHL-drafted players and a handful of prospects waiting to hear their name called in June, nothing is impossible. In recent history, the Rockets have understood what it's like to be the 1 seed and get upset by a lower-end team. In 2018, #1 Kelowna played Tri-City and got swept by an American's team that eventually went on to the Western Conference Finals. For the Rockets to win this series, it will start in the net. Assuming both goaltenders play, Talyn Boyko and Jari Kykkanen will have to be on the ready against a sharpshooting Seattle team. A well-disciplined Rocket group with quality goaltending will be a difficult out for any team in the Western Conference.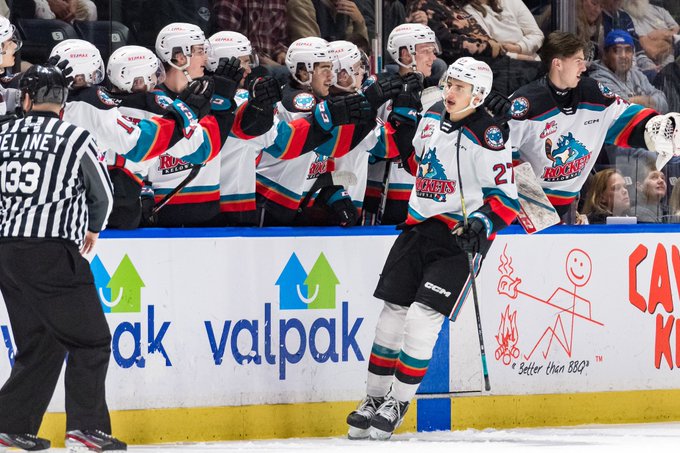 Let's look back at the Season series. These teams, as I mentioned earlier, have played each other 4 total times. Twice in Kent, WA, and twice in Kelowna, BC. It started with a 5-4 T-Birds win in Kelowna back on October 7th. This was before the birds made some huge additions, such as Luke Prokop and Nolan Allen. However, the Rockets faired well in this game, falling just short after Reid Schaefer ripped one home in the third to give Seattle the edge. Next up, these two teams met on November 23rd in Kent. This was another close game. Seattle led 3-2 going into period three, and once again, Reid Schaefer ended it with an empty net goal to seal the game for Seattle, 4-2. These two teams then met for a holiday home and home, December 30th and 31st. The first game was in Kelowna, and the Rockets got deflated in this matchup. Seattle never looked back after opening the scoring and won 4-1. The final regular season matchup was in Kent, and it was another very close game between these two teams. Kelowna lost 2-0, but they kept it tied at zero until about the eight-minute mark in period three. Thomas Milic stood on his head to give Seattle the victory with an 18-save shutout.
Key Scoring Leaders (as of 3/21/23)
Seattle: J. Davidson (39-43-82)
Kelowna: A. Cristall (38-50-88)
Goaltending Stats:
Seattle:
T. Milic: 32GP – 2.05 GAA/0.928SV% (26-3-1-1)
S. Ratzlaff: 32GP – 2.03GAA/0.922SV% (25-6-0-1)
Kelowna:
T. Boyko: 39GP – 3.56GAA/0,899SV% (13-23-1-0)
J. Kykkanen: 32GP – 3.85GAA/0.897SV% (13-12-3-0)
The series opens up in Kent, WA, next Friday for the first two games before heading to Kelowna for Games 3&4 the following Tuesday and Wednesday.