Five Winnipeg ICE players were given season all-star honours. With four being first-team all-stars and one on the second team. The players with first-team honours were goaltender Daniel Hauser, forward Zach Benson, forward Connor McClennon, and defenceman Ben Zloty, while the lone ICE player on the second-team all-star team is Matthew Savoie.
The First Team All-Stars
Daniel Hauser
Daniel Hauser went 37-4-1-0 with two shutouts. His other numbers are just as stellar, with a .917 save percentage and 2.28 goals against average in 42 games played this season. Hauser also had the honour of getting WHL Goaltender of the Week twice this season. He was the rock that held the ICE together at times this year with his steady consistent play. He broke a franchise record with 37 wins in a single season. Hauser is well deserving of this honour.
Zach Benson
Benson had an outstanding season, leading his team in points with 98. He is a highly touted prospect in the upcoming NHL draft, as it looks like the trend is that he will be a top-10 pick. Zach looked like a man on a mission this season as he ranked third in points in the WHL and was a player that every team had to try to stop every night.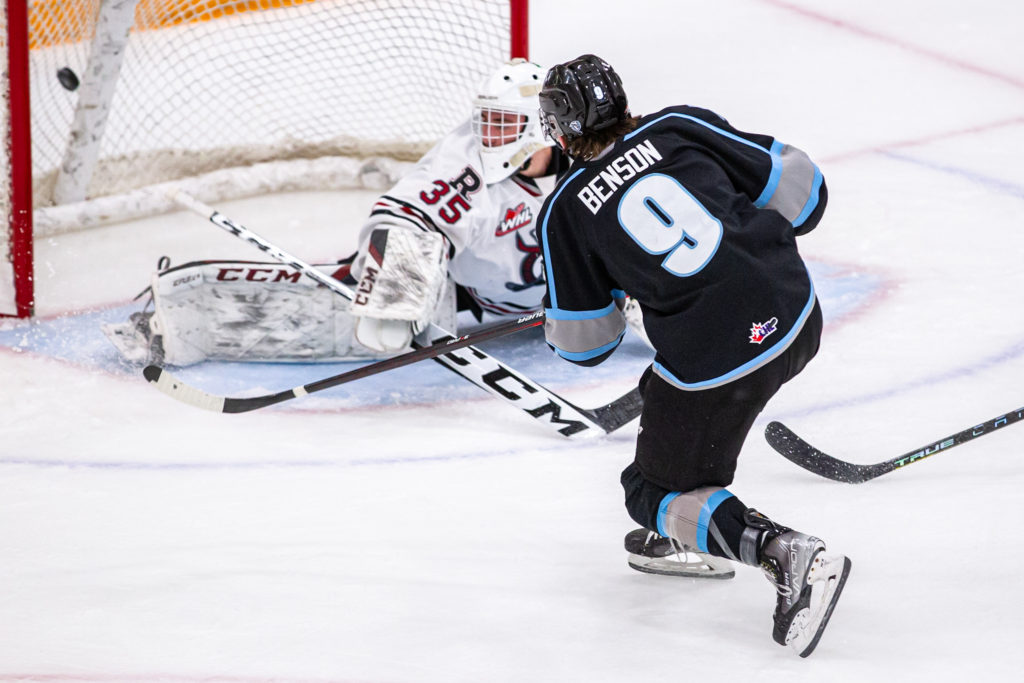 He was also a force on the penalty kill as he scored six shorthanded goals this year, which ranked second in the league. It will be exciting to see where Zach Benson goes in the upcoming NHL draft.
Connor McClennon
Connor McClennon was arguably the most exciting player to watch on the Winnipeg ICE this season. He had a team-leading 46 goals, which was also good enough for sixth among other WHL players. McClennon was the man the ICE gave the puck to on the powerplay with his 16 powerplay goals. He also is such a clutch player, as he was able to score eight game-winning goals. He can put the puck in the net and can make it look pretty effortless while doing it. Connor McClennon will be a player the ICE turn to keep producing in the playoffs this year.
Benjamin Zloty
This player is not like the flashy players that share the honours or first-team all-stars, but he is more than deserving. Zloty was an amazing defenceman for the ICE this year, offensively and defensively. He led all defencemen in points (81) and assists (68). On the defensive side, he had a plus/minus +67 while also recording 36 penalty minutes in 64 games. Zloty was a staple on the backend for the ICE and could hurt you at both ends. A very deserving player for this honour.
Second Team All-Star
Matthew Savoie
Savoie was selected for the second-team all-star this season. He was a dynamic forward this year and a great leader on the ICE. Matthew ranked second on his team in points with 95 which included 38 goals and 57 assists. He was also very responsible, as he only had 26 penalty minutes this year. Savoie was such a solid consistent producer for this ICE team and was very fun to watch this season.
The other players on the East Division first-team all-star are forward Connor Bedard and defenceman Stanislav Svozil of the Regina Pats. Sharing the spotlight on the East Division second-team all-star are goaltender Austin Elliott and defenceman Aidan De La Gorgendiere of the Saskatoon Blades, defenceman Landon Kosior of the Prince Albert Raiders, forward Nate Danielson of the Brandon Wheat Kings, and forward Trevor Wong of the Saskatoon Blades.
All these players had great seasons and are very deserving of these honours. It will be very exciting to see most of these players duke it out in the playoffs.