Overall, we were treated to another fantastic night of entertaining fights. Sadly, more so than usual, the judges ruined some of the fun. The biggest upset was in my pick for Brawl of the Night where Cachoeira somehow won the decision after getting wildly out struck by Kim. Just before that, Rodrigues, in my opinion (and some of the analysts) was on the wrong end of a split decision after a dominant 2nd Round. Even if you thought he lost, no reasonable MMA viewer would have seen that as a 30-27 for Petrosyan like one of the judges. Personally, I thought Altamirano also won the opening fight of the night, but those judges cards weren't as blatantly false as those other two. Controversy aside, we saw another WILD 1st Round finish from Terrance McKinney, a blood bath thanks to an elbow from Armen Tsarukyan and, of course, another display of absolute dominance from Islam Makhachev. All of the bouts from UFC Vegas 49 are covered below along with BLÜ's favourite performances of the night: the BLÜ BONUSES.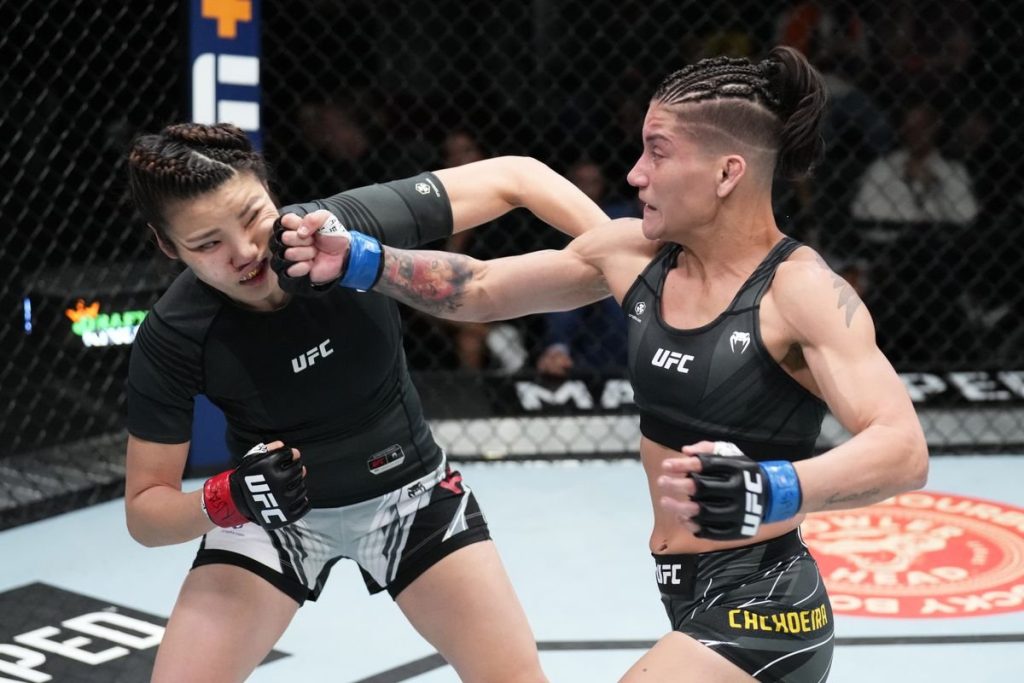 Prelim. Action
Fight #1
Carlos Hernandez def. Victor Altamirano by Split Decision
We opened up the night with two fighters fresh off the Contender Series. Both of them brought the offence, putting everything they had into each round. Hernandez may have won the 1st Round with a late takedown and possibly won the 3rd after stumbling Altamirano. That being said, nobody really knew which way the judges would have leaned; it was a VERY close fight with both men making fantastic UFC debuts. In the end, the judges gave the split decision to Hernandez.

Fight #2
Ramiz Brahimaj def. Michael Gillmore by Submission in the 1st Round
Less than a minute into the fight Gillmore had already found himself in a world of trouble with Brahimaj on his back cranking his jaw. From there it was just a matter of time as Gillmore just couldn't get Ramiz away from his neck. Less than a minute after that it was done with Ramiz locking in the rear naked choke for the win.
Fight #3
Jonathan Martinez def. Alejandro Perez by Unanimous Decision
We were treated to another thrilling standup battle in this one. Instead of punches, both men were choosing to let loose a flurry of kicks. Most of the 1st Round seemed to favour Martinez with his more accurate strikes, but that may have been overshadowed after he got dropped with about 3 seconds left in the round and almost got finished. The 2nd Round was almost an exact copy of the first with Martinez controlling the narrative up until the last 10 seconds of the round. Realizing that he's either down two rounds or tied, Perez came in heavy, trying to push the pace and get a finish. He didn't get the finish, but he made the decision more interesting. After 3 rounds, the judges scored it 29-28, 29-28 and 30-27, all for Martinez.

Fight #4
BLÜ's Prelim. Pick #1
Terrance McKinney vs. Fares Ziam
If you've been watching or reading BLÜ-FC for a while now, you'd know that this bout was actually scheduled a few months ago. At that point, Terrance McKinney was still in his rookie year in the UFC and was looking to grab his FIFTH 1st Round KO of 2021. As for Ziam, he started off his UFC journey with a loss, but since then he had an impressive win over the promising prospect Jamie Mullarkey and a tight, majority decision win over Luigi Vendramini. Physically, these two are very close being that they're a similar age and have a similar reach, so this seemed as though this was going to be determined by their recent performances and their styles of fighting. McKinney has very clearly become a power puncher in the past couple of years with all those 1st Round KOs, but Ziam tends to win by drawing the fight out to decisions. Plus, he's also never been finished by KO/TKO, only by submission. Based on the momentum we had seen from McKinney, plus the fact that Ziam hasn't been winning his fights convincingly, I leaned towards another McKinney finish, but said I could see it being a tight decision if it got that far.
BLÜ's Prediction
McKinney by Finish
As expected, McKinney wasted absolutely no time, ran in and got a takedown within the first 10 seconds. He then used his wrestling to improve his position until he got around to Ziam's back. It looked as though Ziam was going to keep struggling through the rest of the round… until he tapped! With that submission, McKinney has now gotten his FIFTH 1st Round finish in the past year, his second in the UFC.
Result
Terrance McKinney def. Fares Ziam by Submission in the 1st Round
Fight #5
Josiane Nunes def. Ramona Pascual by Unanimous Decision
In this one it looked as though a flyweight was fighting a featherweight with Pascual dwarfing Nunes. In spite of that size difference, Nunes had the better moments on the feet in the 1st Round after she dropped Pascual and out-struck her in the strike totals. The advantage for Pascual was evident after she landed a takedown and controlled Nunes for the final minute of the first. The striking ability of Nunes was on full display in the 2nd Round after she dropped Pascual with a HUGE shot and blitzed her with a couple dozen unanswered strikes. Somehow she got out of that, got back to her feet and actually managed to land a takedown later in the round. The 3rd Round was just more dominance from Nunes on the feet with Pascual landing another takedown right at the end of the fight. This was an easy one for the judges to decide with Nunes clearly winning on all 3 of the judges cards.
Fight #6
BLÜ's Prelim. Pick #2
Ignacio Bahamondes vs. Zhu Rong
I've been a fan of Bahamondes ever since I saw him on the Contender Series; he's very young, extremely exciting and has enormous potential. Since he got a highlight reel front kick KO on the Contender Series, he lost a close split decision to Makdessi and got another HUGE highlight reel KO with a wheel kick with 5 seconds left in his fight against Roosevelt Roberts. As for Zhu Rong, his UFC journey has been far less exciting, but quite similar in results with a 1-1 record. They seemed to be quite similar in their fighting styles; they both go for KOs and don't do much work on the ground. Normally, at least for the more experienced fighters, that means one of them will try and clinch more to steal the decision, but I didn't see that happening here. The two men are under 25 still, not very deep into their careers and love a good standup fight. I saw this ending in a spectacular finish or a full-length, wild standup brawl. Either way, I knew this would be an entertaining bout. Bahamondes brought in a slight edge in reach, plus he's fought slighter tougher competition and has been noticeably improving every fight. The one thing that I noticed about Zhu is that he'd never been finished by punches. Keeping that in mind, even though Ignacio has a lot of power, I said we'd probably see a decision win.
BLÜ's Prediction
Bahamondes by Decision
The fight started off a bit slow with both men feeling each other out, but started to slowly heat up as Bahamondes pushed the pace a bit to put some numbers up on the board. Rong tried to save the round with a takedown but ended up on the bottom when they hit the ground. After clearly losing the 1st Round, Rong came back in the second with an aggressive change of pace. Even with that extra output from Rong and some heavy shots thrown in, Ignacio still had more than double the output. Finally, after over 2 rounds of trying to get the fight to the ground, Rong got him down there, but Ignacio jumped up right away. Interestingly, right after that, he pushed the fight to the ground himself and ended up getting the first submission win of his career! Another impressive performance by the young fighter.
Result
Ignacio Bahamondes def. Zhu Rong by Submission in the 3rd Round
Main Card Action
Fight #7
Gregory Rodrigues vs. Armen Petrosyan
We opened up the main card this week with a couple of fighters that are fairly new to UFC audiences. Gregory Rodrigues was 2-0 in his UFC fights with a decision win over Dusko Todorovic and a KO over Jun Yong Park that won him a BLÜ BONUS in his last appearance in October. Petrsoyan had yet to make his UFC debut but won his contract on DWCS after getting an incredible KO win in the 1st Round. It should be noted that this was at light heavyweight while this fight was set at middleweight. Despite fighting at the heavier weight, Armen had the shorter reach by 5 inches. This was an extremely tight matchup and seemed to be lined up as one of the more entertaining matchups of the night. Both men frequently chase a knockout, but there was one key difference in their recent fight history: Rodrigues competed on UFC Fight Pass International in grappling bouts. That told me that Rodrigues is comfortable with grappling and likely had an edge in that department. I said either one of these men could get a KO, BUT I believed Rodrigues was going to use that grappling to make it a dirtier fight, a longer fight and win by decision.

BLÜ's Prediction
Rodrigues by Decision
With this much power flying around, it was no surprise that both men took it fairly easy the first round so they wouldn't get clipped. Interestingly, while Petrosyan almost tripled the striking numbers of Rodrigues in the 1st Round, it looked as though Rodrigues was the one in control due to his extra power and precise striking. This continued in the 2nd Round with Rodrigues stumbling Armen a few times within the first couple minutes of the round. Finally, after staying on the feet for 2 rounds, Rodrigues pushed the fight to the ground and almost locked in a couple of different submissions before Armen got back to his feet. By the end of the fight, both men were left battered and bloody after an early contender for my Brawl of the Night BLÜ BONUS. Somewhat surprisingly, the judges ended up leaning towards Armen and gave him a tight split decision win. What was even more shocking, was when one of the judges had it 30-27 for Petrosyan.
Result
Armen Petrosyan def. Gregory Rodrigues by Split Decision

Fight #8
Arman Tsarukyan vs. Joel Alvarez
On paper, this was probably the 2nd most exciting matchup of the night (behind the main event). Tsarukyan came into this bout at a record of 17-2 while Alvarez came in at 19-2. Not only that, both of them lost their first fight in the UFC and won their next four. Although they are very similar, it seemed as though one of them had a few small factors leaning in their favour. Alvarez had a slight reach advantage, he seemed to be more experienced on the ground and he just finished Thiago Moises in the 1st Round in his last fight which is no easy feat. Due to both these men are extremely tough, I thought we probably weren't going to see a finish. Instead, I thought we'd be seeing a lot of action with a decent sprinkling of ground control and clinch control coming from Alvarez to win a close decision. With this much power flying around though, a finish is not out of the question, it's just less likely.
BLÜ's Prediction
Alvarez by Decision
The fight started off fast and furious but quickly went to the ground with Tsarukyan on top. It was then that Alvarez found himself in a world of trouble after getting ripped open by a huge elbow, pouring blood onto the canvas like a faucet. He managed to get out of the 1st Round, but because of all that blood in his face, he just couldn't see after he got taken down again at the start of the second. Tsarukyan ended Joel's misery with a TKO stoppage in the 2nd Round.
Result
Arman Tsarukyan def. Joel Alvarez by TKO in the 2nd Round
The Future
With a dominant performance like that, there's no doubt that Tsarukyan is worthy of someone in the top 10. A lot of people are saying Gillespie and I completely agree; with him sitting in 10th, that would make sense. A matchup that I'd love to see is him against Hooker. I think that's got fight of the night written all over it. The only problem is that Hooker is planning on making a journey down to 145 in his next bout. Whatever happens, his next fight will surely be featured prominently on the main card of a PPV or maybe even the main event of a fight night.

Fight #9
Priscila Cachoeira vs. Ji Yeon Kim

Both of these women have had a rough time in their UFC careers. Cachoeira is currently 2-4; after losing her first 3, she came back and won 2, then lost to one of the most celebrated Canadian fighters in the UFC, Gillian Robertson. Kim has gone 3-4 with two recent losses to Molly McCann and Alexa Grasso. Based on their history, there wasn't much separating these two. The only difference that I could see was a substantial 7 inch reach advantage in favour of Kim. For that reason, I leaned towards Kim. Of course, since we're talking about flyweight women who, statistically speaking, have an overwhelming number of decisions, this seemed like the likely outcome for this fight.

BLÜ's Prediction
Kim by Decision

As I mentioned in the lead-up to this fight, this seemed like an odd choice to have on the main card, especially just before the co-main. After seeing the fight play out, I take that back; it was easily the best women's bout of the year so far! The first two rounds were very close but Kim seemed to be ahead thanks to her output. Cachoeira was landing some of the harder shots, but nowhere near as many as Kim. This was made clear even just based on the visual damage on her face; Kim was fairly clean while Cachoeira's face was red, scratched up and bruised from all of the jabs. In the 3rd Round, that's when the fight exploded and both of them came alive. They were both stumbled, cut up, wobbled and were bleeding. It seemed as though, especially after all the damage in the final round, Kim had done enough to win. I had the fight 29-28 for Kim like the analysts and most everyone else on the internet… but the judges saw it UNANIMOUSLY for Cachoeira. This started a huge uproar online and was even bad enough that Felder made a point to say on the broadcast how clear it was that Kim had won the fight.
Result
Priscila Cachoeira def. Ji Yeon Kim by Unanimous Decision

Co-Main Event
Misha Cirkunov vs. Wellington Turman
Just like most of the other fights on this card, this was a tight matchup. Cirkunov has been on a rough streak the past few years with a record of 2-5. While that's a terrible record, it should be noted that all these bouts (except for his last one) were in the light heavyweight division. In his last bout he moved down to middleweight and lost in a split decision to Jotko. As for Turman, he's also been on a rough streak with a record of 2-3 in his last 5 bouts; this includes a recent split decision win over Sam Alvey and a 1st Round KO loss to Bruno Silva last year. Neither of these fighters has really impressed UFC audiences in their past few appearances, so this was a tough one to choose. Turman is 9 years younger, which definitely favoured him, but Cirkunov has a 5 inch reach advantage and, as I mentioned, he used to fight at light heavyweight. That told me that Turman likely had better cardio but that Misha held a clear advantage in striking when it came to power and length. Misha also has a history of sinking in rare submissions like the Peruvian necktie and arm triangle choke, both of which he landed in the UFC. Because of those slight advantages on the feet and on the ground, I thought we'd likely see Cirkunov win the first two rounds (or possibly get a finish) and that Turman would take over in the last round thanks to his cardio.
BLÜ's Prediction
Cirkunov by Decision

The fight opened with a wild display of grappling from both men. First, Misha got in a bad spot with Turman on his back but somehow managed to slip out of it. Then he ended up getting Turman into a bad spot, threw down some heavy ground and pound and sunk in a deep submission attempt to likely take the 1st Round. It seemed as though Cirkunov was going to continue that momentum in the 2nd Round after he found himself on top once again… until, out of nowhere, Turman slipped Misha's arm into a devastating armbar that had him tapping before we even knew what was happening.
Result
Wellington Turman def. Misha Cirkunov by Submission in the 2nd Round
Main Event
Islam Makhachev vs. Bobby Green
This was really the only fight on the card that most UFC fans were looking forward to seeing. That being said, it was also (by far) the most one-sided matchup of the night. Not only that, it's the most one-sided matchup of the year so far. Islam was ranked 4th while Green was still unranked after fighting just 2 weeks ago. Makhachev is famously known as Khabib's training partner as well as his star pupil now that Khabib has turned to coaching. Thanks to his Dagestani wrestling roots and Khabib's help, he's widely known as the best grappler in the lightweight division and one of the best in the UFC. Since Khabib has retired, Islam has gone from winning decisions to absolute dominant wrestling, getting 3 submission wins in 2021. The last of those submission wins, of course, was a brutal kimura submission win in the 1st Round over Dan Hooker in October. Green has been exciting lately with an impressive 1st Round KO over Iaquinta and a dominant decision over Haqparast just 2 weeks ago. Green has been exciting, but I said this after his last fight, he MAY be ready to fight a ranked opponent who's near the bottom of the rankings, but he's NOT ready (at all) to fight someone as dominant as Makhachev. I said right that this one was going to be an anchor in my parlay and was a sure win for Islam. I also said the money would come into play by guessing which round this would end. Due to the fact this was at the 160 pound catchweight instead of lightweight, Islam didn't have to cut his normal 15-20 pounds so he seemed like he'd be in better shape and have an even more clear advantage in grappling.

BLÜ's Prediction
Makhachev by Finish

This fight went exactly as most people assumed it would go. Green tried to keep the fight on the feet as long as he could, but just couldn't deal with the overwhelming power of Islam's wrestling. Makhachev dragged him to the ground and tried to get at an angle to get a submission. Ultimately, he opted to just lay out some heavy ground and pound to finish the fight with a TKO win. Some people complained that the fight was stopped prematurely and that may be true, but you have to think that it was only going to be worse for Green over the next minute or two.

Result
Islam Makhachev def. Bobby Green by TKO in the 1st Round

The Future
Islam is calling for a title shot after Gaethje gets his shot at Oliveira next. People are complaining that Makhachev may get a title shot after beating Green. Those people have to realize that he's not getting it because of this fight, he's getting it because of what he's done on his 9 fight win streak and his finishes in the past year. THAT is why he deserves the shot. That being said though, to stay active, because this title shot won't happen until at least the fall, I'd say we'll see him in the Octagon again before that happens. Most likely, that would be against Dariush after he dropped out of this fight. As for Bobby Green, this shouldn't take anything away from his recent performances, I still believe he deserves to fight someone in the top 15.



BLÜ's Record for the Night
Prelims: 2-0
McKinney (W)
Bahamondes (W)


Main Card: 1-4
Rodrigues (L)
Alvarez (L)
Kim (L)
Cirkunov (L)
Makhachev (W)



BLÜ BONUSES


KO of the Night: Arman Tsarukyan
Sub. of the Night: Terrance McKinney
Brawl of the Night: Priscila Cachoeira vs. Ji Yeon Kim
Most Valuable Fighter
Terrance McKinney

After getting yet ANOTHER 1st Round finish, his fifth in the past year, he's clearly worthy of an extra bonus. Not only did he get another early finish, he did it by submission to prove that he's not just a power-puncher, he's also a dominant wrestler.