Originally scheduled as a title eliminator in the lightweight division, this night has likely been turned into a showcase for Islam Makhachev as Bobby Green takes over Dariush's spot in the main event. Other than that, UFC Vegas 49 has some exciting bouts including an exciting one between Armen Tsarukyan and Joel Alvarez, the UFC debut of Armen Petrosyan from the Contender Series and the return of 2021 rookie standout Terrance McKinney who's looking for his FIFTH 1st Round KO in a row. All of these matchups (plus more) are covered below and feature BLÜ's predictions along with the Bet99 Sportsbook Odds.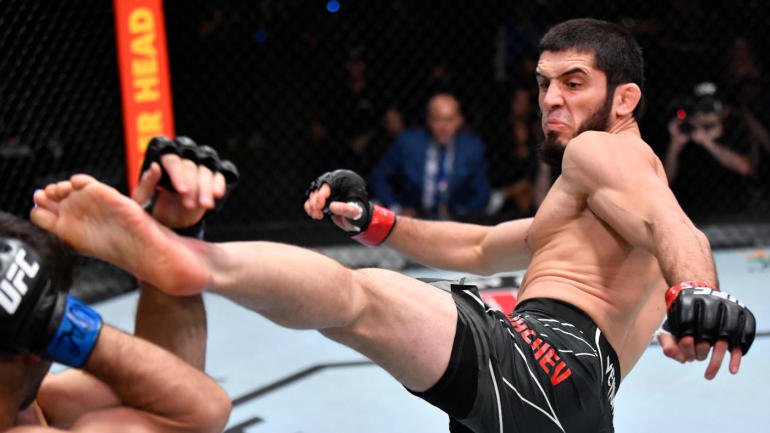 Main Card (4:00 PM PST)
Gregory Rodrigues vs. Armen Petrosyan
BET99 Odds
Rodrigues: -172 Petrosyan: +137
Over 1.5: +108 Under 1.5: -137
We're opening up the main card this week with a couple of fighters that are fairly new to UFC audiences. Gregory Rodrigues is 2-0 in his UFC fights so far with a decision win over Dusko Todorovic and a KO over Jun Yong Park that won him a BLÜ BONUS in his last appearance in October. Petrsoyan has yet to make his UFC debut but won his contract on DWCS after getting an incredible KO win in the 1st Round. It should be noted that this was at light heavyweight while this fight is set at middleweight. Despite fighting at the heavier weight, Armen has the shorter reach by 5 inches.
This is an extremely tight matchup and seems to be lined up as one of the more entertaining matchups of the night. Both men frequently chase a knockout, but there's one key difference in their recent fight history: Rodrigues competed on UFC Fight Pass International in grappling bouts. That tells me that Rodrigues is comfortable with grappling and likely has an edge in that department. I'll start by saying either one of these men can get a KO and that's certainly plausible here. BUT, I believe Rodrigues is going to use that grappling to make it a dirtier fight, a longer fight and win by decision.
BLÜ's Prediction
Rodrigues by Decision
Arman Tsarukyan vs. Joel Alvarez
BET99 Odds
Tsarukyan: -209 Alvarez: +166
Over 2.5: +100 Under 2.5: -128
On paper, this is probably the 2nd most exciting matchup of the night (behind the main event). Tsarukyan is coming into this bout at a record of 17-2 while Alvarez comes in at 19-2. Not only that, both of them lost their first fight in the UFC and won their next four. These fighters are very evenly matched and are sure to put on incredible performances.
Although they are very similar, it seems as though one of them has a few small factors leaning in their favour. Alvarez has a slight reach advantage, he seems to be more experienced on the ground and he just finished Thiago Moises in the 1st Round in his last fight which is no easy feat. Since both these men are extremely tough, we're probably not going to see a finish. Instead, I think we'll be seeing a lot of action with a decent sprinkling of ground control and clinch control coming from Alvarez to win a close decision. With this much power flying around though, a finish is not out of the question, it's just less likely.
BLÜ's Prediction
Alvarez by Decision
Priscila Cachoeira vs. Ji Yeon Kim
BET99 Odds
Cachoeira: +142 Kim: -175
Over 2.5: -200 Under 2.5: +157
I'm not gonna lie, this is an odd choice to put on the main card; both of these women have had a rough time in their UFC careers. Cachoeira is currently 2-4; after losing her first 3, she came back and won 2, then lost to one of the most celebrated Canadian fighters in the UFC, Gillian Robertson. Kim has gone 3-4 with two recent losses to Molly McCann and Alexa Grasso.
Based on their history, there's really nothing separating these two. The only difference that I can see is a substantial 7 inch reach advantage in favour of Kim. For that reason, I'll be leaning towards Kim. Of course, since we're talking about flyweight women who, statistically speaking, have an overwhelming number of decisions, this seems like the likely outcome for this fight.
BLÜ's Prediction
Kim by Decision
Co-Main Event
Misha Cirkunov vs. Wellington Turman
BET99 Odds
Cirkunov: -123 Turman: +100
Over 1.5: -160 Under 1.5: +125
Before we're treated to the main event, we've got an exciting fighter that fights out of Canada, Misha Cirkunov, squaring off against Wellington Turman. Just like most of the other fights on this card, this is a tight matchup. Cirkunov has been on a rough streak the past few years with a record of 2-5. While that's a terrible record, it should be noted that all these bouts (except for his last one) were in the light heavyweight division. In his last bout he moved down to middleweight and lost in a split decision to Jotko. As for Turman, he's also been on a rough streak with a record of 2-3 in his last 5 bouts; this includes a recent split decision win over Sam Alvey and a 1st Round KO loss to Bruno Silva last year.

Neither of these fighters has really impressed UFC audiences in their past few appearances, so this is a tough one to choose and it should be a close fight. There's a few differences between them and these will likely be what separates the two men. Turman is 9 years younger, which definitely favours him, but Cirkunov has a 5 inch reach advantage and, as I mentioned, he used to fight at light heavyweight. That tells me that Turman will likely have better cardio but that Misha holds a clear advantage in striking when it comes to power and length. Misha also has a history of sinking in rare submissions like the Peruvian necktie and arm triangle choke, both of which he landed in the UFC. Due to those slight advantages on the feet and on the ground, we'll likely see Cirkunov win the first two rounds (or possibly get a finish) and Turman will take over in the last round thanks to his cardio.
BLÜ's Prediction
Cirkunov by Decision


Main Event
Islam Makhachev vs. Bobby Green
BET99 Odds
Makhachev: -800 Green: +533
Over/Under Unavailable at Time of Post
This is really the only fight on the card that most UFC fans are looking forward to seeing. That being said, it's also (by far) the most one-sided matchup of the night. Not only that, it's the most one-sided matchup of the year so far. Islam is ranked 4th right now while Green is still unranked after fighting just 2 weeks ago. Makhachev is famously known as Khabib's training partner as well as his star pupil now that Khabib has turned to coaching. Thanks to his Dagestani wrestling roots and Khabib's help, he's widely known as the best grappler in the lightweight division and one of the best in the UFC. Since Khabib has retired, Islam has gone from winning decisions to absolute dominant wrestling, getting 3 submission wins in 2021. The last of those submission wins, of course, was a brutal kimura submission win in the 1st Round over Dan Hooker in October. Green has been exciting lately with an impressive 1st Round KO over Iaquinta and a dominant decision over Haqparast just 2 weeks ago.
Green has been exciting, but I said this after his last fight, he MAY be ready to fight a ranked opponent who's near the bottom of the rankings, but he's NOT ready (at all) to fight someone as dominant as Makhachev. This one is going to be an anchor in my parlay and is a sure win for Islam. The money will come into play by guessing which round this will end. Because this is at the 160 pound catchweight instead of lightweight, Islam won't have to cut his normal 15-20 pounds, he'll be in better shape and have an even more clear advantage in grappling. I'll be putting money on a submission in the 1st or 2nd Round; I'd be fairly surprised if Green can make it past that.
BLÜ's Prediction
Makhachev by Finish

BLU's Prelim Picks (Prelims begin at 1:00 PM PST)
Terrance McKinney vs. Fares Ziam
BET99 Odds
McKinney: +100 Ziam: -125
Over 2.5: +120 Under 2.5: -150
If you've been watching or reading BLÜ-FC for a while now, you'd know that this bout was actually scheduled a few months ago. At that point, Terrance McKinney was still in his rookie year in the UFC and was looking to grab his FIFTH 1st Round KO of 2021. It's a new year, but that's still very clearly an impressive streak even if only one of those four KOs was in the UFC. Trying to shut down that hype is Fares Ziam who's heading into his 4th UFC fight. He started off with a loss, but since then he's got an impressive win over the promising prospect Jamie Mullarkey and tight, majority decision win over Luigi Vendramini.

Physically, these two are very close being that they're a similar age and have a similar reach, so this is going to be determined by their recent performances and their styles of fighting. McKinney has very clearly become a power puncher in the past couple of years with all those 1st Round KOs, but Ziam tends to win by drawing the fight out to decisions. Plus, he's also never been finished by KO/TKO, only by submission. This presents an interesting matchup with some interesting questions. Will McKinney's power be enough to finish him? If not, can McKinney keep up the pressure and power throughout 3 rounds to win a decision? We won't know the answer to those questions until we see the fight. Based on the momentum we're seeing from McKinney, plus the fact that Ziam hasn't been winning his fights convincingly, I'm going to lean towards another McKinney finish, but I could see it being a tight decision if it gets that far.
BLÜ's Prediction
McKinney by Finish


Ignacio Bahamondes vs. Zhu Rong
BET99 Odds
Bahamondes: -220 Rong: +175
Over 2.5: -158 Under 2.5: +122
I've been a fan of Bahamondes ever since I saw him on the Contender Series; he's very young, extremely exciting and has enormous potential. Since he got a highlight reel front kick KO on the Contender Series, he lost a close split decision to Makdessi and got another HUGE highlight reel KO with a wheel kick with 5 seconds left in his fight against Roosevelt Roberts. As for Zhu Rong, his UFC journey has been far less exciting, but quite similar in results with a 1-1 record.
They seem to be quite similar in their fighting styles; they both go for KOs and don't do much work on the ground. Normally, at least for the more experienced fighters, that means one of them will try and clinch more to steal the decision, but I just don't see that happening here. The two men are under 25 still, not very deep into their careers and love a good standup fight. I see this ending in a spectacular finish or it's going to be a wild standup brawl. Either way, this is going to be an entertaining bout. Bahamondes brings in a slight edge in reach, plus he's fought slighter tougher competition and has been noticeably improving every fight. The one thing that I've noticed about Zhu is that he's never been finished by punches. Keeping that in mind, even though Ignacio has a lot of power, we're probably seeing a decision win.
BLÜ's Prediction
Bahamondes by Decision

BLÜ's Best Bets

Here I highlight some betting lines that you might want to take advantage of for UFC Vegas 49. These are odds that favour the bettor. Although some of them may conflict with my picks, they offer a fair reward for a slight bit of risk.

Gregory Rodrigues vs. Armen Petrosyan Over 1.5 at +108

Both of these men are extremely tough and prefer to strike. That being said, because Rodrigues has a good clinch and ground game, it seems likely that because he's facing a power-puncher, he'll use that skill set to nullify Petrosyan's offence and make this a longer fight. If this betting line had been over -120, I may have stayed away because of the diminishing returns, but at +108, this is an incredible deal.

Arman Tsarukyan vs. Joel Alvarez Over 2.5 at +100
With two men this evenly matched, plus the fact that they both have only 2 losses with over 15 wins, it's surprising that they're not favoured to go Over 2.5. It's certainly plausible that one of them finishes the fight early, but I think we're far more likely to see a lengthy, bloody brawl or a methodical clinch/ground control performance by one of them.
The Underdog Joel Alvarez at +166
On paper these two fighters are very similar, that already tends to mean it may be a good idea to bet the underdog. In this case, though, I actually think Alvarez holds a slight advantage going into this fight thanks to his extra reach and his experience on the ground. There's no way that Alvarez should be at +166, these odds are begging to be taken.
The Underdog Terrance McKinney at +100

McKinney had FOUR 1st Round KOs in 2021 and wanted to get his 5th when this matchup was originally scheduled last year. Ziam has had a couple of wins but hasn't really had a breakout performance yet in the UFC. Ziam may have an edge in the final stages of the fight, but because McKinney is so explosive, he has a chance to end the fight early or even win the first 2 rounds to put a decision out of reach for Ziam. That makes McKinney an easy choice to put a little bit of money on as an underdog.


Parlay Opportunities
The Short Run
Brahimaj + Nunes + Makhachev
The Long Run
Brahimij + Martinez + Nunes + Cirkunov + Makhachev