Matthew (Matty) Edwards was drafted by the Vancouver Giants in the fourth round of the 2022 WHL Bantam Draft. The 6'2″, 190 lbs right winger can best be described as a physical presence who isn't afraid to throw big hits all over the ice. After spending his entire life in Saskatchewan, he packed up and moved out to the West Coast last season for a new challenge.
Edwards season began like most at Giants training camp. He was one of 35 players invited being named to Team Howe for the annual Quinn/Howe Legends Cup at the end of training camp. Despite not walking home with the Championship, he learned some important lessons during the week.
"It was my first WHL camp, so everyone is a lot older and faster," Edwards said. "It was top-quality players who could really push the pace."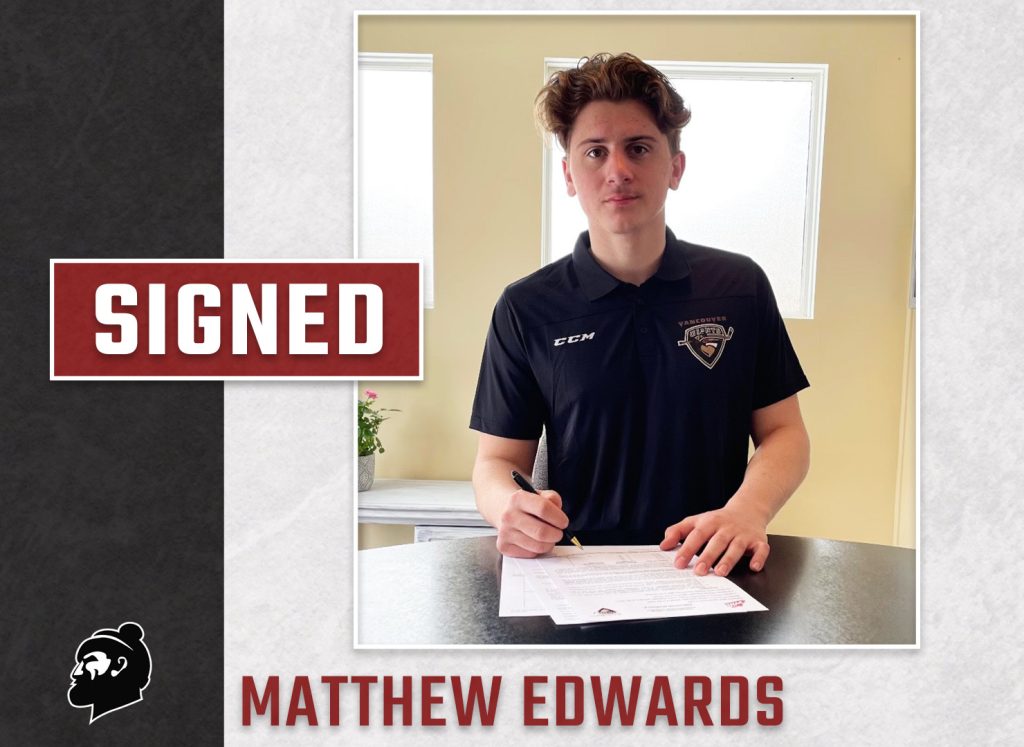 Edwards talked a little about some of the lessons he learned at the camp from the coaches and his teammates.
"I think attention to detail. They will let you know if you're not ready to go in line or you're not ready to make a pass. The coaches too by making sure everyone is always ready to play."
Moving from Saskatchewan to British Columbia while jumping up into a stronger league was a big change. Despite a big culture change and being away from his family at just 16 years old, Edwards was ready for the challenge.
"Hockey-wise, it was a big jump playing junior at 16, so I was playing against older guys and fast guys in BC, but I enjoyed it."
Edwards spent most of the season in the BCHL with the Cowichan Valley Capitals. He finished the year with three goals and six points in 43 games and had the opportunity to play four playoff games with the organization. While on Vancouver Island, he had the chance to play with Giants goaltender Matthew Hutchison. The two became close, even carpooling to the rink together, which helped both their transition to the BCHL.
"He came out to quite a few practices, so I got to know him real well. We actually carpooled to practice together and looking forward to moving on together next year."
After his BCHL season was over, Edwards was given the opportunity to play in the playoffs for the Giants. In total, he played nine games, collecting his first career WHL point versus Kamloops in the second round. A rare feat as his first career playoff point came before he had the chance to play a regular season game.
"It was incredible. There were a lot of fans and energy in the building and was eye-opening for me to see that. Coming from the BCHL and going into a playoff game with 5,000 fans, it was faced pace with lots of energy, and I was super excited to get it started. (My first assist) was exciting. I think I got the puck on the wall, chipped it to (Jaden) Lipinski, who passed it to (Justin) Lies, who shot it and by that time, I was just skating down the ice celebrating. It was really exciting."
Edwards had a memorable season, but his favourite moment came in Game 6 when the Giants defeated the Everett Silvertips in the first round and made history.
"I think the series against Everett when we won that game at home. It was so exciting for everyone. Everyone was smiling in the room, and all the coaches were happy. I was extremely excited as it was a great moment for everyone."
For those who have not watched Edwards play, the player he most resembles is former NHLer Scott Hartnell. Both are from Saskatchewan and play a hard-nosed game where they do whatever it takes to win.
"I never watched him play live because I was younger, but I play a hard-nosed, physical game. I've seen clips of him, and I think he resembles that as well, so yeah, a big player who likes to use his size to his advantage."
Despite his limited time with the Giants, Edwards enjoyed himself in the lower mainland. Luckily, he didn't have to deal with the rain, which is surprising considering the weather that hits BC in the Spring.
"I was lucky because it was so sunny and nice and we didn't get much rain. I lived with Bill Wilms, the colour commentator, so we would go out and walk around the golf courses. It was a really nice area, so I was happy I was there. I didn't get to play any golf while I was there but am planning on it next year. I like to play golf. I didn't bring my clubs, but we planned on getting a round in next year."
This summer is key for Edwards as he has a chance to make the Giants full-time next season. He has already started training and is ready to claim a roster spot for the 2022-23 season.
"Since I've been home, I've been skating on the ice three to five times a week. I've got a really good group of WHL players that I train with. Then in the mornings, I'm doing a workout/speed and agility training and all that stuff from nine to 11. It's a really good group here."
Edwards is excited to prove he has what it takes to be a Giant and has a special message for the fans.
"I am excited to get things started. I can't wait to move halfway across the country and start playing again, getting to camp and meeting all the guys. It's really exciting to me and makes me want to work harder during the summer so I can get ready for when the season gets going."
Edwards is an exciting player who fans will grow to love, despite being a Roughriders fan. He showed his physical capabilities during the playoffs and will look to continue his momentum into the 2022-23 season.