Ethan Semeniuk is one of five Vancouver Giants projected to hear his name called at the 2023 NHL Entry Draft. The Fort St. John native has played his entire career with the Giants recording 31 points in 89 regular season games with the organization. Come June; he could become the fifth-ever player from Fort St. John and the first since 2011 to be drafted into the NHL.
This season has seen its up and downs for Semeniuk. He missed over a month with an injury and has only dressed for 33 of the team's 46 games this season. Now fully healthy, he can focus on the rest of the season and not only trying to impress the scouts but make an impact for the Giants during their push for the playoffs.
"I started off strong, but it got interrupted there with the injury," Semeniuk said while talking about his season to date. "Now, I'm starting to get back to what I would call my better half coming out again. I am looking forward to the rest of the season."
One part of Semeniuk's game is his willingness to get the puck on the net. So far this season, he has 83 shots on goal and has only failed to register a shot in two games. Generating offence is a key part of his game, so being able to get the puck on the net consistently is something he has worked on this season.
"You have to be generating offence. I think the best way to do that is to put it on net. There is no real bad time to put it on net, so I focus on that and getting hits and bumps out there. Shooting is a big part of my game, and I want to be funnelling puck to the net and create as much opportunity for me and my linemates as I can."
Another area that Semeniuk has improved on is one that can't be tracked in the stats. That is his confidence not only when he has the puck but in all aspects of his game. Now that he is in his second season with the Giants, he is starting to get more opportunities and wants to show he is ready for whatever the organization throws at him.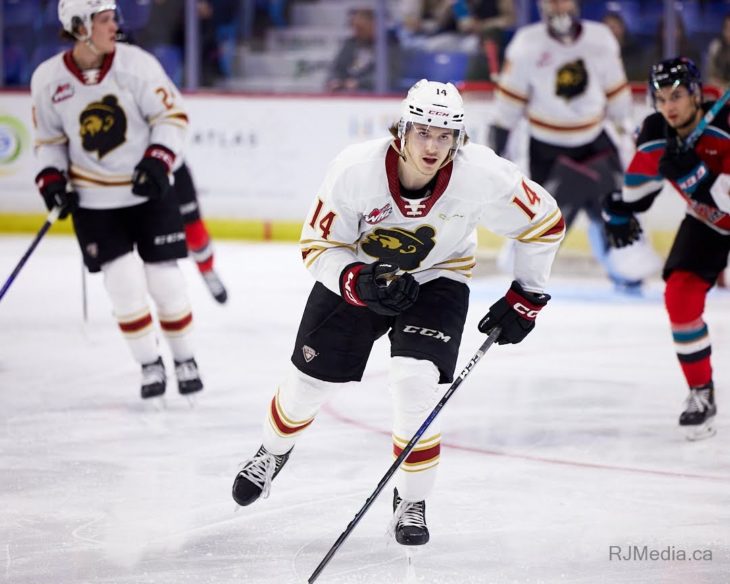 "I think confidence and a little bit more consistency. Last year, I was a little bit more up and down the lineup and in and out of games. This year, there is more consistency and a little bit more for me to build on. I can focus on things going into certain games and really prove my play game to game rather than wondering what is going to happen game to game."
As mentioned, the Giants have five players set to be drafted this season. This is a cool scenario, as Semeniuk points out, as he, along with Samuel Honzek, Mazden Leslie, Jaden Lipinski, and Ty Halaburda, get to go through this experience together. Also, the fact he is ranked by NHL Central Scouting (173 among NA Skaters) is something he doesn't take for granted.
"I think it's awesome. Every guy that's in a spot to be drafted has worked to get there, and I think all of us really deserve it. It's cool that we have someone to go through it with, and everyone is on the same page. (On being ranked) I talked a little bit about it last year about how cool it is to be in the league, but it's even cooler to be mentioned on the site. It doesn't make or break anything for me, but it's definitely cool. The family and friends get to see it; it's cool."
A little fun fact about Semeniuk, he participated in speed skating before his hockey days. This seems to have paid off, as his speed is one thing that does stick out during games. While he would have rather been registered for hockey early on, he admits his speed skating days played an important in his game today.
"I actually wasn't allowed to do hockey for the first one of two years. They told me I had to do speed skating, and I was pretty upset about that. I think it has helped a little bit with my skating ability."
Speaking of early-on hockey memories, Semeniuk was also part of the team that almost won the Good Deeds Cup. This is a challenge for eligible U11, U13 and U15 minor hockey teams registered with Hockey Canada to take the values they learn on the ice — determination, leadership, teamwork — and use them to support their communities off the ice. While they didn't win, the lessons he learned from the process have stuck with him ever since.
"We were in a small town where everyone knows each other. Even from a young age, we were a big part of the community. That was a lot to do with our coaching and management we had there in Fort St. John. They held high importance to doing the right thing and being good people, so that is what we did."
As for the rest of the season, Semenuik is ready to show the scouts he can be an all-around strong player. He has been working hard all season and knows that there will be some attention on him as the season wraps up.
"I want to showcase my speed a lot more. I want to be taking pucks to the net more and really drive the puck to the net while getting into the harder areas. Showcasing my speed these next couple of games, though, is a big one."
With a strong conclusion to the season and good playoff performance, Semeniuk should see an increase when it comes to NHL Central Scouting. His overall play is good enough to warrant some attention but needs to kick his game into high gear and show the scouting world he can be a difference-maker. He is a key part of the Giants' top-six forward group and will only improve as time progresses.