For a team to be successful in the playoffs, they need their young players to step up. For the Vancouver Giants, one of those players has been Ethan Semeniuk. The Fort St. John's, BC native has two goals and one assist in his first nine playoff games this season and has provided strong depth play throughout the postseason.
This season was Semeniuk's first year with the Giants. The now 17-year-old played 56 games scoring eight goals and 13 points.
"It's been great" said Semeniuk. "It's been a good experience especially with the older guys we have right now. They have made it really enjoyable. Also with all the staff, it's been super enjoyable. in my first year."
There are many special moments in a players career. There is the day they got drafted, the day they play their first game and of course when they score their first goal. It was a hard choice for Semeniuk to pick his favourite moment of the three. The moment was his dream coming true and playing his first game in the WHL.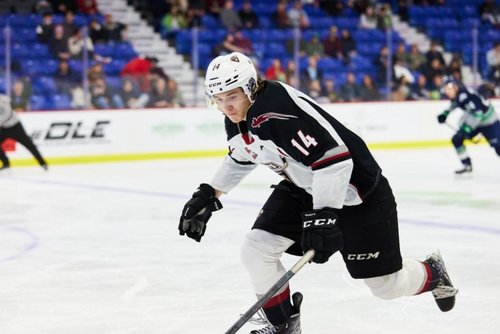 "Probably playing my first game. Growing up in a small town, I never thought I would end up playing in the WHL. It's hard to beat scoring your first goal but being there in the first place was awesome."
The Giants became the first ever team in WHL history to defeat a one seed as an eight seed. Semeniuk played a big role in the series whether it was defensively or producing offensive chances. Winning that series is something he won't forget for a long time.
"It was crazy. We wanted it so bad. The whole series was remarkable. There are no words, it was crazy."
After defeating Everett in Game 6 at home, the team was hyped up. There was music playing and all the players were celebrating the victory. Semeniuk says the locker room was the place to be after the victory and a big reason was DJ Justin Lies and his playlist.
"(It's always Lieser (Justin Lies). He's always got the best music for wins and even pregame. He's the go to guy for all that stuff. (The locker room) was crazy. Everyone was ecstatic. It was great for all the 20-year-olds to live to fight another day. We weren't expected to win but we all thought we could do it and that we were gonna do it. It was a great feeling after Game 6.
Scoring in the regular season is great but scoring against both the number one and number two seeds in the same playoffs is a distinction few have. Semeniuk is one of those players.
"It feels good. We weren't able to win either of those games I scored in but scoring in the postseason definitely beats scoring in the regular season. Way more valuable and way more important."
Semeniuk has found some chemistry on a line this postseason with Jaden Lipinski and Kyle Bochek. They have been crucial to the Giants success so far. Although the trio not play together in the regular season, they have captured lightning in a bottle here and hope to continue their strong play throughout the playoffs.
"I think we just try to play the right way. Keeping it simple and doing the little things right. We get in on the forecheck, create as much energy as we can and sometimes get rewarded for it."
This year, Kamloops have gotten the better of the Giants, especially in Langley. The Game 3 win was crucial series wise but also felt great as Vancouver was able to beat a BC Division rival and hand them their first loss of the 2022 postseason.
"It's great. We wanted to win that one especially going into Game 4. We wanted it to be a closer score but winning at home is always great. The fans are great and you always want to win at home. I think we knew we could beat them so no surprise that we got one. "
A strong support system is a key to a players success. Although his family lives far away, they had the opportunity to come watch him in the first round versus Everett. For Semeniuk, seeing his family in the arena and seeing people wearing his jersey was very special.
"They came down for a couple games in the Everett series. Grandparents, Mom, Dad and the whole gang was there. It was awesome having their support for a couple games but even them living so far away, they are always calling and watching the games online. Like I said, growing up in a small town, I never thought I would be here but looking up and seeing 3,000 fans and seeing your jersey up there, it's a pretty cool experience."
In hockey, there is a tradition where players do not shave while they are playing in the playoffs. Although most of the players are teenagers, they are trying to keep that tradition alive. Semeniuk gives us a breakdown of some of the team's playoff beard progress.
"Colton Langkow can grow a pretty mean beard but I'd have to give it to (Alex) Cotton or Horns (Connor Horning). They have those grizzled beards. There are a couple of guys who can't grow them so I'd have to give the lower scaled beards to either Lipinski or (Evan) Toth. They just can't seem to get it going. I've been trying my best to grow one but I'd probably put mine on the back half of the scale as some of our guys can grow pretty sick beards."
Defeating the Blazers will be a tough challenge but not impossible. The Giants will need some more special performances from guys like Semeniuk if they want to pull off another upset. Regardless of how the series goes, it is safe to say the Giants have a special player going forward.