This is the third installment of a spotlight series dedicated to the indigenous players in the Western Hockey League. While typical player features include quotes to support the profile, this series will focus more on direct player quotes rather than summarization in an effort to prioritize the indigenous communities' voices and give them a platform to tell their stories. For more information about this series, click here.
"Once you've found your own voice, the choice to expand your influence, to increase your contribution, is the choice to inspire others to find their voice." — Stephen Covey
The game is tied. Overtime hockey is underway. Only one goal is needed to win the game in training camp, and Team Dewar is determined to come out on top.
The puck hits Ethan Makokis' stick with a sharp clack. He wastes no time, zipping to the net with an enemy player hot on his heels. He lines up a shot, the goaltender dropping in anticipation. In the blink of an eye, Makokis jerks to the right, firing it backhand over the goalie's left shoulder. It bounces in; the buzzer sounds. Team Dewar secures the OT victory.
The Everett Silvertips prospect is one to behold. His immaculate skating sets him apart from the other defensemen in his draft class, and his tenacity and drive are admirable. One of the few indigenous players in the Western Hockey League system, the young defenseman has the chance to make a name for both himself as a talented player and for other young indigenous hockey players aspiring to make it to the WHL and beyond.
Growing Up
A member of Saddle Lake Cree Nation, Makokis grew up in the city of St. Albert just outside of Edmonton, Alberta. "I have a couple brothers who live [in Saddle Lake]," he said. "My mom grew up there in that area. I'm 50% Cree, a quarter percent white, and a quarter Black." 
Sports have always been a big part of Makokis' life, and it wasn't always just hockey. "I was a multisport athlete. I would skate. I would do hockey. I was a figure skater. I was a swimmer. Played basketball. Played lacrosse. Played a bit of gymnastics growing up." The decision to stick with hockey came from watching his brothers play. Now, hockey is his whole life. Before he was reassigned to his affiliate club this season, he said, "If I stay [in the WHL] I think I'll just be doing hockey, but if I go [back home] I think I'll add a little bit of figuring skating."
Growing up in the city and not the reserve resulted in a bit of disconnect from his culture, but Makokis says he's working every day to reconnect with it. "I'm trying to grow my hair out," he said. "I started that journey about two years ago after Covid because I wanted to embrace my culture more. I wanted to be one of the mentors or leaders our youth look up to. That's a pretty big part of it because I want to be closer with my culture. It's important, especially with what's going on in the world right now and how hard it is for indigenous athletes to be represented." 
"I'm getting more into my culture as I grow up. I never went to powwows as a kid, since I was living in the city. It's a little bit of a ways. But when I go to powwows now it's amazing. I love the drummers, the singers, the dancers. When I go back home I think that'll be a really big part of who I am. I'll start dancing and figuring everything out."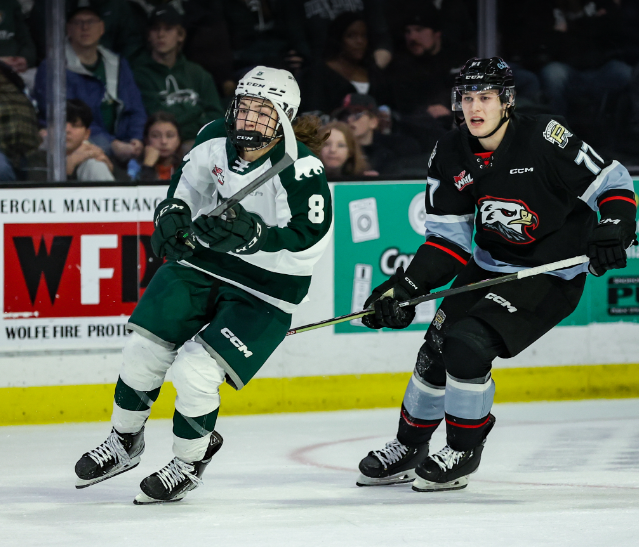 Although hockey is a predominantly white sport with a small indigenous population, Makokis luckily hasn't faced a lot of discrimination growing up. "There's not really racist or discriminatory things that I have experienced," he said. "I mean, I have long hair. People like to say stuff in warmups. Skating around and I'll be called a girl. Everything that would be bad for me would just be about my hair because that's the one thing that stands out. That's one thing that I like because it gives me a sort of spotlight. People can see and recognize what I'm doing. My hair means a lot to me."
One experience he highlighted was in a game he played for his U18 team. "I went all the way to Ontario with my team," he said, "and I was told to cut my hair by a player on the other team. But the thing is, though, is that it's not his fault. He was all the way from Italy. He didn't know anything about it." 
The WHL requires every player to participate in a course called Respect in Hockey. "Everyone [in the WHL] does a course online where you have to complete a bunch of quizzes and videos. You had to finish that before you can play hockey, attend camps, or even step foot in the arenas. I think that was great, but I would like to have a little more teachings about different cultures."
It's programs like these that are so important, in order to avoid situations like the one Makokis described. While the opposing player didn't mean it in a discriminatory way, it came off as an insensitive comment due to being uneducated. "I want everyone to go through the Respect in Hockey course," Makokis said. "I want [the league] to add a little bit more about indigenous culture—and not even just indigenous, but everyone's culture. You never know what someone's going through, how they grew up, stuff like that. You may not know what someone's going through."
The WHL
The Everett Silvertips drafted Makokis in the fifth round, 108th overall, in the 2022 WHL Bantam Draft. He signed with the team on September 6, 2022.
Right off the bat, Makokis made a great impression. "He's an electric player," said Silvertips assistant general manager Mike Fraser. "He plays a very exciting game, a style that we like in Everett. He's quick, explosive with really good feet. He may be one of the best skaters as a d-man in his draft class. We're really happy to have him on board."
Although he has yet to score his first WHL goal, Makokis made eight appearances with the club last season. His debut game was on December 27, 2022, and with how he's performing now, it's likely he'll be called up again this season. He currently plays for the OHA U18 Edmonton Prep team, and so far has three assists in his five games played this season.
Role Models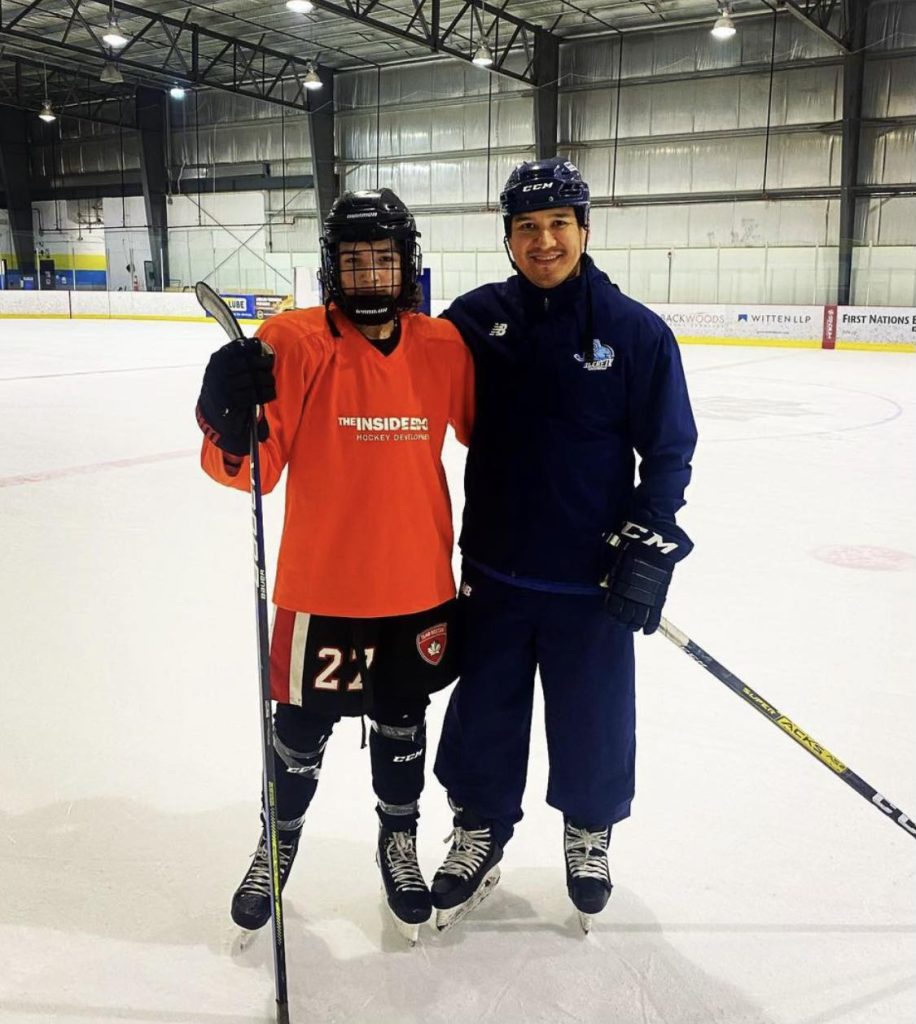 The NHL and WHL alike have a number of indigenous players Makokis looks up to. "I look up to Zach Whitecloud, Ethan Bear. Carey Price," he said. "I met with the Nolans last year, so I'm pretty good friends with them. Ted Nolan was an outstanding coach and I met Brandon and Jordan, who's a two-time Stanley Cup champion."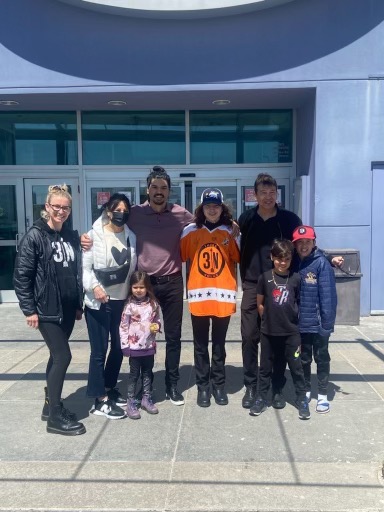 "I look up to Dwayne Jean a lot. He played hockey in Edmonton with my older sister growing up. Jace Isley—he and [Jean Jr.] both played for Red Deer last year. I'm excited to play against Conner Roulette this year, I look up to him a lot." 
There are younger players Makokis admires as well, including fellow Silvertips prospect Carter Bear and Prince George Cougars prospect Rowan McDonald. "I see potential in [McDonald]," Makokis said. "He's got the size and the speed."
Raising Awareness
"I'm a quarter Black. I don't think a lot of people know that. If you looked at me, you'd think I'm white. I want to be represented a lot more as an indigenous hockey player because there aren't a lot of those."
Awareness nights, such as Orange Jersey Night in Canada, Pride Night, and more, have been a topic of debate recently, especially with the NHL's decision to ban themed jerseys ahead of the 2022-23 season. The WHL, however, still has its assortment of themed jerseys. "I think [awareness nights] are great," Makokis said. "You're getting that representation, spreading more knowledge, as I like to say. Plain jerseys are just plain jerseys, you know, they're nice, but if you add a little bit of… spice," he said with a laugh, "and something new, people will want to look into. So if we all went out with orange jerseys, all the fans are going to wonder why. It'll hook them in. They'll want to know more, and then maybe they'll want to do something about it."
While Canadian teams have the Orange Jersey Project, US Division teams don't. "I think [US Division teams] should have a similar thing to [Orange Jersey Night]," Makokis said. "I think given the background… there were residential schools in Canada, so I don't think we need to show it over here [in America]. But, we might have to though. Because, like I said, the guy from Italy had no idea what happened or any idea about the culture. The more awareness the better, yeah."
"Everyone can be doing a little bit more. I think they know when they see and they respect that. In Everett, we're really close to the tribes here, and they know that and respect that. It's a lot different here, in terms of the country. We're still facing challenges back in Canada with the backlash and stuff from residential schools."
Smudge The Blades
When asked if there was an indigenous-owned or run nonprofit, small business, or organization he wanted to spotlight, Makokis brought up Smudge The Blades.
Smudge The Blades is an apparel line dedicated to celebrating hockey culture and promoting inclusivity for indigenous players in the sport. Founder Harlan Kingfisher writes, "I want to celebrate First Nations hockey and be able to bring laughter and pride when wearing your Smudge The Blades gear. It's also my dream to be able to give back to the First Nation hockey community so that it can have the same positive impact on other Native kids that it had on me."
Proceeds from every purchase go towards helping First Nations youth across Canada play hockey. Support Smudge The Blades and browse their shop here.
What's Next For Makokis
Upon his signing, Everett Silvertips general manager and head coach emphasized how much he was excited to bring Makokis on board. "His ability to skate, to create separation, his creativity and his compete all stand out. He has what I would look at as the whole package for today's modern defenseman. To get him here [to Training Camp] this past weekend and secure him as an Everett Silvertip, I can't tell you how excited I am."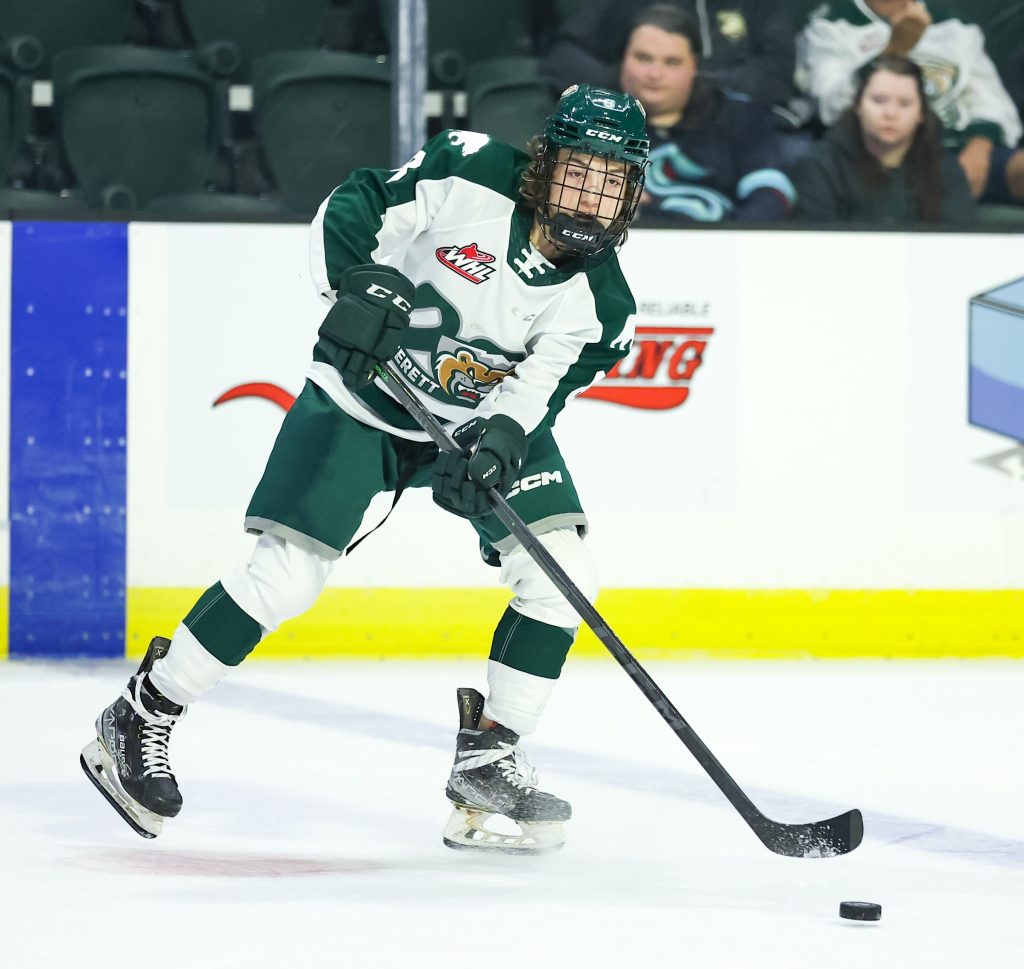 Makokis is expected to play this season with his affiliate team, but there's a high chance he'll be called up to the Silvertips again this season. While he works to make a name for himself in hockey, he's also putting in the time to embrace his culture and spread awareness, and has a lot of potential he's expected to unleash. 
Spotlight Series Features: