This is the fourth installment of a spotlight series dedicated to the indigenous players in the Western Hockey League. While typical player features include quotes to support the profile, this series will focus more on direct player quotes, rather than summarization, in an effort to prioritize the indigenous communities' voices and give them a platform to tell their stories. For more information about this series, click here.
"Never underestimate the power of dreams and the influence of the human spirit. We are all the same in this notion: The potential for greatness lives within each of us." – Wilma Rudolph
The clock is ticking. Just under six minutes left in the game, and the Tri-City Americans are trailing the Prince George Cougars 3-2. Time is of the essence if they want to pull out a win.
Americans forward Deagan McMillan hangs back as teammate Elouann Lemonnier takes the puck down to the net, swerving in on the goalie's right. Four Cougars group in front, creating a wall of white. Lemmonier fires a wrist shot that bounces off the goalie's pad—and right to McMillan's stick. He doesn't hesitate. He shoots.
The puck sails through the blockade of Cougars and in over the goalie's left shoulder. The buzzer sounds, the crowd erupts in a thunderous cheer, and his teammates bellow with joy. McMillan has his second of the game, and the Americans are now tied 3-3.
The Americans go on to win the game in a triumphant 4-3 overtime win, which wouldn't have been possible without McMillan's second goal in the last few minutes of the third period. The young forward's drive and work ethic pay off not only for him but for his team. Talent, skill, and sheer determination make up who McMillan is, both on and off the ice.
Growing Up
Deagan McMillan is Syilx, from the Okanagan Indian Band of Okanagan Nation, a First Nations tribal council in British Columbia and some of Washington state. He grew up on the Okanagan Indian Reserve, about thirty minutes away from Vernon, BC, before moving to the city. "I moved to town around ten or eleven," he said. "I played lacrosse growing up and baseball and hockey. My dad and I watched a lot of hockey when I was very young. I always wanted to play. I started skating at around three [years old], got into playing hockey at six or seven."
The Okanagan Indian Band (OKIB) has a total of seven reserves, spanning nearly 28,000 acres of land. Comprised of about 2,030 members, including McMillan and his family, the OKIB provides a variety of resources for its members, including healthcare and social services. Whether members live on or off reserve—which is split almost evenly—they have a strong community, always working hard to support each other.
"Most indigenous families are very tight, very close," McMillan said. "It's such a tight-knit community. If there's a problem or anything you always have people to talk to."
Despite being away from home for most of the year, McMillan works hard to stay close to his culture. "I'm pretty emerged," he said. "My family's pretty big and most of my family lives on the reserve, so we're all very immersed in our culture. Growing up it's definitely been a big part of my family. I grew up on the reserve. It was good. It was farther away from town, maybe half an hour away from Vernon, which was one of the reasons we moved into town. We had a lot of family who lived on the reserve, so we had lots of family gatherings and stuff. A lot of birthdays and Christmas and all that. It was good."
"I'm definitely a little bit spiritual, too," he said. "I always like to say a prayer before I play a game. I think of my family before I step on the ice."
That community is something McMillan holds onto even when he's away from home. In the summer he reunites with family, attending powwows and other celebrations. "This summer I've been to three powwows," he said. "It's awesome, being with family. Watching your cousins and everyone dance, dancing yourself. Hanging out, celebrating… it's really nice."
The WHL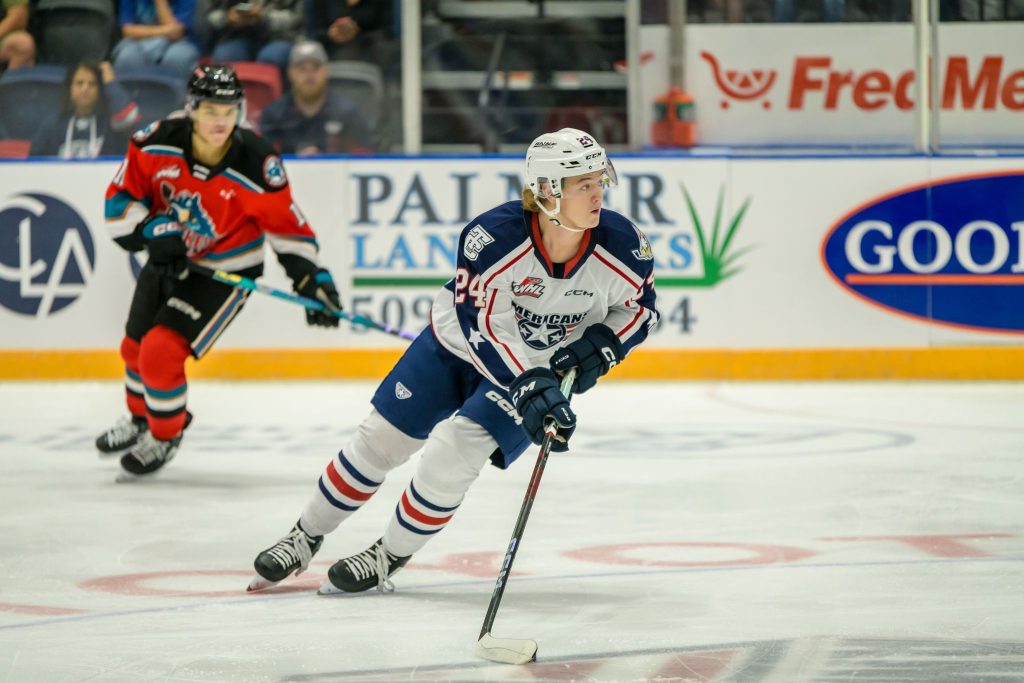 McMillan was drafted by the Tri-City Americans in the second round, twenty-fifth overall, in the 2020 WHL Bantam Draft, signing with the team in April of that year.
"With good size and excellent offensive skills," Americans General Manager Bob Tory said, "Deagan embodies the definition of a power forward. He plays a strong 200-foot game and brings leadership to our team. We are excited that he has chosen the Americans and WHL to pursue his hockey aspirations."
His first goal and assist came in the same game on October 21, 2021, and he netted his first WHL hat trick on January 7, 2023.
He hit a career-high in points last season, 2022-23, with forty-seven (17G-30A) in sixty-five games played. This season, he's hit the ground running, recording eleven points (5G-6A) in thirteen games played so far. He's projected to hit a total of fifty-seven points by the end of the season.
"Where most carry," EliteProspects writes in their 2023 NHL Draft Guide, "he finds a cross-ice passing option. Where most deke, he looks for a quick pass through the defender. By prescanning, he instantly turns steals into passes into the slot and he packs on a look off or shot fake to misdirect defenders."
Although he was passed over in the 2023 NHL Draft, the Toronto Maple Leafs invited McMillan to their development camp earlier this year, where he continued to impress before returning to the Americans. This year, he was named to the NHL's Preliminary "Players to Watch" list ahead of the 2024 NHL Draft with a W-rating.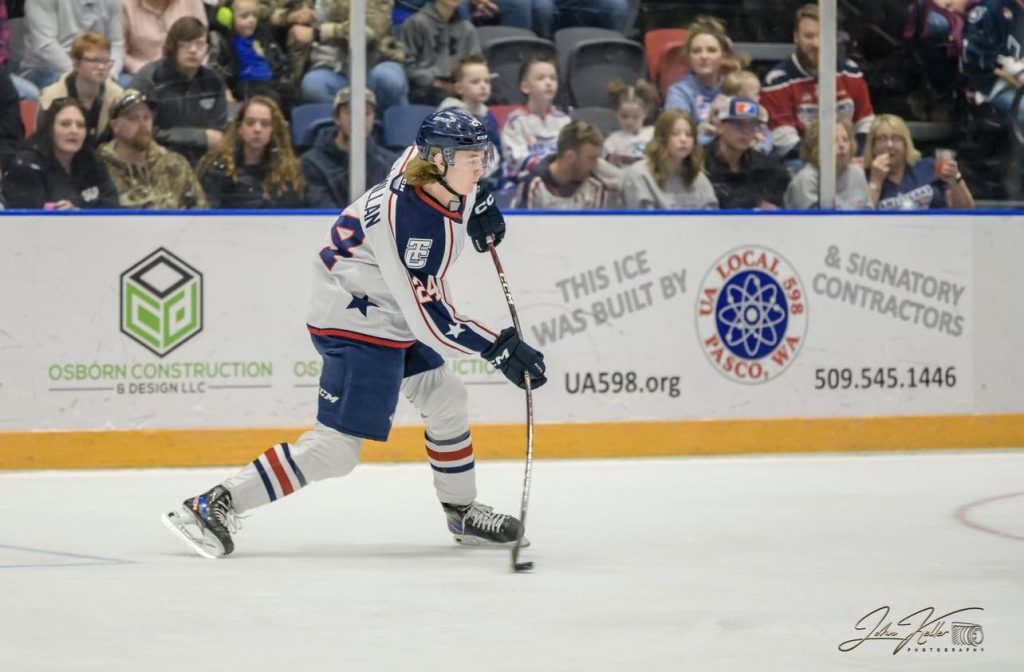 The Tri-City Americans have a variety of theme nights, some dedicated to awareness, such as Alzheimer's Awareness Night. Other teams in the WHL have nights dedicated to the indigenous community, like the Spokane Chiefs' Native American Awareness Night or the Orange Jersey Project for Canadian teams. "It'd definitely be cool to have a special night for the indigenous people here in Tri-City," McMillan said. "Have something that represents us. If we all had a jersey like that… it'd be really cool. I really like [awareness nights]. They're really cool. I love when we have awareness nights, it's really good to see. I like the idea of having a night for us."
Awareness nights play a big part in growing the game, inviting more people into the sport by recognizing smaller, more marginalized communities. They help educate players and fans alike, promoting equality and inclusion. "I don't look very indigenous, so I never really had any problems growing up [when it comes to discrimination]," McMillan said. "Though I definitely have family members who grew up playing hockey who got hazed, and stuff like that." It's important for nights like these to help dissuade racism, hazing, and other similar issues within the sport.
"It's definitely very cool to see other players bring a sport into their heritage and vice versa."
Role Models
"One of my best friends is Dwayne Jean Jr.," McMillan said. "He plays on the Red Deer Rebels now and used to play with me on the Tri-City Americans. I've always looked up to him as a player and as a person, and how he gets into his culture and everything like that."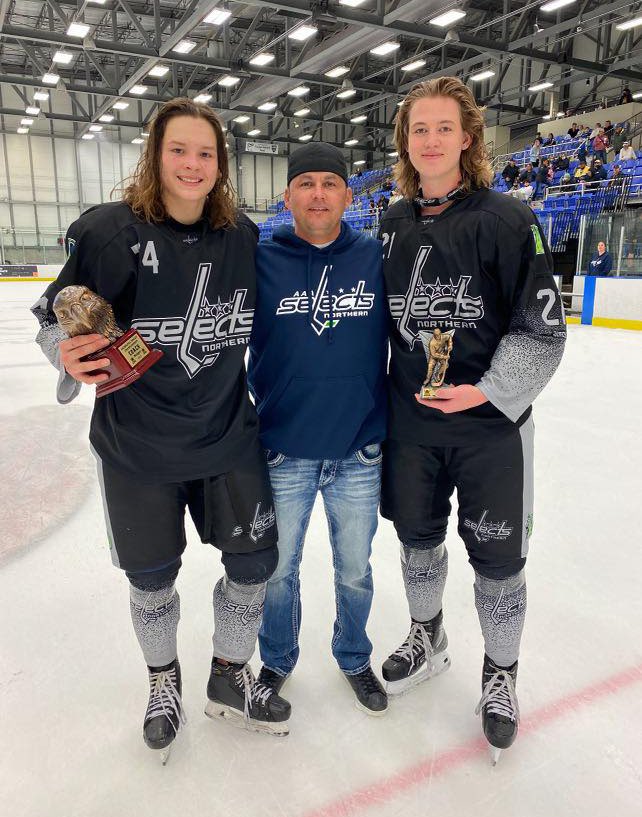 When it comes to the NHL, McMillan looks up to Ethan Bear. "My favorite indigenous hockey player is Ethan Bear," he said. "I really like how he gets into his culture and supports his community. It's really interesting. I like seeing that."
Smudge The Blades
Just like Ethan Makokis, when asked if there is a small Indigenous-run business or organization he'd like to promote, McMillan suggested Smudge The Blades. "I'm a big supporter of Smudge The Blades. Their sweaters and t-shirts… it's very cool, what they do with that. Everything they do is very cool."
Smudge The Blades is an apparel line dedicated to celebrating hockey culture and promoting inclusivity for indigenous players in the sport. Founder Harlan Kingfisher writes, "I want to celebrate First Nations hockey and be able to bring laughter and pride when wearing your Smudge The Blades gear. It's also my dream to be able to give back to the First Nation hockey community so that it can have the same positive impact on other Native kids that it had on me."
Proceeds from every purchase go towards helping First Nations youth across Canada play hockey. Support Smudge The Blades and browse their shop here.
What's Next for McMillan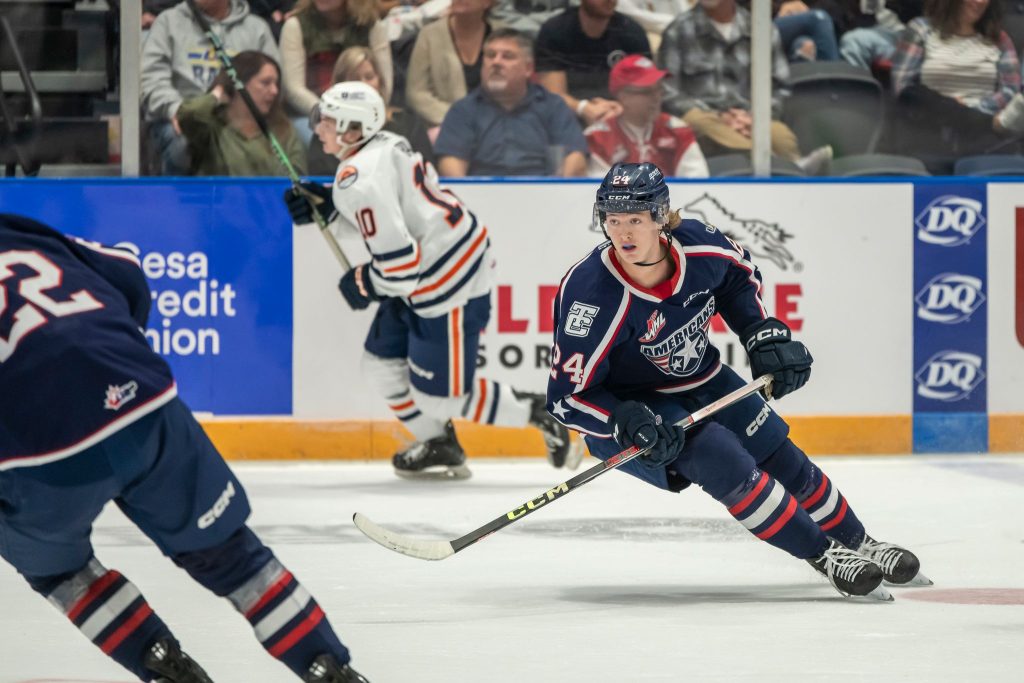 McMillan is a star on the ice, and if he continues to work hard he has the potential to hear his name called in the 2024 NHL Draft. Staying humble and working to remain connected to his culture is a big part of his life, alongside chasing his hockey aspirations. The Tri-City Americans are lucky to have him, and it'll no doubt be exciting to see just how far he'll go in his journey.
Spotlight Series Features: