Cole Eiserman has the potential to become the next great American NHL player. The 2024 draft prospect has been lighting up the 2022 U17 hockey challenge this year and has helped the United States to a 4-0 record. While his draft year is still over a year and a half away, he is already looking like a potential top-three selection based on his play at the tournament and so far this season for the U.S. National U-17 Team.
Through the first four games of the tournament, Eiserman has nine goals, including a power play in each of his last three. After a dominating two-goal performance against the Canada Red squad, he credited his linemates (James Hagens and Charlie Parfue) for his success.
"It was a great game," said Eiserman. "My linemates really helped me out there, and we really had a solid game all around."
As mentioned, Eiserman leads the tournament with nine goals. The last person to score nine goals in this tournament was Finland's Eeli Tolvanen back in 2015. While he has been a goal-scoring machine, he remains grounded and is focused on doing whatever it takes to help his team win.
"I'm just doing my thing and going on with the motion and staying in the moment. I'm playing my heart out because when you put (the U.S.) jersey on, you have to play hard. Obviously, my linemates have helped out a lot, so it's good."
Representing your country is always special. For Eiserman, it has been a dream of his for a while.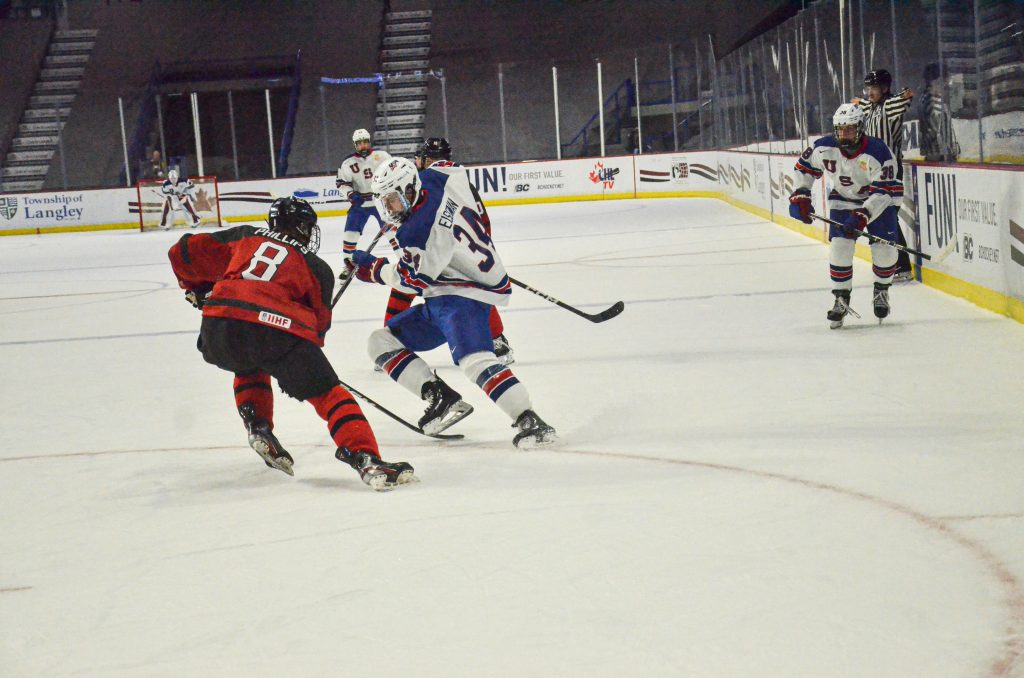 "It's awesome. You dream about it. Everyone will say the same thing, putting on your country's jersey is probably the best thing you can do in your life. It's really awesome to put it on."
To say Eiserman likes to score is an understatement. In 2020-21 with the Shattuck St. Mary's 14U AAA, he recorded 97 goals in 50 games. No, that isn't a typo. Then the following season, as a 15-year-old, he scored 56 goals in 53 games on Shattuck St. Mary's 18U Prep team. Safe to say he likes putting the puck in the net.
"I really like to score, so I am always shooting the puck. I had a great linemate in Macklin Celebrini, so that was awesome. I was getting pucks flipped to me back door, and most of the time, I didn't have to do a lot of work because he was so good. It is stuff like that which helps."
Eiserman wears number 34 at this tournament which is the same number Austin Matthews wears for the Toronto Maple Leafs. While he tries to model some of his game after last year's Hart Trophy winner, he also tries to incorporate some play from a Canadian superstar who raised the Stanley Cup last season.
"I really like Nathan MacKinnon. He has a lot of power and finesse. Then there is an American guy like Austin Matthews who can really just rip it."
As we near the end of the tournament, Eiserman is closing in on the U.S. record for goals in the tournament. The record is held by Colin White, who scored ten during the 2013 tournament.
"That would be cool. I have to take it day by day and see what happens."
Eiserman is also close to the all-time record of 12 set by Alex Ovechkin back in 2001. He hopes his strong play continues, and he can surpass one of the greatest goal-scorers in NHL history, but his main focus is a Gold Medal.
"I hope so. I'm here to win a Gold Medal right now, so whatever I can do to help my team win, that will be the best."
Eiserman is a special talent and should be near the top of the 2024 draft rankings by the end of this tournament. His shot is fantastic, and he always seems to know where to be on the ice. No question he has the potential to be the next great American superstar in the NHL.