*This was originally posted December 22, 2021*
Remember this? Avid Thoughts was originally a column temporarily for the Area 51 Sports
Network that replaced the Avid Discussers Podcast when my laptop was getting fixed. Now, Avid Discussers has turned into a soccer podcast called Terminal City FC.
Since it is close to Christmas and a new year, I thought my gift to everyone would be the return of Avid Thoughts, this time it will be full time. So this column in a nutshell will be me writing about my thoughts on the always weird world of sports as well as sports Twitter and other random topics. I did three last summer when my laptop was getting fixed.
Why am I doing this? Avid Thoughts will be a column for me to express myself. If you want to go into sports media, you have to find your own voice and express yourself.
Like Dr. Dre said on the NWA song "Express Yourself" which is on their smash-hit debut album Straight Outta Compton: "From the heart, if you wanna start to move up the chart, then the expression is a big part of it." (Ice Cube actually wrote the lyrics, if I recall.)
It is a line that is true for aspiring musicians, filmmakers, and so on. It is also true for aspiring sports journalists, radio hosts, TV hosts, and so on. If you want to move up the charts of the sports media world, expression is a big part of it. For me, Avid Thoughts, Whitecaps articles, the podcast, and Canuck Way articles are a big part of expressing myself.
So let's get into it
Bruce, there it is
It really is refreshing to see the Canucks win again. Before the COVID shutdown, (more on that later.) The Canucks were on a roll under Bruce Boudreau winning six straight games.
That is the longest winning streak by the Canucks since December-January of the 2019-20 season where they won seven straight games. That feels like a lifetime ago.
Under Boudreau, the Canucks are playing a full 60 minutes. There is no sitting back when holding a lead anymore. Instead, they look like they are hungry to score more. When behind, the Canucks look driven to get back into the game instead of wilting as they did before.
Boudreau has brought life into the team with his offensive playing style and fun personality.
Elias Pettersson is slowly starting to look like himself and his line with Conor Garland and Vasily Podkolzin looks like a fun one. Brock Boeser is getting his goal-scoring groove back after going 13 without scoring.
The Canucks have gained more offensive zone time and looked a lot better in the transitions.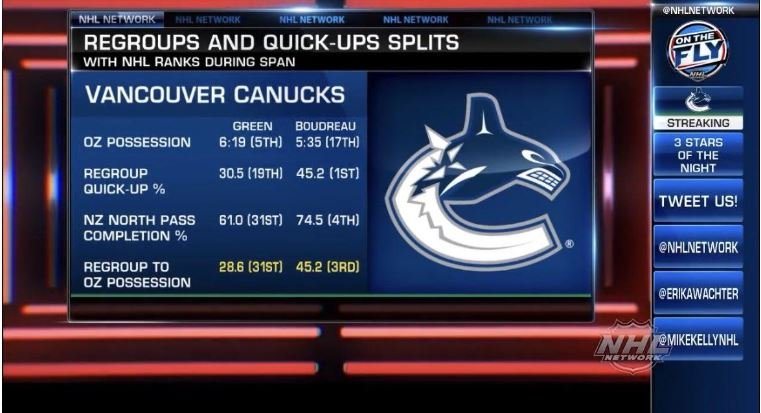 Boeser went from 18th in 1st in Shots For Percentage under Boudreau.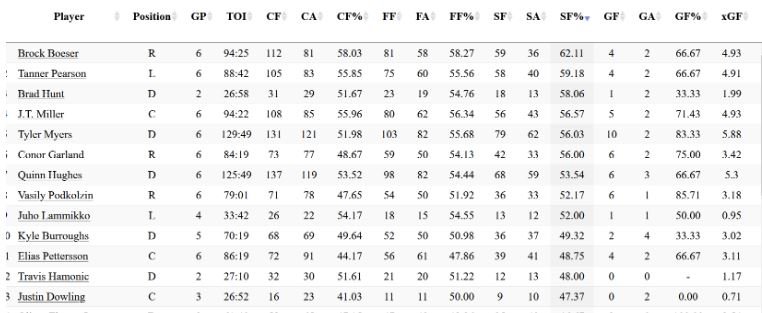 Boeser currently leads all Canucks in Corsi for with 58.03% since Boudreau arrived.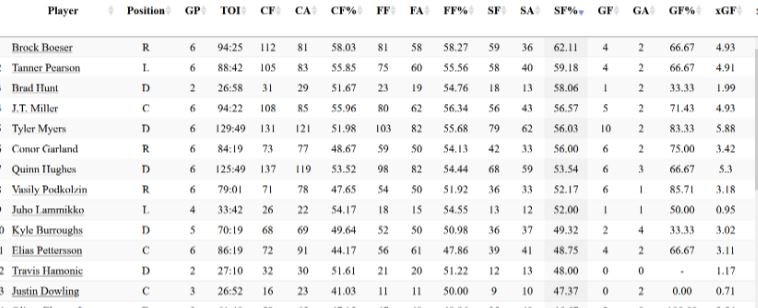 Hopefully, the momentum continues when the Canucks resume play after the holiday break.
COVID is hitting sports hard
At this point, COVID is like cockroaches in your house. Once you think they're gone, they come back. Thankfully cockroaches don't get stronger every time but it seems COVID does.
The Omicron variant (which sounds like a Transformer.) is here for the holidays and it is affecting sports too.
As we know, the Canucks are postponed until December 27. The NHL has also been shut down until after Christmas. However, the Vegas Golden Knights and Tampa Bay Lightning game on December 21st is still going ahead.
The NHL also won't be going to the upcoming Winter Olympics in Beijing according to Chris Johnston of the Toronto Star and Frank Seravalli of Daily Faceoff. An official announcement will likely be made Wednesday.
This sucks, especially for players in their 30s who could be potential first-time Olympians like Steven Stamkos. Could he and other players in their 30s get a shot at the 2026 Olympics in Milan and Cortina & Ampezzo? Probably not. However, this is the right decision obviously because of COVID and Omicron variant concerns. There are also China's Quarantine rules. If an athlete tests positive at the Games they must have two negative tests 24 hours apart to avoid a lengthy quarantine. However, if the athlete cannot provide two negative tests, then he or she must quarantine for three to five weeks. Imagine an NHL player ends up in this situation. He would have to miss a chunk of games for his team quarantining in Beijing.
Sounds risky right? No wonder the NHL is pulling out. Connor McDavid even called it "unsettling."
There are a ton of players in COVID protocol right now and the Calgary Flames even dealt with Omicron. You would have to wonder if the league could even shut down until after New Year's time. With the Olympics out of the picture, they could reschedule the postponed games where the Olympic break was.
Blake Price spoke about this on Tuesday's edition of Sekeres and Price.
"I'm of the mind this pause for the Canucks is gonna go through New Years…I think they're going to push for and find a way to get 82 games in, hell or high water," he said.
However, if more positive tests come out across the league in the next few days or so, Price's thought could become reality.
The Canucks haven't had a positive test the last few days and the players in COVID protocol are showing mild to no symptoms which is a good sign.
"Thankfully the vaccine is working and making it so guys aren't getting sick like they did last year," said Bo Horvat on Monday per Thomas Drance of The Athletic.
Vaccines work folks, and if you are eligible to get your booster shot, go get it because it could be effective in fighting Omicron.
The World Juniors in Edmonton and Red Deer will be held at 50% capacity and other sports have been ravaged by the virus too.
In the NBA, 80 players are in protocol including seven Toronto Raptors players. The Chicago Bulls have been going through a major COVID outbreak and are scheduled to play the Raptors on Wednesday but won't have a fully fit squad.
The NFL had to reschedule games due to COVID. The Seattle Seahawks have six players on protocol including Tyler Lockett and DJ Reed. Their game in Los Angeles against the Rams is going on as I type this.
We are still in a pandemic and these are human beings. With hockey being postponed, it's not worth getting angry over a few games being postponed because it is only a game.
Are Chelsea's title chances over?
The English Premier League is also dealing with COVID and just like in the US and Canada, cases are rising in the UK with Omicron being the Grinch who Stole Christmas.
Chelsea also had several players test positive including the two strikers Romelu Lukaku and Timo Werner. The EPL does not want to suspend operations over the holiday break and to me, that is the wrong call. (Especially that Tottenham Hotspur is going through a major outbreak.)
Injuries have also been hurting Chelsea. N'golo Kante, Mateo Kovacic, Trevoh Chalobah, and Ben Chilwell have been among the names out with injuries.
We can't blame injuries and COVID. This club has lacked finishing. Chelsea had eight shots and one on target and no goals against Wolves. They had 23 shots, ten on target, and one goal against Everton. Having a natural striker also would help but it is very frustrating to see close-range shots not go in.
It is not the formation or system. Chelsea has no problem keeping possession and getting the ball up the pitch to create scoring chances. This bloody team can't score. When they do, they concede and can't keep a lead.
Injuries and COVID have shown us that Chelsea needs more depth. Saul (though he did look better against Wolves) and Ross Barkley are not the players you want coming off the bench in the midfield. Christian Pulisic as a false nine isn't working. Marcos Alonso looks like a lost chicken at left-back.
The defenders like Antonio Rudiger are starting to lose form. (He does need a new contract.)
Chelsea should try to buy in January. Another defensive midfielder left-back, centre back, and maybe even a third striker is needed. However, it is unlikely Chelsea will get all the players they want in January. Jules Kounde and Declan Rice would help but they are likely to come in the summer.
Liverpool and Manchester City are winning games and show no signs of slowing down and Chelsea are in third.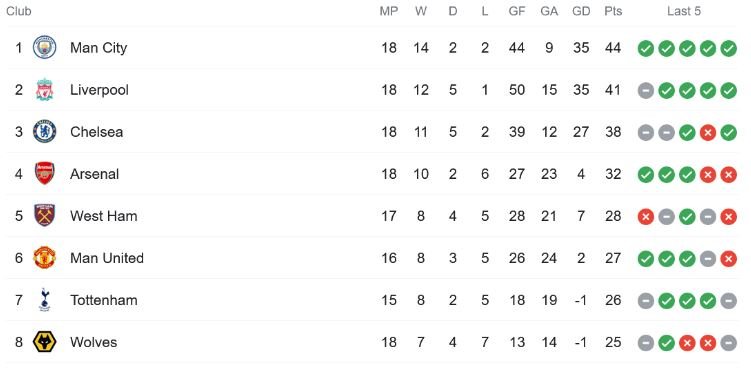 Chelsea is six points behind Man City. Is the title race over? No, but their chances of bringing
the Premier League trophy back to Stamford Bridge for the first time since 2017 are starting to fade fast.
Again injuries and COVID are not helping but this team has holes and they need to be fixed.
They also need to figure out how to put the bloody ball in the net.
Progressive minds in Canucks front office needed
Back to hockey for a bit.
Chris MacFarland and Jennifer Botterill are rumoured to join the Canucks front office. I wrote about them already for The Canuck Way but didn't provide an opinion.
MacFarland is a GM in waiting. He has been Joe Sakic's assistant in Colorado Avalanche and they turned the Avalanche into a cup contender a few years after being the worst team in the NHL. Before joining the Avs, he was with the Columbus Blue Jackets for about 16 years.
With the reputation MacFarland has as an assistant, teams without a GM are going to want him. The Canucks need to have him as candidate number one on their list. He is more than ready for a GM job. He has experience in pro and amateur scouting, player contract research and negotiations, salary cap management and arbitration, collective bargaining agreement administration, budgeting, and team scheduling issues. Macfarland is a forward-thinking hockey mind that also uses analytics.
If I'm Jim Rutherford or Francesco Aquilini, I am doing whatever it takes to convince MacFarland to come to Vancouver.
Botterill would also be my choice to join the Canucks as one of the three assistant GMs. She brings excellent hockey knowledge on Hockey Night in Canada. Botterill also had an illustrious playing career as she won three Olympic Gold medals with Canada, five Women's World Championships (MVP in two of them.) and is one of the best female players in NCAA hockey history as she had an incredible career with Harvard University.
The NHL needs more women in their front offices and while there are a few, (Cammi Granato with the Seattle Kraken comes to mind.) the NHL needs more. There aren't any female voices in the Canucks front office (That I know of.) and they need some. Botterill would pave the way for that and the Canucks need someone smart like her.
Both MacFarland and Botterill would be great mentors for the Sedins too.
While Rutherford is known for being an old-school guy, he acknowledged in his first press conference that times are changing and the Canucks need a progressive and diverse front office. MacFarland and Botterill check off those two boxes.
The Canucks should also bring Computer Boys home. If you don't know who I'm talking about, they are Cam Lawrence and Josh Weissbock who were once writers at Canucks Army.
They went on to work with the Florida Panthers and joined AGMs Steve Joyce and Stever Werier in data-driven hockey operations.
They were key in signing Anthony Duclair, Jonathan Marchessault, and Carter Verhaegae to bargain contracts and bringing talents such as Rielly Smith, Jason Demers, and Mark Pysyk.
The computer boys' influence was eventually shot down by Dale Tallon. (Again, old boys club.) However, they had a good track record in Florida and are progressive-minded individuals that have an eye for talent.
Bring them home.
Of course, analytics and data aren't everything. Lawrence and Weissbock aren't perfect and let's face it no one is. However, the Canucks need experienced forward thinkers in their organization and the Computer Boys would be great additions.
The Canucks need the Moneyball mindset. Adapt or Die.
Spider-Man No Way Home: A love letter to Spider-Man fans
I won't be spoiling the movie but Spider-Man: No Way Home was an incredible.
It has already surpassed Captain America: The Winter Soldier as my favourite MCU movie and I think it's one of the greatest superhero films of all time. I also can't decide whether I like No Way Home or Into the Spider-Verse more.
Tom Holland's performance as our web-slinging hero just got better. The movie was full of laughs, tears, screams of horror, screams of excitement, and more. Willem Dafoe as the Green Goblin scared me as a kid but he scares me even more now.
No Way Home is a film that says "thank you and we love you" to all Spider-Man fans and it is an experienced best in theatres.
You think you know what is going to happen and the movie does a 360. From start to finish, you are in for one hell of a ride and will not get bored. The VFX, dialogue, action scenes, comic relief, emotional scenes, and music were all top-notch.
I came with high expectations and No Way Home and they blew them out of the water.
It's Christmas time again
I'll end with a holiday message.
2021 has been tough. The pandemic is still going on, there were wildfires, floods, some people lost their homes, lost friends and loved ones, and so on.
Check on someone. The holidays are supposed to be a joyful time but this is a time where people's mental state can go sideways. All it takes is a phone call or text. Also, if you can, spend time with your family. Christmas is about family after all.
So what am I expecting for Christmas? Nothing much. I was blown away that I got a Nintendo Switch last year but don't expect much this year. I want some socks and some new Nikes. That's about it. Maybe a book or CD, (Yes, people still have them. They are fun to collect.) or some Chelsea merch.
Anyway, Merry Christmas and Happy Holidays to you all. 2022 will be a big year for us at the Area 51 Sports Network. I just have a good feeling about it.