2023 NHL Draft prospect Mazden Leslie has developed into a star before our very eyes. From the bubble season where he scored twice in his WHL debut to this year being used as a top-pairing defenceman, he is developing into the player most predicted when the Giants took him tenth overall in 2020. After a long season, he has already shown he can take his game to another level with his performance so far in the playoffs.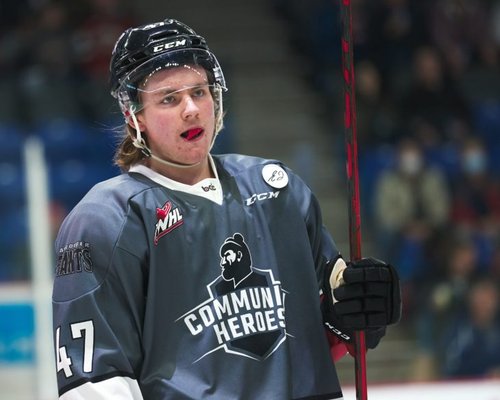 Leslie's first two seasons could not be more different as the league went from a bubble format back to the full 68 game season. It took some time to get use to but eventually he found his rhythm.
"Going into this year and having to balance school and travel, it's been a lot harder but once I got use to it, it was good."
This season, Leslie put up five goals and 19 points in 64 games. What was the most impressive about his season however was his growth and development to the point where he has become a top-pairing defenceman.
"Before, I was thinking if I wasn't going out and scoring, it was a bad game. I started thinking about it and watching video with Darryl Sydor and he told me that you can have a good game, without having all the offensive chances in the world by being strong defensively. My goal is to be that number one guy."
This playoff series versus Everett has been physically demanding for the Giants. The Silvertips are a big team that is not afraid to play physical. Despite being the focus of their physical play, Leslie continues to play his game regardless of how physical the Silvertips players are.
"Obviously, Everett is a physical team but you just have to battle through it. I think they will start to get frustrated if you don't show any signs of frustration. You just have to ignore it and be physical on them too. "
The series is currently tied 1-1 thanks to a come from behind win for the Giants in Game 1. While Vancouver celebrated the win, they knew there was a quick turnaround for Game 2.
"In the locker room, we were obviously celebrating the win but we knew we had a game the next day and had to get ready for that. Yes, we got the win but overall, we were pretty even keel."
Leslie believes as long as the Giants play their game like they did in Game 1, they have a chance to take both Game 3 and 4 at home before heading back down to Everett. Giants fans should be excited because he and the team are ready for whatever Everett throws at them.
"We are gonna come out hard and not give them anything for free. We are gonna battle no matter what happens in the game and bounce back for the rest of the series."
Although they are the eight seed, the Giants have played well this series. Leslie and the team hope to take the series lead as Game 3 and 4 are at home in Langley Wednesday and Friday night. Based on the first two games, expect fast paced hockey with a lot of physical play as these two teams fight for a place in the second round.