This Winnipeg ICE team is oozing with talent. You look down their roster and see household names. You do not even need to follow the ICE to know some of their names. Headlining the roster are Matthew Savoie and Conor Geekie up front. On the back end, you have captain Carson Lambos with Graham Sward, and in goal, you have Mason Beaupit. You might say that they have something in common and if you said that, you would be right. Not only are they all amazing players, but they are all NHL draft picks. A few of the Winnipeg ICE players will be going pro next year.
What I want to look at is if any of these players that have been drafted will be in the NHL. Not only that, but I want to see if there are any players not drafted that will turn pro next year. Below is the list of ICE players that have been drafted by an NHL team within the last 3 years.
| | | | |
| --- | --- | --- | --- |
| Name | Pos. | Team | Year |
| Conor Geekie | C | Arizona Coyotes | 2022 |
| Matthew Savoie | C | Buffalo Sabres | 2022 |
| Carson Lambos | D | Minnesota Wild | 2021 |
| Graham Sward | D | Nashville Predators | 2022 |
| Mason Beaupit | G | San Jose Sharks | 2022 |
| Connor McClennon | RW | Philadelphia Flyers | 2020 |
There are a few players on the Winnipeg ICE that may get their name called in Nashville at the 2023 NHL Entry Draft. I am not going to go into any depth on these players as it is unlikely that any players go pro next year from this upcoming draft.
Potential Pro Forwards
Out of all the players listed above, Connor McClennon has the best chance of going pro next year. If he wants to continue playing at a high level, he will have to find his way onto a pro roster as he is 20 years old this season which means that he is ineligible to play in the league next year. Another forward in the same position as McClennon is Owen Pederson.
Conor Geekie
Conor Geekie is an elite talent. He was selected in the first round, 11th overall, by the Arizona Coyotes. If you were to look at the Arizona Coyotes' play, you would think it is a no-brainer that Geekie would make the team. The truth is the Arizona Coyotes are not having the greatest season, and it is on purpose, they are going through a rebuild. Geekie will play for the Arizona Coyotes next year, but it will not be as easy as it seems. The Coyotes have a lot of contracts that are expiring after this season which is why I think he can fit nicely on the roster. He is still young enough to go have to go back to junior, so AHL is out of the picture. So it is NHL or junior; I say he sticks in the NHL.
Matthew Savoie
At the 2022 NHL Entry Draft, only one player from the Winnipeg ICE was drafted ahead of Conor Geekie, that was Matthew Savoie. Matthew Savoie was drafted in the first round 9th overall in 2022 to the Buffalo Sabres. He was always someone the NHL scouts were keeping an eye and for good reason. His elite foot speed with the ability to make a crisp pass or snap a shot off is scary for any team he is playing against. Now, will he go pro? I say maybe.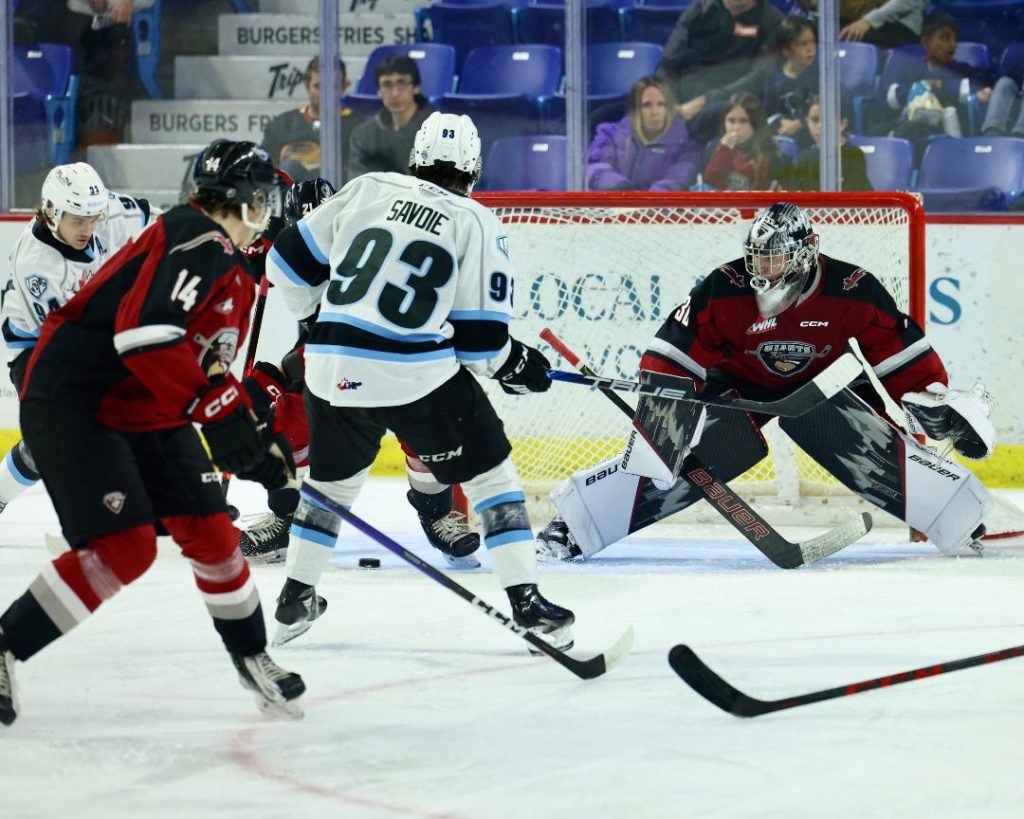 See that is a horrible answer. The reason I say maybe is that the Buffalo Sabres have a log jam at the center position at the moment. They have so many current centers in the system that they are currently using centers as wingers. Now you might say NHL teams do that all the time, and that may be true, but do they want Savoie to play center or on the wing? That, I think, is the only reason they keep him off the roster.
Potential Pro Defencemen
Ben Zloty is the only defenceman is that will be aging out after this year. He will have a role on a pro hockey team if he wants it. He is a solid defender and is not shy of putting up points as a defender. Where he ends up will be interesting to see, but I am sure if he chooses to continue his career, someone will want him.
Carson Lambos
As the only player that was selected to Team Canada at the 2022-23 World Juniors, Carson Lambos is obviously a top talent. Where Carson runs into trouble on his quest to go pro is that he was drafted in the first round, 26th overall, to the defensive juggernaut Minnesota Wild. The good news is that of the 14 defencemen under contract, seven of their contracts will expire at the end of the next two seasons. Lambos will be able to join the squad eventually, especially with the rumours of Matt Dumba being moved this season. Will he go pro next year? Yes is my answer. Carson will be 20 by the time he starts next season, which means that he will be eligible to play in the AHL. The AHL is where I think his home will be next year.
Graham Sward
Graham Sward was drafted by the Nashville Predators at the 2022 Entry Draft in the fifth round, 146th overall. He is currently unsigned by the team. If he were to be signed by the Predators, he would rather be sent down to juniors again, or he would be eligible to be in the AHL. I have a feeling that he will not be signed this off-season as they have a tonne of defencemen already signed. He would be an ECHL defenceman at best, and at that point, it would be better if he would return to the ICE.
Potential Pro Goaltenders
The one and only Mason Beaupit is the only potential pro goaltender on the Winnipeg ICE. He was drafted by the San Jose Sharks in the fourth round, 108th overall in 2022. The San Jose Sharks have five out of six goaltenders with expiring contracts this season. With Beaupit unsigned, he may be able to get a contract with his team, as they are going to be in need of goaltenders in their system. If he were to sign, he would most likely be in the AHL or ECHL if he is a pro player next year. The ECHL has been good for developing goaltenders as they take longer to develop. If I were a betting man, I would put money down on him starting in the ECHL next year, but I would definitely be worried about my money.
The top talent of the Winnipeg ICE will most likely be moving into the pro ranks. They are all top prospects for their teams, and their pro teams are getting antsy. As for the fringe players, I see most of them being back on the ICE. Even with most of the roster coming back next year, the Winnipeg ICE will look a lot different next year. Let's just all enjoy the talent while we have them, and when they move on, make them never forget the passion ICE fans have.