The Vancouver Whitecaps made a big splash in acquiring Julian Gressel from DC United for $900,000 in General Allocation money on Friday.
The wingback/midfielder is one of the best playmakers in Major League Soccer. He is an excellent passer and crosser. This author wrote an analysis piece for this website the day the trade broke, so if you want to learn more about him give it a read here.
Gressel was introduced to the media for the first time as a member of the Whitecaps on Monday morning at the National Development Soccer Centre at UBC. Gressel was joined by Whitecaps head coach Vanni Sartini and CEO and Sporting Director Axel Schuster.
Gressel is Vancouver's new number 19. He wore 31 with DC and Atlanta United but obviously can't with the Whitecaps because 31 belongs to Russell Teibert.
The 28-year-old cited his 20-month old daughter Sophie as his reason for choosing 19.
"Wing-back was a position of where we thought we can upgrade, and it wasn't very difficult to identify who's the best wing-back player in this league," said Schuster on acquiring Dressel. " DC let the door open when we contacted them the first time. From then on, it was hanging in and seeing where we can go and then finally last week, the door opened completely."
"I (was) really happy when Axel told me (about )the possibility to sign Julian it was I was really looking forward to it because, you know, he's a good player," said Sartini. "I think he fits perfectly on the system that we're using here. He is a dynamic player, is an aggressive player, he wins the one on one battles The added thing for me, is that he's a natural wing-back."
"I'm excited, you know, to be at a club that really values me that way and that really wants me," said Gressel. " I'm looking forward to so what's to come and how I can make an impact on this team with a few games left in the season. You know, a big Canadian Cup final is coming up and playing for a trophy is always fun. So I'm looking forward to that and then hopefully getting into the playoffs. I'm just focused on that."
The trade came as a surprise for Gressel.
"I was shocked a little bit," he said. "I had no idea that Vancouver was interested, I had no idea that DC was even trying to get rid of me. So it was certainly a shock when I went into that meeting."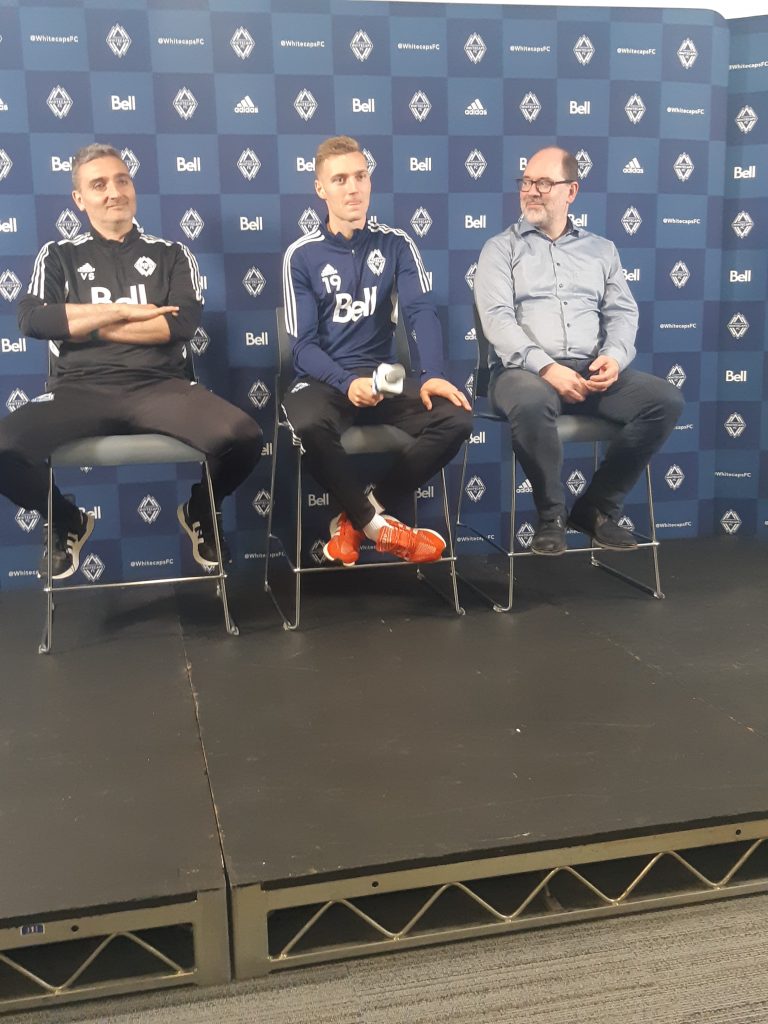 New Whitecaps player puts team first
The native of Neustadt Germany was asked about what kind of player he is and what he can bring to the table for the Whitecaps.
"I'd rather have two assists and one goal, because it needs to be scored twice, you know, as a team," said Gressel. "That's the team player. I don't look at the stat sheet, I don't look at, oh man, I have to take this penalty, I want to take this corner maybe I can get an assistant on that. I think I'm a team guy first that wants to win, above else. That means my role is to assist more and not be scoring myself and that's fine."
Making an impact in the community
Not only did he share his excitement about playing with the Whitecaps but he is excited to get involved with the community in Vancouver.
"I'm excited to be here and I'm excited to be part of this community," said Gressel. "I'm excited to get to know them, to play BC Place, to obviously show what I can do on the field. But also, like Axel said earlier about me being a part of the community and being able to connect with fans being able to make an impact. I've done that in Atlanta, I've done that in DC and I'm planning to do it here."
"My wife is big on this, I'm big on this. We're, we're regular people. So we want to connect with the community, we want to be part of this city and make an impact to help better lives and help. I want to use the platform that I've been given (and) that I'm thankful for. We want to want to make an impact as well."
Gressel has been involved with charity and community works in Atlanta and the Washington DC area which included hosting charity golf tournaments and spending time with children with cancer.
"I think you can better the world if you change one person's life, I think that makes a big impact," he said. "That's just the kind of person that I am, the kind of person that my wife is and I'm again, so thankful for her support. I'm super happy to be part of a club that values that as well and has those core principles that kind of seem to align with me. So I'm excited to get to work on that."
Gressel off the pitch
Gressel embraces the "Gresselmania" nickname/moniker but he doesn't watch Wrestlemania or wrestling in general. But he is a fan of many different sports and he and his wife love the outdoors. That is fitting since he is now in Vancouver. What is even more fitting is the fact he mentioned his wife wanted to try hiking a couple of months ago and now they along with their daughter will live in a city famous for hiking trails.
He also became vegan four months ago and explained his reasoning.
"I think it's simply because I don't think I need to I need to have an animal that dies, so I can have my sandwich or I can have my steak," said Gressel. "The second option was climate change. I think it has a huge impact on climate change, and burning down the rainforests in Brazil, for example, to just plant food for the animals that we eat. There are so many reasons, because the more research I did, I didn't want to put my body at risk…My body is my job."
Let Gresselmania begin.