The Vancouver Whitecaps headed into Los Angeles on Saturday night hoping to write their own Hollywood script. Unfortunately, their blockbuster bombed.
Despite being tied at 2-2 with LAFC at halftime, the Whitecaps capitulated in the second half and ended up losing 5-2. The good news was that this isn't last year's playoff format. If it were, their season would be over. They are also lucky MLS isn't using two legs which were last used in 2018. If it were two legs, the Whitecaps would have had a mountain to climb.
Game two of the best of three series is on Sunday and it will be at BC Place. The Whitecaps have the chance to get revenge and send the series back to LA for a potential game three next Thursday.
The big story of this game was set piece defending or lack thereof. Four out of the five goals LAFC scored were from set pieces.
"It's pretty simple to make an analysis that we have to do much better on defending set plays," said Whitecaps head coach Vanni Sartini after game one per JJ Adams of The Province. "We conceded three goals on a corner, guys. It's impossible to win games if you concede three goals from the corner. "
The Whitecaps have been one of the worst teams of the season when it comes to conceding goals on set pieces. They gave up 14 goals on set pieces in the regular season and that was tied for most in MLS with Inter Miami. Not even eight-time Ballon D'or Winner Lionel Messi could help fix the set piece department for Miami.
The Whitecaps are showing the flaws of zonal marking
Sartini likes to use the zonal marking system to defend corners and free kicks and opening play defending.
"If you stay positional when you defend, and if you don't focus on the movement of the opposition, you are in charge of your destiny when you defend," said Sartini on zonal marking to AFTN's Felipe Vallejo back in March.
For those who aren't really into soccer tactics, zonal marking focuses on defending zones instead of marking opposing players. There are similar strategies like zonal marking in other sports such as football and hockey.
Zonal marking is thought to have originated in Brazil in the 1950s due to Fluminese's Zezé Moreira wanting to move away from a man-marking system. But zonal marking was later popularized in Europe by Rinus Michels who coached Ajax, Barcelona and the Dutch national team in the 1970s and 80s and Arrigo Sacchi who coached AC Milan in the 90s.
One example of a team that uses zonal marking currently is Jurgen Klopp's Liverpool. They have conceded only six goals from set pieces this season and that is the least in the English Premier League.
The big advantage of using zonal marking is that players can be compact and close spaces for opposing players. Players are focused on the ball and clearing it out as soon as possible instead of the attackers.
But that brings us to the disadvantages.
Players are so focused on the ball and defending one zone that they forget the attackers can move around to open spaces and pounce on the ball. Every player must be super focused and be on the same page. Attackers may often be on the blindside of defenders or in between zones which could confuse the defenders.
That is pretty much what happened last Saturday to the Whitecaps against LAFC.
Let's take a closer look at the three corner kicks the Whitecaps game up. If you want to show someone the flaws of zonal marking, show them these three goals by LAFC.
On Ryan Hollingshead's first goal, Brown loses the battle against him. Yohei Takaoka makes the initial save but Hollingshead has got away from Brown and is in an unmarked zone. As a result, he puts in the rebound with ease.
As the ball is whipped in, everything is focused on their zones and watching the ball and when Takaoka makes the initial save, Hollingshead finds the open space to pounce on the rebound. Sure, the Whitecaps can't cover all of the areas but that is a downside of zonal marking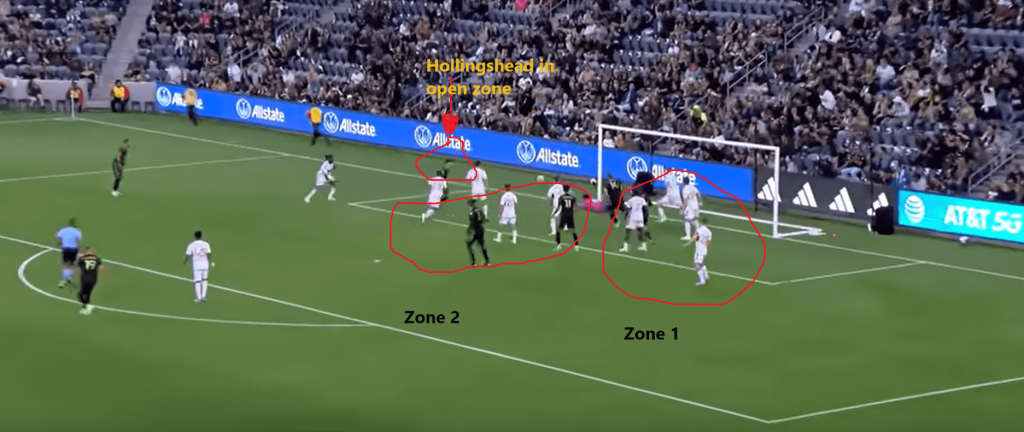 The Whitecaps were having trouble clearing out the ball on Hollingshead's second goal. As you can see below, they're all ball-watching and defending the zone in front of the net. But they forget Hollingshead is lurking on the right side like a panther stalking its prey. Sam Adekugbe is in his area but is a few feet away. (That is what the arrow is there for and I think I forgot to save the image properly) But they are all fixated on the ball that when Hollingshead strikes, it is too late and the 'Caps are down 4-2.
This shows that zonal marking is so reliant on watching the ball. As a result, an attacker can easily find an open space and the defenders will get their signals crossed.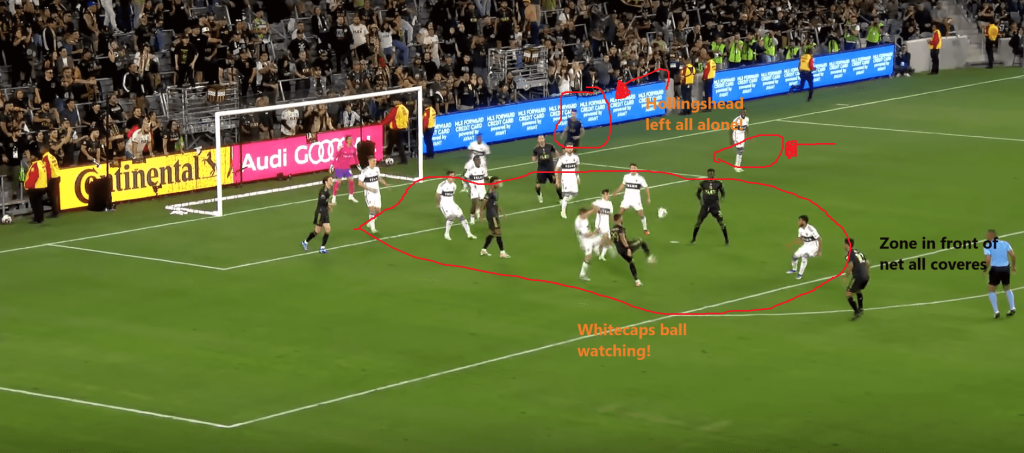 An attacking player can find his or her way out of a clogged zone and find that tiny bit of space. That's what Jesús Murillo did for the fifth LAFC goal. As the Whitecaps were once again ball-watching and protecting the area in and around the six-yard box, Murillo cut in front of the defenders and found a small bit of space for the perfect header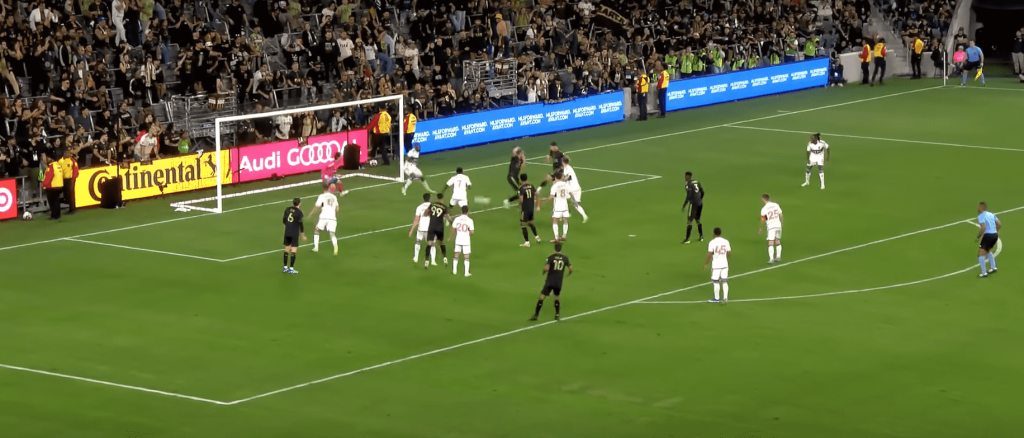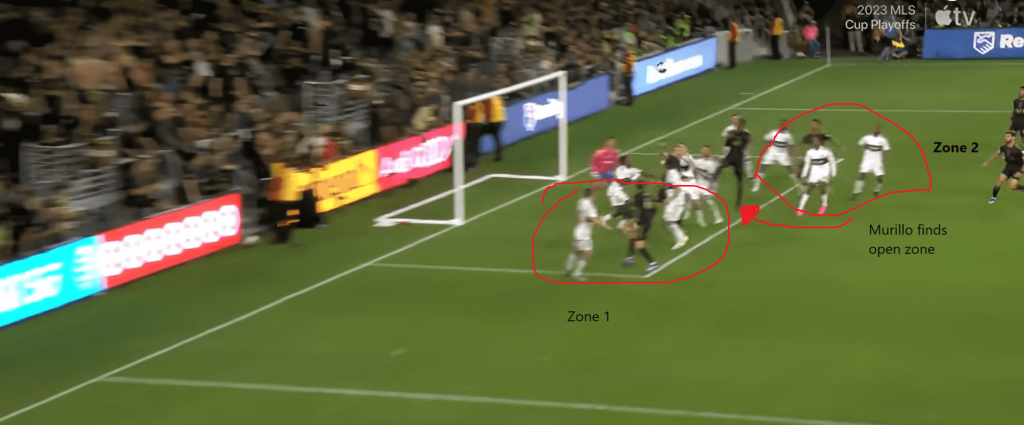 Zonal marking is a system that is very hard to execute and perfect. As mentioned, it requires 100% concentration and everybody to be on the same page.
I get why Sartini uses it, to get the ball cleared as quickly as possible. But the defenders ball watching and being static has cost them many times this season.
Defending set pieces is key to winning game two
Let's face it, Sartini is not going to go away from the zonal marking system for game two. The Whitecaps have been using it all season and the players seem to buy into it. Whitecaps fans will want to see man-marking or the more common hybrid zonal/man-marking system but that's not going to happen.
As flawed as zonal marking is, when it is working, it looks very efficient. The Whitecaps have a clearance per game rate of 17.9 which is eighth in MLS. (That probably includes clearances in the box on set pieces.) So they need to find ways to execute zonal marking as perfectly as possible.
The Whitecaps proved they could battle with LAFC in the first half of game one as they managed to tie the game twice but faltered in the second half. Vancouver has proven they are a good team all season but mistakes have ended up costing them.
"Mistakes happen, but unfortunately in the playoffs, you pay for those kind of mistakes because the quality of the teams are really high," said Sartini.
You can blame the system all you want, but execution is key, especially in a do-or-die playoff game.