Photo Credit:@CanSoccerDaily on Twitter
The Vancouver Whitecaps were quiet leading up to the deadline of the MLS Secondary Transfer window.
The only move they made was a departure and that was made on July 21. It was a tough one for Whitecaps fans to process. Julian Gressel was traded to the Columbus Crew for $550,000 in General Allocation Money.( $275,000 in 2023 and $275,000 in 2024) The Whitecaps could also receive a conditional $300,000 in GAM from 2024 to 2026.
After that, no moves were made. But that was the calm before the storm as the old saying goes.
Monday was the deadline and the Whitecaps made some big moves.
Depatures
Deiber Caicedo is joining Junior FC on loan
Deiber Caicedo hasn't been the same since he tore his ACL last season.
While he has got some skill, Caicedo did not have a single start this season. His 15 appearances have been off the bench and often they were for just 10 or 20 minutes.
Caicedo needs more minutes and needs to get his confidence back. Frankly, a loan is the right move. There is a plus to it as he is going to join Junior FC who are located in Colombia, his home country.
The move was first reported by Colombian journalist Pipe Sierra. The loan will be until June 2024 but there is an option for Junior FC to buy.
This was a move that felt inevitable in my opinion. Caicedo wasn't getting minutes and he has been surpassed on the depth chart by the likes of Pedro Vite, Ali Ahmed and Simon Becher.
Incomings
Richie Laryea joins on loan from Nottingham Forest
The Athletic's Tom Bogert dropped a bomb this morning. No it wasn't like Christopher Nolan recreating the Trinity Test for Oppenheimer, (I saw the movie hours ago, and it is great) but it felt that, sort of.
Bogert reported that the Whitecaps were signing Canadian international Richie Laryea from Premier League club Nottingham Forest on loan until December 31.
Laryea was announced a few minutes later and Whitecaps fans were pretty happy, as they should be.
Laryea fits what the Whitecaps needed. He can play as a midfielder or as a right back. However, if Whitecaps head coach Vanni Sartini continues to use the 3-5-2 system, Laryea would be deployed as a right wing back.
Laryea has only played five league matches with Nottingham Forest and that was last season when they were in the English Championship. After Nottingham Forest gained promotion to the Premier League, they signed a bunch of players and Laryea was kind of an after thought. He spent 2022 and the first half of 2023 on loan to Toronto FC, the club where he spent 2019 to 2021 from.
Laryea was originally drafted seventh overall by Orlando City SC in 2016. He spent two seasons with their B team and two seasons with the first team before joining Toronto FC in 2019.
He is an excellent passer and has some pace. The 28-year-old will provide service for the Whitecaps on the right side and fill the void that was left for Gressel.
When it comes to progressive passing, Laryea is very good.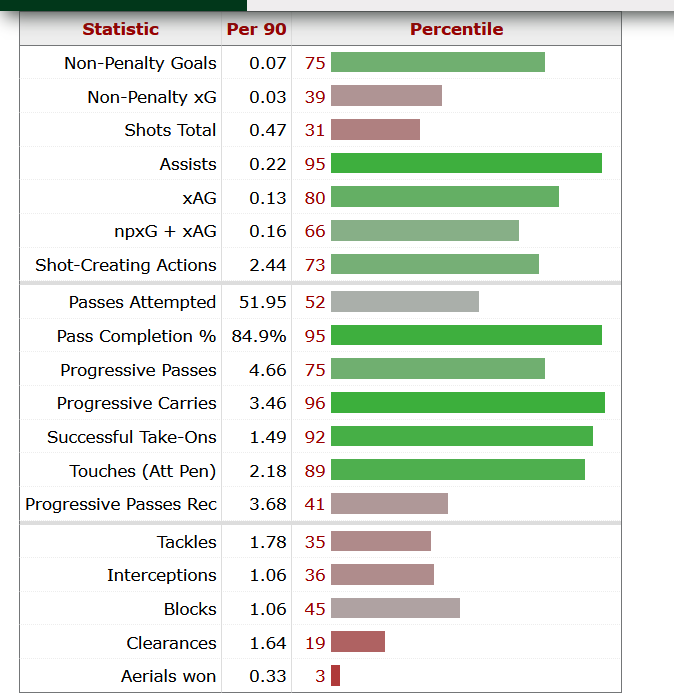 Richie is a winner, competitor, leader and has proven to be one of the best fullbacks in our league," said Whitecaps sporting director and CEO in the press release.
Bogert also reported that the Whitecaps are interested in making him a designated player. Now, is he worth DP money? I'm not so sure. However, with Lionel Messi's arrival to Inter Miami, rules could change regarding DPs, GAM And TAM and the salary cap. The owners of every MLS club recently discussed rule changes according to The Athletic. It is possible that the number of DPs could increase for each club but we shall see.
Signing Laryea is big for the Whitecaps. But they weren't done and they brought in another Canadian international.
Sam Adekugbe returns
Sam Adekugbe blossomed since leaving Vancouver. He had a stint with then-Championship side Brighton & Hove Albion on loan from 2016 to 2017, spent half of 2017 on loan with IFK Göteborg. Then, he left the Whitecaps permanently signing for Norweigan club Vålerenga in 2018 and then he signed for Turkish side Hatayspor in 2021.
Manuel Veth of Transfermarkt reported that Adekugbe will return to Vancouver for a fee of one million Euros. That's a tidy piece of business.
Adekube also spent the the last half of the 2022-23 season on loan at Galatasaray, where he helped them win the Turkish Super League title.
Adekugbe has been a regular for the Canadian men's national team. His celebration of diving into the snow after Cyle Larin's second goal against Mexico in the 2022 World Cup qualifiers is one of the most iconic moments in Canadian Soccer history.
Adekugbe, like Laryea, was also part of Canada's 2022 World Cup squad. He even caused the own goal scored by Morocco. That was the only goal Morocco gave up in the group stage.
Adekugbe will provide service from the left side. He is also very quick and agile and is good at tracking back.
He only played 16 games in his first stint with the Whitecaps from 2013 to 2017. Did he deserve more minutes back then? Yes. But Adekugbe will certainly get a ton of minutes with the Whitecaps as he returns to the club where his pro career began.
Adekugbe has not been announced at the time of this writing but could likely be in the next few days.
Ranko Veselinović is here to stay
While the Whitecaps were bringing in players in, they extended centre back Ranko Veselinović. The Serbian international is extended until 2026 with an option for 2027.
This is also a great move. Veselinović has emerged as a reliable centre back for the Whitecaps. He is excellent at blocking and clearances and while he is only 24, has emerged as a leader for the club as he is their vice captain.
The Whitecaps currently have their best squad in the MLS era but are an even better team now
Heading into the season, the Whitecaps had a strong squad. They had a legit starting goalkeeper in Yohei Takaoka, a bulldog in the midfield in Andrés Cubas, a creative playmaker in Ryan Gauld and a good CB duo in Veselinović and Blackmon.
However, there were questions marks such as up top (Brian White, Simon Becher and most recently Sergio Córdova have provided goals this season) and on the flanks.
Well, they figured the flanks out with Adekugbe and Laryea coming in. They don't have to worry about Luis Martins tracking back as much. (though he's been better at that in the last few months) Both flanks will have pace and excellent progressive passing.
Schuster was cooking on deadline day and he served up a great meal. Here is what the Whitecaps best starting eleven could look like. It's beautiful, I've looked at this for five hours now.
The Whitecaps have depth, the most depth they've had in their MLS history. This is a team that has become a silent contender. People around the league might look at the Whitecaps and not think of them that much but they are a team that could surprise them.
There is no reason why the Whitecaps can't make the playoffs and go on a deep run with the acquisitions of Laryea and Adekugbe. They just got better. Top four in the Western Conference is still in reach and having the two Canadians increases those odds.
It would be inexcusable if the Whitecaps miss the playoffs or get knocked out in the first round. The time to contend for an MLS Cup is now.
With Laryea and Adekugbe now in the fold, Whitecaps fans are hoping that they will spark a chain reaction and cause this team to explode down the stretch.