(Photo: Kevin Light/Victoria Royals)
If Victoria Royals GM and head coach Dan Price could describe the identity of this team in one word, there is no better choice than this:
Competitive.
The Royals spent the last two seasons going from extreme highs to extreme lows and back again. Because of that, the team has proven and have shown Dan Price everything he needs to know what his team is about.
"I knew it, intuitively, just based on the types of people that they are," recognized Price, "but it really proved itself out last season when there was just so much adversity that the team had to go through."
As for the adversity the Royals faced throughout the season? The team, unfortunately, struggled with COVID for long stretches of the season along with injuries to key players such as 2021-22 captain Tarun Fizer, who was injured before the season began and suffered a high-ankle sprain following a faceoff accident not long after making his return to Victoria's lineup. Regularly heading into games with a short bench, the team continued to show up every night and prove they still wanted to win.
Looking back at the team that finished last season, Price believes that any other group of players he's known in the past would have struggled to rebound as the hits kept coming but the group they had just kept coming back. As seen by the incredible December the Royals enjoyed once the team began getting players back into the lineup, going 9-2-1 during the month, and the runs they saw over the final months of the season.
Fuel and Focus
With the 2022-23 season fast approaching, Price is counting on that competitiveness to fuel the team right from the first puck drop. The Royals will be tested right as the season opens as their first two games are against the Spokane Chiefs – the team that kept them from the postseason.
Price wants the team to use the loss in the final game of the regular season to create that early drive to kick things off on the right foot, but not let the memory of that game overshadow what they are doing now. The idea is to keep the focus small.
"Focus on each day and each phase of training camp. Focus on each preseason game. Getting organized and creating good chemistry, having good habits in those games [against Spokane]. If we can do that and establish that good, very narrow window of focus early, then I really like our ability, hopefully, to take that focus and move it to the next segment and the next segment.
Laroque, Leadership, and Opportunities
However, just as with Fizer last year, Victoria's captain is coming into the start of the season recovering from an injury. While Laroque has noted that his recovery has been going well, Price shared that it's doubtful he will be available at the start of the season. However, it is not unthinkable that the San Jose Sharks prospect could be back sooner than expected.
"You're always hoping for the best, but I would say it's doubtful. It's just a matter of how quickly we can get him back as early in the season as possible. One thing about Gannon though, is if there's anybody that can do it, it would be him. He's just such a complete professional. He's relentless in his preparation, his sleep, his nutrition. He's attacking this rehab of his like an absolute cyborg and it's pretty impressive, so if anyone could do it, it's him."
Of course, this has been the Summer of Laroque and early in the summer, the Victoria Royals announced Laroque as the eighth captain in the team's history.
"It's definitely an honor to be able to be the captain this year," said Laroque on his captaincy. "I'm really looking forward to seeing what the team can do and help in any way I can, whether that's on the ice or off."
The decision to name Laroque captain was one that was clear to Price and many Royals players before last season came to a close, though Laroque claims he had no idea his teammates thought that much of his leadership.
"We really noticed [Laroque's leadership] last year in Tarun Fizer's absence," mentioned Price. "I guess every cloud has a silver lining and that was one of them. Tarun was the captain of the team and such a great leader. That was obviously a huge void when he was away, but it allowed people like Gannon to step up into that leadership space. As he did that, and as he started emerging as one of the leaders on the team, as soon as the season ended we really knew and felt strongly that he was going to be the captain for this coming season."
While Laroque was not the only player to step up while Fizer was recovering, he took the opportunity to stand out. Now while he may be sidelined for a while, other players among his Royals teammates will see that same opportunity.
"We'll see similar things this year, I'm sure, depending on whenever Gannon gets back. In the interim, it's an opportunity for other players at all the different age groups to step up and demonstrate their leadership qualities."
The 2002 group in particular are guys that Price has his eye on to show leadership as well as their on-ice ability over the coming weeks. While there are currently four players born in 2002 attending camp for the Royals right now, only three can remain with the team for the season. One of Campbell Arnold (G), Anson McMaster (D), Riley Gannon (F), and Calem Wilms (F) will see his time with the Royals come to a close, however, Price believes all four are due for breakout seasons.
Competition in Net Does Wonders
Acquiring Campbell Arnold from the Spokane Chiefs early last season brought in a veteran goaltender to help guide Tyler Palmer through his rookie season. The duo worked out just as the Royals hoped, and maybe even a little better.
"They're both ultra-competitive people and ultra-competitive goalies, but they're also great teammates. It really developed that great 1A and 1B partnership, where they pushed each other by competing for the net, but they also really supported each other when the other person was in. It just created a great duo, a great dynamic. I think they learned a lot from each other and it was really healthy for the group too, because we had all that competition in such an important position."
Price spoke of the idea that a rising tide lifts all ships and it seems the team holds a strong belief in one another as well.
Near the end of the season, Royals players – including both Tyler Palmer and Campbell Arnold – were adamant that the team could make a strong push to finish the season, and they have maintained that faith as the new season approaches.
"Each player really believes in himself individually. They really believe in each other individual player in the room and they believe in each other as a group, as a unit. They know they've been through some of the toughest things you can go through last year as a team. They went through it all year long and they emerged and they were a whisker, a couple of shots, from finishing sixth in the conference, despite all of that."
While Victoria's season ended sooner than they wanted, Price says the run to that final game gave the team a lot of confidence. Being another year older, with another year of experience and another year of chemistry built, the Royals are looking to come back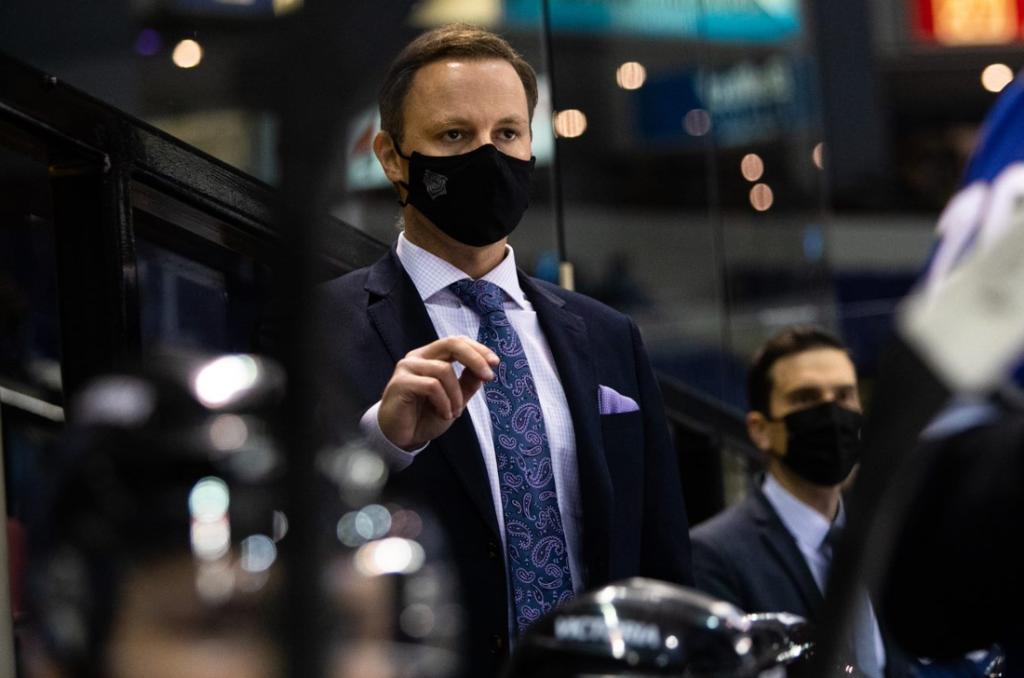 FOR VICTORIA ROYALS FANS:
"We can't wait to see them back in the arena again. Now that we're, knock on wood, hopefully through COVID, just the reconnection of the community, I've always felt that about Victoria, that there's a real community feel for the rink. Especially on nights when the building is full and it's super loud. Of course, we've got a really fast team this year, probably the fastest team I think I'll have ever coached. There's just speed everywhere in the lineup. That speed and now the experience, having been together for three years, and just a real sense of getting Victoria and everyone being so excited to get back to the rink and reengage from a community perspective. We just basically can't wait to see everyone at the rink and just connect with them all again in person."