The WHL U.S. Priority and Prospects Draft is now complete, with the Vancouver Giants walking away with 12 new players to add to their pipeline. In total, the Giants selected five players from B.C., four from Alberta, and one each from Minnesota, Idaho and Manitoba.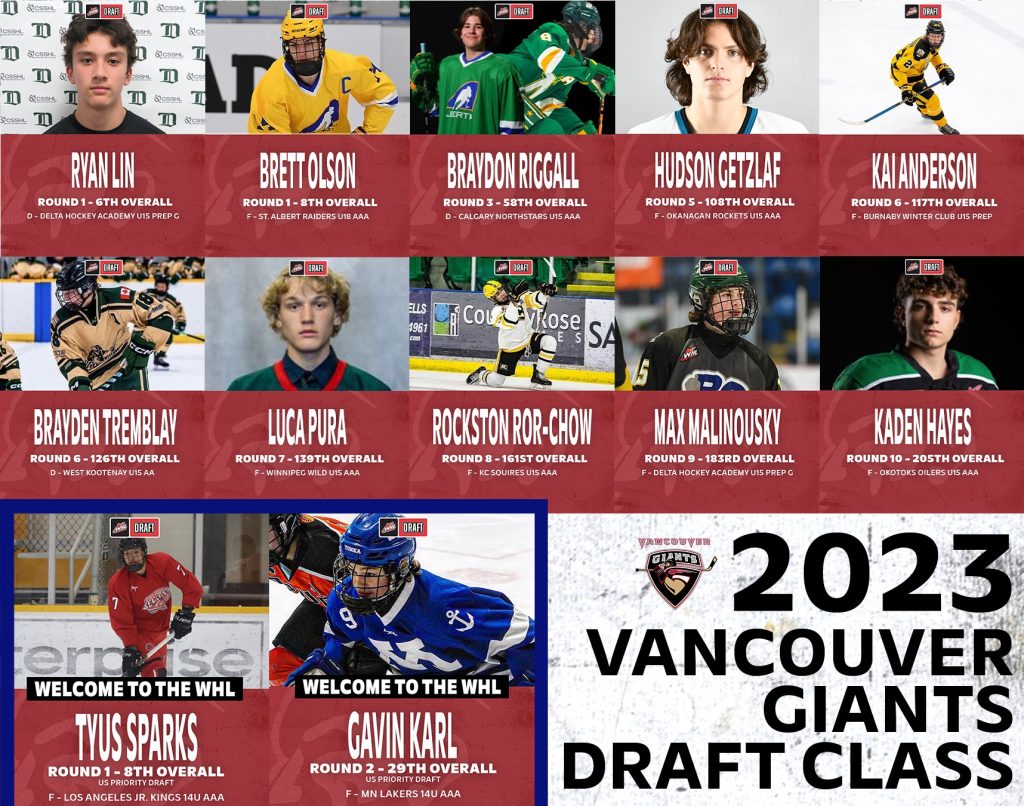 Here is a look at the newest Giants prospects.
U.S. Priority Draft
Tyus Sparks- 8th Overall
With the eighth overall pick, the Giants selected forward Tyus Sparks out of the LA Jr Kings 14U AAA program. Listed at 5'7″, 150 pounds, he finished the season with 49 goals and 90 points in 45 games while also adding nine goals and 12 points in five playoff games. An elite scorer with a high Hockey-IQ, he was a top-15 scorer at the U14AAA level in the States this season.
Gavin Karl- 29th Overall
In the second round, the Giants selected Gavin Karl with the 29th selection. Listed at 5'6″, 135 pounds, the MN Lakers 14U AAA forward had 11 goals and 21 points in 23 games this season. A well-rounded player that plays well in his own zone, he has the potential to be a solid WHLer if he signs with Vancouver.
Prospects Draft
Ryan Lin- 6th Overall
Puck Preps Ranking: 2nd
With the sixth overall pick, the Giants stayed local, drafting Richmond, B.C.-born defenceman Ryan Lin. Listed at 5'11", 152 pounds, he played 27 games with Delta Hockey's U15 Prep G team, scoring 17 goals and recording 41 points. During the season, he also played for the U17 prep team recording four assists in four games. A dynamic skater that has developed into one of the most-rounded players in this draft class, the Giants are very lucky he was available for selection when they were on the clock.
Brett Olson- 8th Overall
Puck Preps Ranking: 9th
At eight overall, the Giants selected forward Brett Olson out of the St. Albert Raiders U18 AAA program. Listed at 6'1″, 165 pounds, he recorded 35 points in 30 games this season at the U18 AAA level and also had the chance to represent Team Alberta at this year's Canada Winter Games. One of the best two-way forwards available in this draft, he has already shown he can not just compete but thrive against older competition.
Braydon Riggall- 58th Overall
Puck Preps Ranking: 123rd
In the third round, the Giants added to their blueline, selecting left-handed defenceman Braydon Riggall. Listed at 6'0″, 191 pounds, he played for 34 games for the Calgary Northstars U15 AAA, scoring 18 goals and recording 35 points. He also saw some action at the U17 AAA level, playing in two regular-season games. For his efforts, he was named to the AEHL's U15 Second All-Star Team at the end of the season.
Hudson Getzlaf- 108th Overall
With the 108th pick, Vancouver drafted Hudson Getzlaf out of the Okanagan Rockets U15 AAA program. In 28 games, he scored 18 goals and added 38 assists. Listed at 5'11, 153 pounds, he also added five points in seven games during the Rockets' postseason run.
Kai Alexander- 117th Overall
At 117th overall, the Giants stayed in B.C., selecting forward Kai Alexander of Burnaby Winter Club's U15 Prep team. In 27 games this season, he recorded 13 goals and 26 points while adding an additional three points in three games during the playoffs. Listed at 6'1″, 155 pounds, he also played three games at the U17 level in the playoffs scoring once.
Brayden Tremblay- 126th Overall
With their second pick in the sixth round, Vancouver selected right-shot defenceman Brayden Tremblay out of West Kootenay's U15 AA team. The 6'2″, 157-pound defenceman scored ten goals and recorded 27 points while wearing an "A" this season.
Luca Pura- 139th Overall
In the seventh round, the Giants selected forward Luca Pura out of the Winnipeg Wild's U15 AAA team. Listed at 6'1″, 165 pounds, he finished the season with 36 goals and 53 points in 27 games while adding a goal during his playoff games.
Rockston Ror-Chow- 161th Overall
A contender for the best name of the draft, the Giants selected forward Rockston Ror-Chow with the 161st overall selection. Listed at 5'10", 150 pounds, he recorded 33 goals and 73 points in 34 games with KC Squires' U15 AAA team. He also played two games at the U17 level with the KC Centennials U17 AAA team but did not register a point.
Max Malinousky- 183rd Overall
In the ninth round, the Giants went back to Delta Hockey to draft forward Max Malinousky. Listed at 5'5″, 135 pounds, he scored 12 goals and recorded 29 points with Delta Hockey Academy's U15 Prep G team. He also played in three postseason games, recording one assist during the run.
Kaden Hayes- 205th Overall
With their final selection, the Giants drafted forward Kaden Hayes of the Okotoks Oilers' U15 AAA team. Listed at 5'8″, 176 pounds, he scored 24 goals and recorded 46 points in 34 regular season games. He really picked up his play in the postseason, as he finished with 15 goals and 22 points in nine games and helped the Oilers win Bronze at the Provincial Championships.