Mason Beaupit (Photo: Larry Brunt/Spokane Chiefs)
If you ask Spokane Chiefs goaltender Mason Beaupit how he got his start in hockey, he will comment that it's "pretty much like every Canadian." He grew up watching the WHL, World Juniors, and the NHL and says, "It was part of my life from a very young age, and I knew I always wanted to play."
However, when you ask the 6-foot-5 Beaupit how he got his start in net, he remembers the moment he decided that between the pipes was the place for him.
"At the age when we were kind of like switching around positions, I went in net a game and we were absolutely shocked, just killed," Beaupit recalled of how his first game as a goaltender went. "But, a kid got a breakaway on me and he came in and shot it. I stacked the pads and made a good save, and I guess that got me hooked. After that I absolutely loved it."
While Beaupit may have fallen for the position in that game, his dad was fully prepared for him to come off the ice, never wanting to put the pads on again.
"It goes that my dad was like yeah, he's not gonna want to be goalie anymore. I came off with a massive grin on my face and was like I'm gonna be a goalie! My dad did the big palm to the forehead, but I think it worked out for the best."
Sitting as the fifth-highest North American goaltender on the NHL Central Scouting's final rankings heading into the 2022 NHL Draft, it's safe to say he's right about that.
Putting in the Work
His ranking amongst the scouts are not something that Beaupit has paid much attention to throughout the year, he has instead worked on having the best season possible with his team.
"I know, some guys, they really like to look at that stuff. I tried to stay clear of it, especially during the year. I prefer to just focus on my business. I mean, I can't control what those guys think. I can just go out there and put my best foot forward and hopefully put myself in the best position for the draft."
Heading into the fast-approaching NHL Draft the BC native has undoubtedly had plenty of practice describing his style of play, so of course, he was asked to do it one more time.
"I move very well for a bigger goalie," Beaupit recognized, "and I love to play the puck and be that sixth guy back there to be able to start the breakout or make a play to help out my team."
Of course, while he has his strengths and knows how he likes to play, it's taken a lot to get to where he is and Beaupit knows it. Perhaps the best advice he's gotten reminds him of how far he's come already:
"I've had a lot of bumps, over the course of my career and just not giving up and the perseverance is a massive thing because it's never going to go perfectly to plan and you have to accept it. That's how it is. No matter how hard they hit, you just get back up and keep going."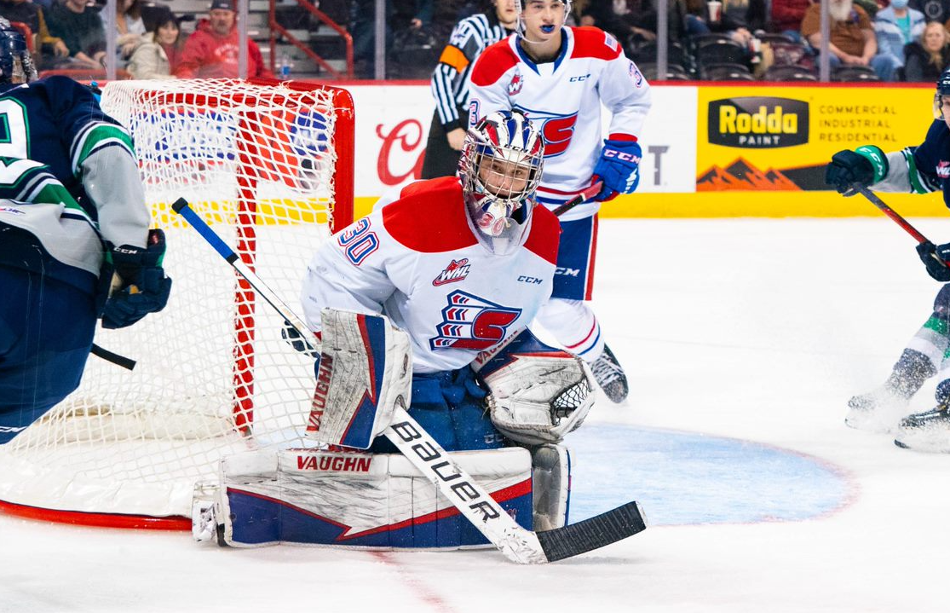 On that note, if Beaupit could go back to his first day in the WHL and give himself any bit of advice, it would be to not look any further than taking everything one day at a time:
"You've got to enjoy every single day. You can't come in and have a down attitude. You just have to come in and love to put the work in. When you do that, good things happen and you get the results you want. The guys on your team, you're gonna make lifelong friendships with them and you should be excited to be part of that band of brothers and excited for what the future holds. Just to continue to work hard and make yourself a little bit better every single day."
A little bit better every single day is just what the guys in Spokane have been doing and the time is coming when everybody sees it. In fact, Beaupit sees it already:
"We had a very young team last year, and we're going to have a very young team this year, which is a good thing. We're going to develop every day, we're going to get better every day, and we're going to improve as a team. We're young and we're going to be very good in a couple of years. The future's looking very bright."
Very Bright, Indeed
With a new coaching staff, a new general manager, and a plethora of that youth Beaupit mentioned, maybe it won't take quite so long for fans to see a consistently dominant Spokane Chiefs team.
In fact, the Chiefs had some glimpses of just what the future could hold for this team during the final weeks of the season. Spokane's regular season finished with all eyes on their matchup with the Victoria Royals in a game that decided which of them would move on to the WHL playoffs. Falling to the Royals the night before, Beaupit and the Chiefs won the final game of the regular season 4-2 and punched their ticket to the postseason as the seventh seed.
"It was awesome," said Beaupit of the experience. "I mean, everyone on our team was over the moon. It was an up and down year at times, so probably a little tougher than normal. We came together as a team and bonded very well. When we won that final game it was just kind of a stepping stone in how well we bonded and how exciting the future is. Obviously, the playoffs didn't go the way we wanted. We're playing a very good Kamloops team but it's a building stone. I know we'll come back next year stronger and better."
While the Chiefs were eliminated in the first round, losing Beaupit to injury midway through the second game of the series, just making it into the first postseason since 2019 is a motivator for the team as they look to the 2022-23 season.
"I think with that a little bit, it kind of gives us that taste. I know, personally, going into this season, I want to win and I know my teammates are the same. We're going to do what it takes to get to that caliber, where we're expected to win every single night and on having no nights off. I think we're all looking forward to getting back on this year, and we're all very excited for it."
Mason Beaupit – Spokane's Player of the Year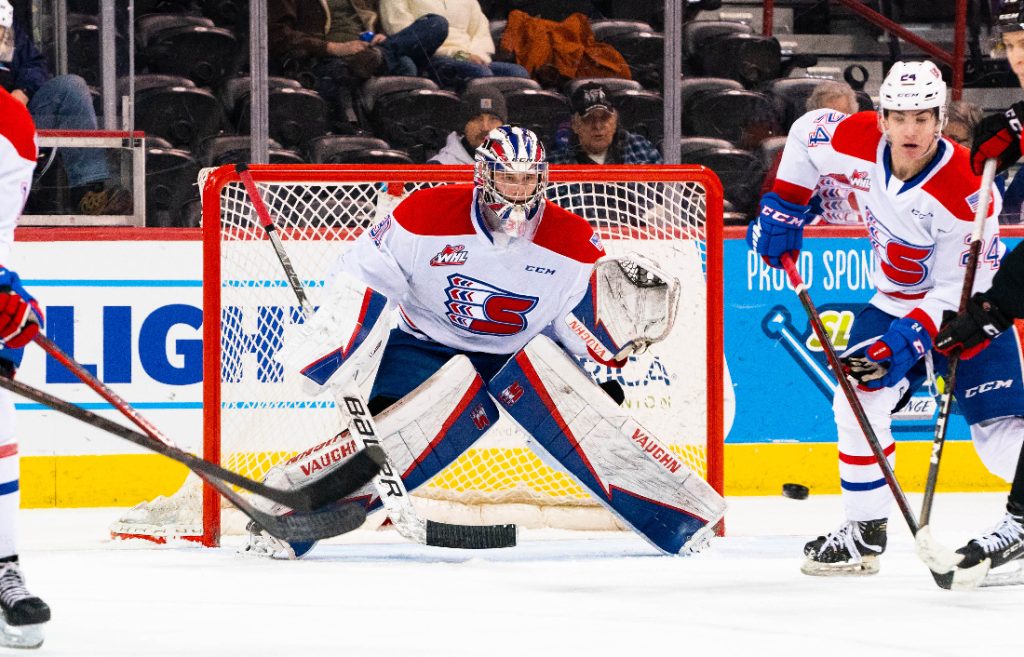 The shortened 2021 season saw Beaupit named Spokane's rookie of the year. One full season later and that rookie became the team's player of the year, an accomplishment the 18-year-old called a cool experience for him and his family.
"Obviously, it was a massive honor," recognized Beaupit. "Unbelievable players in Chiefs history have gotten that award and I'm very, very honored to be picked for it. I couldn't have done it without my coaches and my teammates. They were amazing with me throughout the year, helping me."
Get to Know Mason Beaupit
What does your gameday routine look like?
"Usually, my gameday routine isn't too set in stone until I get a little bit closer to the game start. Usually, I'll take a nap around like 1 pm or 2 pm and then sleep until about 3 pm, and then I'll take about 45 minutes to get ready to shower and do my hair and get dressed. I like to read before I leave, so I'll usually read about a chapter of a book before I head out to the rink. I just find that it calms me down and I have that calm demeanor in my head kind of thing. Head to the rink, and I do my dynamic warm-up and stretch a bit. Get the body loose and do some stuff to get my eyes going, my hands going, get my head going a bit, and then go for pregame warmup. Then just try not to think a whole lot and try to stop the puck."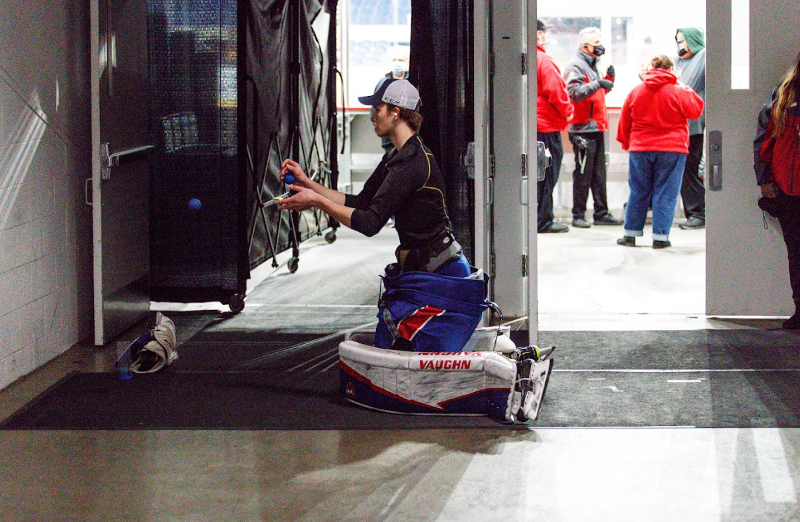 What books are you reading?
"Earlier in the year, I was reading the book on Brian Burke. Later in the year, I started reading The Hunger Games series. I'm about to be done with book two of it and working on book three. I also got the Ken Dryden biography that I'll start reading eventually. So those are the books that I like to read."
A perfect day off looks like:
"Usually, I like to get out and do something with my teammates. It doesn't really matter what we get up to but I'm a very social person. Just getting out and being with my teammates or with friends is always something I look forward to doing. Even when we're on the road and we get a couple of days off in different cities. It's always fun to go with a group of teammates and go look at the tourist attractions. That always makes for a great day."
Three teammates you'd want on your zombie apocalypse team:
"I would take Manny Panghli because that guy might be probably the smartest guy I know. Timofey Kovgoreniya, he's our Belarusian. European guy, and he's a big tough guy. I think he would protect me from anything. Then I'd probably take Blake Swetlikoff as my third guy because we lived together for a while this year and we got along very well. He's a great leader and I think he'd be the right fit for that group."
What would your role be in that group?
"You know, chief and commanding officer. No, I'm joking."
It cannot be overstated how quickly Beaupit mentioned that he was joking. It was impressive.
"I would just help out wherever need be and I think just lend a helping hand anywhere I could and try not to get eaten by zombies."
Which teammate would be the first to fall victim to the zombies?
"Definitely Kooper Gizowski. 100%. Not even close."
However, just a moment later, Beaupit offered up a second name.
"Either him or Saige [Weinstein]. One of them. It would be one of those two for sure."
Best locker room music:
"Probably either Graham Sward or Michael Cicek. Usually, when those guys are on the aux, it's pretty good. Especially before a practice, they usually get the tunes going and the vibe in the room is pretty good."
Worst locker room music:
"Saige and Kooper again, they're awful."
Who has the best nickname on the team?
"I think Kooper does. You know, I think Giz is a solid nickname. I think that's my answer. I like that one."
What's your nickname?
"Beau or Beauper"
Perfect sandwich build:
"I think my Subway sandwich that I get is pretty close to perfect. Bacon, lettuce, tomato, throw on a little mayo, throw on a little barbecue sauce, put salt and pepper on that bad boy, and have it on Italian herbs and cheese bread. You get it toasted, that's pretty good. That's pretty elite."
Early bird or night owl:
"I'm actually pretty even with both. I tend to get up really early but I also don't go to bed very early. So I've just accepted both roles."
If you were a fruit, which fruit would you be?
"I would be an orange."
Why an orange?
"I don't really know. I just like the color orange. So I'm just gonna go with that bad boy."
If Graham Sward were a fruit, what would he be?
"Swardo? Oh, he'd be a tomato."
(Stay tuned for Sward's thoughts on that)
For the Fans
"We're all excited to get back to playing and we're excited to be back in front of the fans and gonna have a good season this year."