Mason Beaupit with the Spokane Chiefs (Photo: Kendra Frankle/Portland Winterhawks)
"Pretty surreal."
That's how Mason Beaupit has been describing the experience of hearing his name called at last week's NHL Draft.
"It's hard to put words to it. Me and my family have put so much into it for so many years, like everyone here, and for us to hear it is a little taste of a payoff. It was one of my dreams growing up, and so to reach that milestone was huge for me."
The netminder's billet family made the journey from Spokane to Montreal and were able to be in the building when the San Jose Sharks announced they were selecting Mason Beaupit 108th overall. It's possible they were just a little bit excited.
"They were pretty fired up. I think I heard them screaming on the other end of the arena. It was amazing to have them there and amazing to spend some time with them. I'm excited to get back to Spokane and see them again."
With a quick turnaround after the draft July 7-8, Beaupit made his way to San Jose for Sharks development camp, which this year is held July 12-15. At the midway point through the camp, this is what Beaupit had to say about the experience so far:
"Obviously, every guy out here is very good and we're all here for a reason. So just kind of taking that period to get adjusted to it and show what I can do and take in everything I can from Evgeni [Nabokov] and the coaching staff here. I want to just try and get a little better every day and work towards the rookie tournament coming up here."
The Sharks will be hosting the 2022 Rookie Faceoff from Sept. 16-19. The tournament is a series of rookie games featuring prospects from the Sharks, Anaheim Ducks, Los Angeles Kings, Vegas Golden Knights, Colorado Avalanche, and Arizona Coyotes.
With development camp being a step on the way to rookie camp later in the year, Beaupit says he will use the experience as motivation when he heads back home and then back to Spokane for the season. However, he also hopes that it becomes a driving factor for some of his Spokane teammates.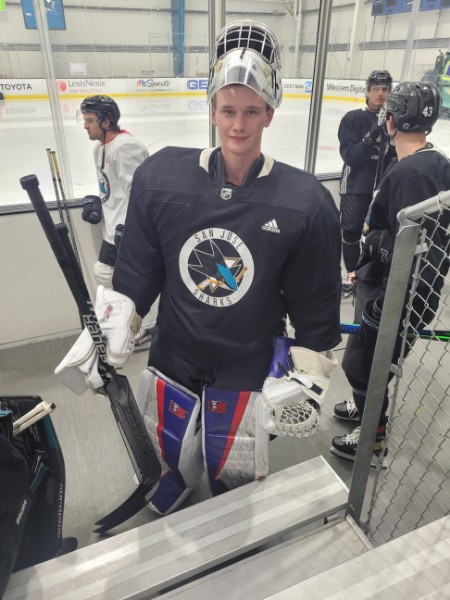 "It's a huge honor to be here. When I head back I just want to push myself every day and use this to motivate some of my teammates. I think with me and a couple other my teammates being selected and being at camps, it shows that it's possible and we're right there and I think it will motivate our guys to get this work that extra little bit harder and you know, it really helps me come back with my confidence."
Chiefs' defenseman Graham Sward also had his name called in the 2022 NHL Draft, selected by the Nashville Predators 146th overall and David Jiříček, an import draft selection for Spokane, was selected sixth overall by the Columbus Blue Jackets. If Jiříček heads to the WHL in the upcoming season, the three of them may help lead the way for Spokane to have a formidable season with a still-young roster.
Of Course, Some Fun
The last time Mason Beaupit spoke with Area 51 Sports Network, he shared that he likes to read a chapter or so before games. Did he bring any books with him to San Jose?
"Yeah, I did. I'm trying to finish off that Hunger Games book still. You know, it's a little harder to sit down and read when the weather's like that."
Finishing the statement with a little laugh, Beaupit pointed through the window of the Sharks Ice facility in San Jose.
Beaupit also brought the Ken Dryden book he had previously mentioned as well.
In speaking to fellow Spokane Chief turned Sharks draft pick Jake McGrew*, it came to light that "Kid loves his Lucky Charms," so of course, that needed to be discussed.
"Yeah, you know what? I'm a really big cereal guy, you know, I won't lie. Big cereal guy. That was the cereal in the house at the time. So I went through the box pretty quick, but it was pretty good."
While the Lucky Charms were pretty good, Beaupit's actual favorite cereal is…
"I'm more of a Vector guy. I don't know if you guys have it, but the Special K Original Cereal? Those are more my thing. I try and stay somewhat healthy."
Well, while McGrew's intel may have been a bit off, Beaupit got a laugh out of it.
*Jake McGrew is no longer with the Sharks organization, having played two seasons in the AHL with the San Jose Barracuda and the Sharks' ECHL affiliates. McGrew and Beaupit billeted together for a short time in Spokane.