Cooper Michaluk in net for the Spokane Chiefs(Photo: Keith Dwiggins/Portland Winterhawks)
*This was originally posted February 18, 2022*
17-year-old Cooper Michaluk stepped onto the ice on Tuesday night for his first WHL start and second WHL appearance. The Spokane Chiefs signed Michaluk to a WHL Standard Player Agreement on February 8, making his WHL debut on February 9 with a 9:28 appearance. His first start for the Chiefs came just three days later, and in it, he handed the Portland Winterhawks their first loss in 12 games. A .947 sv% in his first start against a hot Winterhawks roster as he made 36 saves en route to a 3-2 victory in his first full game turned some heads and was a solid way to introduce himself to the rest of the league.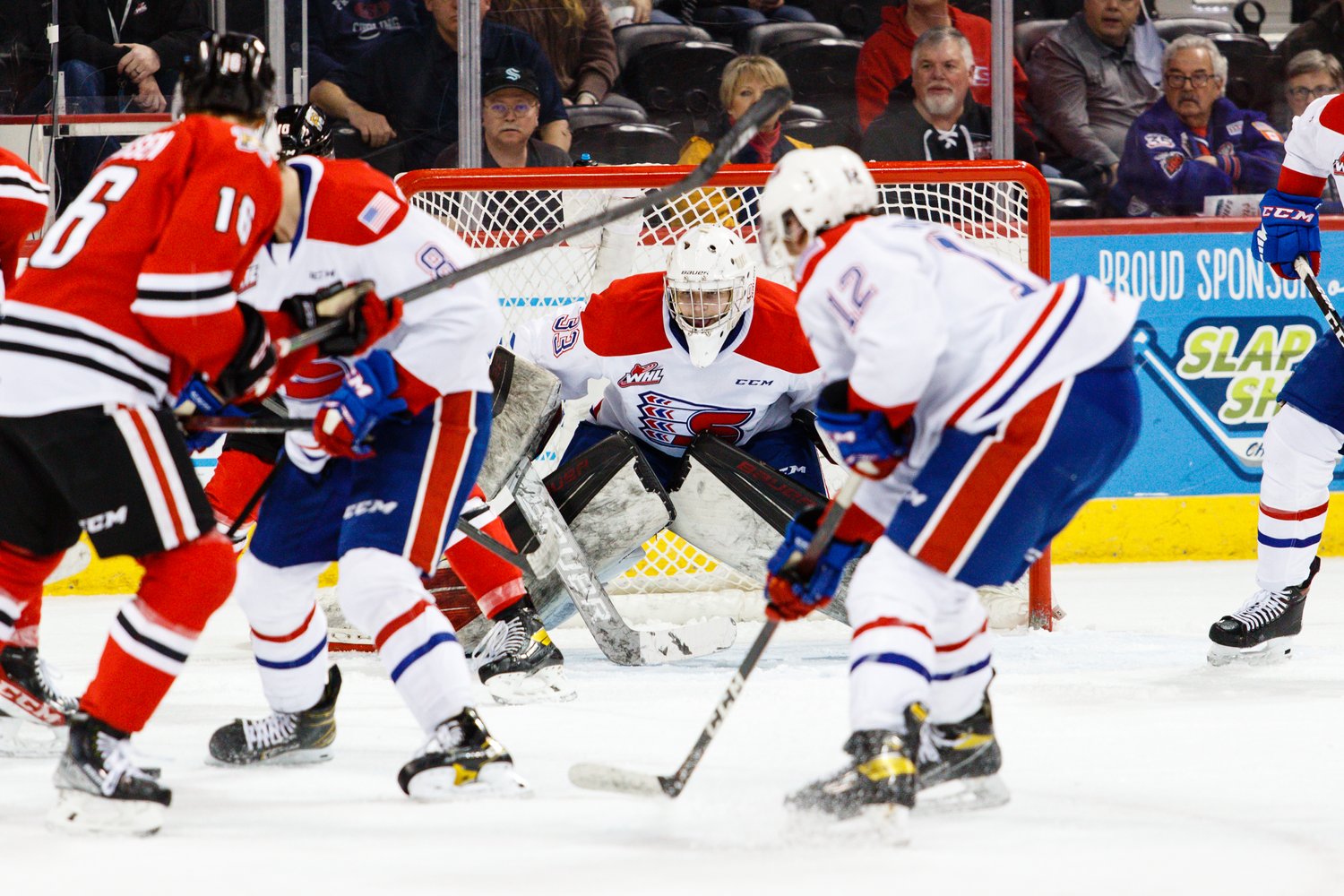 How did he feel about his first week in the WHL?
"When I got the call that they were going to send me down [to Spokane] to come play some games, I definitely was nervous, but I was also excited because I knew that Spokane was in a tough situation for playoffs but was still in the hunt. So I knew if I was ever going to get into a game, I had to be on top of my game and help the team win to try to help get into the playoffs, which is always going to be the ultimate goal. We're still in the hunt, and I think we'll be able to do it."
Getting in for a Few
February 9 saw Michaluk take over the net for just under ten minutes of the second period, and he used it as a quick learning experience.
"I just wanted to get into it and get a feel for the speed of the game because it's a lot different from the major midget I've been used to for the last year. When I first got in there, the nerves took over a little bit. It's a pretty big stage to get out there and try to hold the guys into a game and stuff. It felt great to get out there and get a few shots and see how different the game is. Honestly, it was awesome. It was a good experience."
In the 9:28 of ice time he saw that night, he faced seven shots, stopping five and getting his first taste of WHL action.
What surprised him the most?
Screened shots.
"Those are extremely tough, especially because coming from midget, there's rarely ever any screens. In the WHL, it's just unreal how crazy these guys just stand in front of you, and you can't see anything."
However, it seems he adapted quickly as he headed into his first start for Spokane with one thing on his mind
"I knew I had to be on top of my game and had to play my best just to prove a point and make my statement."
The statement?
"That I do belong in this league and that I can help my team win a bunch of games."
It certainly seemed as though Michaluk kept his composure throughout his first game, so what was his secret?
"There was a lot of positive self-talk that helped me get through the game. It helped just to slow down the game for myself and take it shot by shot and make sure I did my part."
However, Michaluk knew he was not the only one who brought the win home. He credits the victory as a team effort.
"We came out, we needed to get a win, and the boys were really good in the d-zone that game and in the offensive zone bearing goals to give us a chance, so they definitely helped out with that one for sure. We just got the job done that day."
Following his first WHL win, the Chiefs posted these videos of the team celebrating as Michaluk walked into the locker room:
Michaluk had his own story about how it all went down.
"It was pretty funny. I was kind of confused about the situation because I walked to the dressing room, and before I walked around the corner to the dressing room, it was quiet, so I thought that maybe the guys were getting in trouble for something they did that I wasn't a part of on the ice. I just walked in, and I was like, okay, everyone is sitting down. It's a little weird. I just went to walk to my stall, and then all the sudden, I just got trampled and dunked in water and stuff. That was an unreal experience also."
Coming into his second start, was Michaluk riding the high of his first win?
"Yeah, definitely, but I also had to stay humble and confident within my game. Not to get too high because, of course, I still had a job to do, and I just had to take it save by save. Honestly, it helped me; I just did breathing stuff in the crease and slowed down just to make sure I didn't get ahead of myself."
Heading into the weekend, Michaluk knows that work is to be done.
"The three-in-three is going to be very tough for us. We're taking it day by day and game by game, so we know we're going to come in on Friday night in Seattle, give them a tough game, and try to get a few points [this weekend]."
However, there's no surprise that he is happy that the team is facing opponents other than the Winterhawks.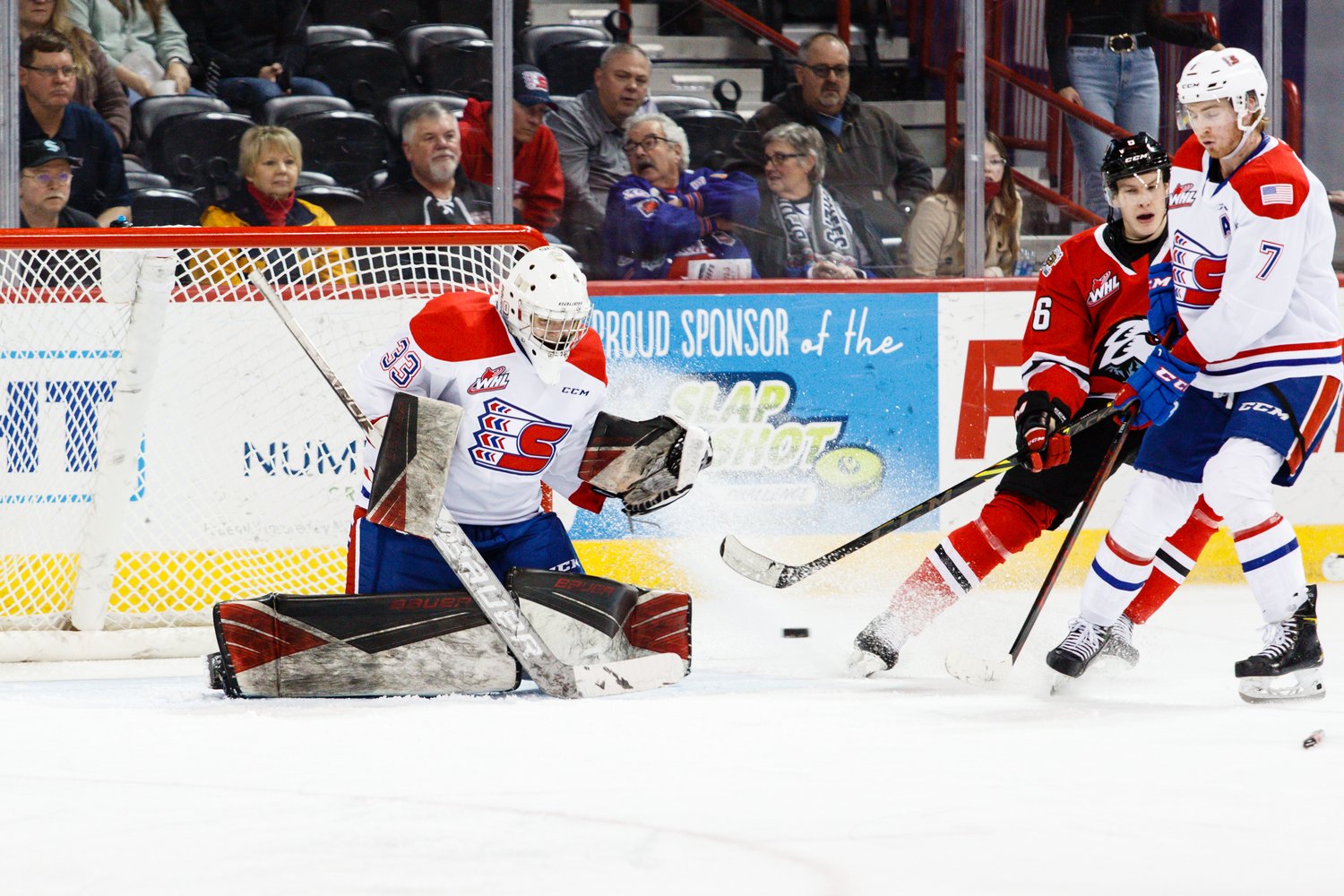 The Mask Chooses the Goaltender
If you're like me, you always want to know why somebody would choose to be an ice hockey goaltender. Cooper Michaluk has his own unique story that proves that sometimes the gear is just made for the athlete.
"I think I was about six or seven, and I was playing forward for two or three years in the Initiation days. Then, in Novice first year, one of my coaches had this really cool goalie mask, and it was my rotation for net. So, he gave me the mask to wear in the net, and I put it on, and it was unreal. I just fell in love with it after that game. he ended up letting me keep the mask. It's this cool, painted mask that had a shark on it and a bunch of waves. It was a cool mask, and so as soon as he showed me, I was like, wow, this is awesome. I want to be able to wear one of my own like this. So, that was pretty much how it started. I was definitely like, wow, this is really cool, and I want to be doing this for the rest of my life."
For the record, he still has the mask back home.
Get to know Cooper Michaluk
It's fitting that a former WHL goaltender was one of Michaluk's biggest inspirations when he was beginning his own journey in net, but he has since found someone else to model his game after.
"Carey Price was a big one when I was younger because was always the hottest one in the league. He won the Vezina and was always a top runner every year. I liked the way he played. He was always calm with his movements, and he made the right choices and stuff. Then, later Andrei Vasilevskiy was probably a guy I look to more. He's really athletic, and I like the way he tracks the puck. That's how I want to be. I want to be quick and make those unreal athletic saves like him."
He lists his speed as his greatest strength.
"I'm fast within my crease, and I'm able to get from point A to point B for one-timers, so definitely my speed and power."
While he may see his speed as his greatest strength, he hopes to showcase his Vasilevskiy-esque athleticism in every game.
"I had a few breakaways in the games I played, so I knew I had to get out, challenge the puck, and make an unreal athletic save just to show them that if I ever get breakaways in games, I'm able to make that stop and make the swing in the game and get the boys going."
So what is his favorite thing to do while training to work on his skills?
"I'm a really big weights guy. I like being in the gym. I find it helps me gain my speed and strength in the crease, so it correlates to my on-ice strength."
On the other side, there's always something people would rather avoid while in the gym. For Michaluk?
"Probably anything to do with cardio because obviously, it's extremely hard, but you know, you have to do it anyway. Once you get through it, it feels really good after, but that would probably be my least favorite."
Now, for the most critical question in hockey: who has the best locker room music?
"Well, I drive with Mac Gross to the rink, and I like his pre-game tunes in the car, so I'd have to go with him."
He had a surprisingly quick answer as to who should not be allowed to play music.
"Definitely Kooper Gizowski."
However, as for what's on Giz's playlist?
"Just a bunch of bad music. We'll go with that."
(Don't worry. Digging for specifics will take place.)
If he were to build his perfect sandwich
"It would have to be a brioche bun because that's definitely the best, and I would have to go with shaved ribeye, so it's kind of like a beef dip. Then I would go with sriracha mayo, pickled onions, and a little bit of mustard. That would be my sandwich."
The Alberta native's favorite thing about Spokane so far is all of Spokane.
"The weather has been a lot nicer than back home, for sure. It's sunny every day and, for the most part, like 10°C above [0°C], so it's been fantastic to get away from the cold weather up north. Honestly, it's a beautiful city."
The weather probably works well for Michaluk, as golf is the sport he'd want to be elite in if he weren't playing hockey.
Everybody golfer has a favorite club. Which one does Michaluk favor?
"My 6 iron. That's probably the one I hit most consistently, and I look forward to hitting my 6 iron on the course. It's just the most satisfying shot for me."
While he's not on the ice or the green, the rookie netminder has a very relaxed way to unwind.
"I'm a big movie guy, so I don't mind watching a movie at night, maybe a bag of popcorn or a drink by my side too, but yeah—definitely a movie."
Oh, if you're wondering, the actor who Michaluk would want to play him in a movie is Leonardo DiCaprio. (Hm, I wonder if he's a fan.)
In no specific order "because that's too hard," Michaluk's top-three movie picks are:
-Inception
-Step Brothers
-The Wolf of Wall Street
So, anything with Leo in it?
"Yeah, 100%."
(Well, that answers that)
What kind of movies does Michaluk enjoy? There isn't any specific favorite genre, but maybe a favorite theme.
"I like a lot of war movies, obviously a good comedy, and then a good action movie is always good. Honestly, any good movie, I'll watch."
For the Fans
Cooper Michaluk is ready to keep showing up for the Spokane Chiefs and all of their fans. Luckily for everyone, he has a few years left in the league.
"They were awesome the night that I had my first start, and they're awesome every night. I look forward to playing in front of them again."