It is official. Roberto Luongo, Daniel Sedin and Henrik Sedin have been inducted into the Hockey Hall of Fame. All three were integral parts of the Vancouver Canucks organization for many years putting as much work on the ice as they did in the community.
Roberto Luongo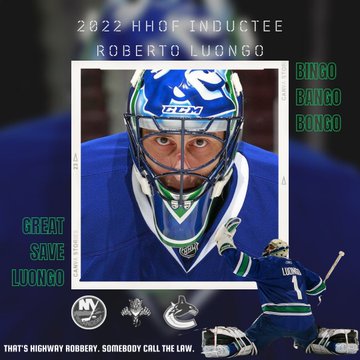 The former Canucks and Panthers goaltender eclipsed 489 career wins during his career ranking fourth all-time in NHL history. During his career with the Canucks which spanned the 2006-07 season to the 2013-14 season, he played in 448 games winning a franchise-record 252 regular-season games. He served as captain during the 2008-09 season as well as the 2009-10 season and led the Canucks to within one game of a Stanley Cup Victory. He also helped backstop Canada to a Gold Medal at the Vancouver 2010 Olympics making phenomenal saves throughout the tournament.
Congratulations Roberto Luongo.
Daniel Sedin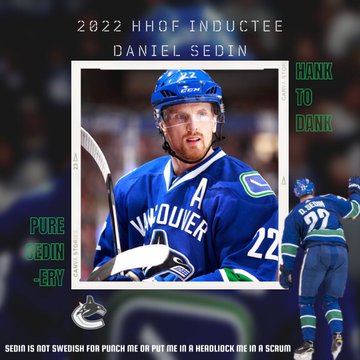 One-half of the Swedish wonders, Daniel Sedin wowed fans for 17 seasons as a Vancouver Canuck. One of two players to score 1,000 points in his career with the organization, he is the team leader in all-time goals with 393 and sits second with 1,041 points. During the 2010-11 season, he led the league in scoring with 104 points winning the Art Ross and Ted Lindsay Trophies. Off the ice, he was just as good. He along with his brother donated and helped raise massive funds for Canucks for Kids and were fantastic ambassadors to the city.
Congratulations Daniel Sedin
Henrik Sedin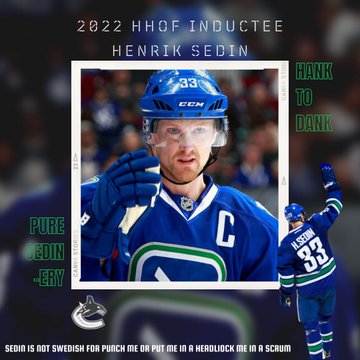 The Canucks all-time leader in games, assists and points, Henrik Sedin played his entire 17-year career with Vancouver. During his career, he recorded 830 assists along with 1,070 points scoring his 1,000 against fellow Hall of Fame inductee, Roberto Luongo. He captained the Canucks for eight seasons including during their run to the Stanley Cup Final in 2011. In 2009-10, he captured the Art Ross Trophy with a 112-point season along with the Hart Trophy. He is also the only player to win the King Clancy Trophy twice in his career. Whether it was setting up his brother for an easy goal or putting a smile on a young kid's face at Children's Hospital, he was everything a team would want in a captain and more.
Congratulations Henrik Sedin.