(Photo: Brian Liesse/Seattle Thunderbirds)
*This was originally posted May 20, 2022*
Reid Schaefer says he fell in love with hockey as a kid and has turned that into being named 31st on NHL Central Scouting's final ranking of North American skaters heading into the 2022 NHL Entry Draft.
"I was kind of born and raised into a hockey family. My dad played five years in Western Hockey League and a little later on was drafted by the Boston Bruins. He kind of just taught me about hockey at a young age and I kind of just fell in love with the sport ever since.
Jeremy Schaefer spent 329 games in the WHL, split between the Medicine Hat Tigers, Saskatoon Blades, and Calgary Hitmen from 1992 to 1997. The elder Schaefer was drafted by the Boston Bruins in the seventh round of the 1994 NHL Draft.
"I definitely looked up to my dad, but I never really got to watch him."
While it seems (per his Elite Prospects page) that Jeremy finished up his playing career in 1999, the 2003-born Reid had to watch others when he tuned in on television.
However, as an Alberta kid, is it any surprise he likes watching the Edmonton Oilers?
"I like to watch Patrick Kane though too, so definitely there's a few people that like to watch."
He may like watching the Oilers and guys like Patrick Kane, but those aren't where Schaefer says he draws inspiration for his own game. Instead, one guy who he models a bit of his game after is Montreal Canadiens winger Josh Anderson.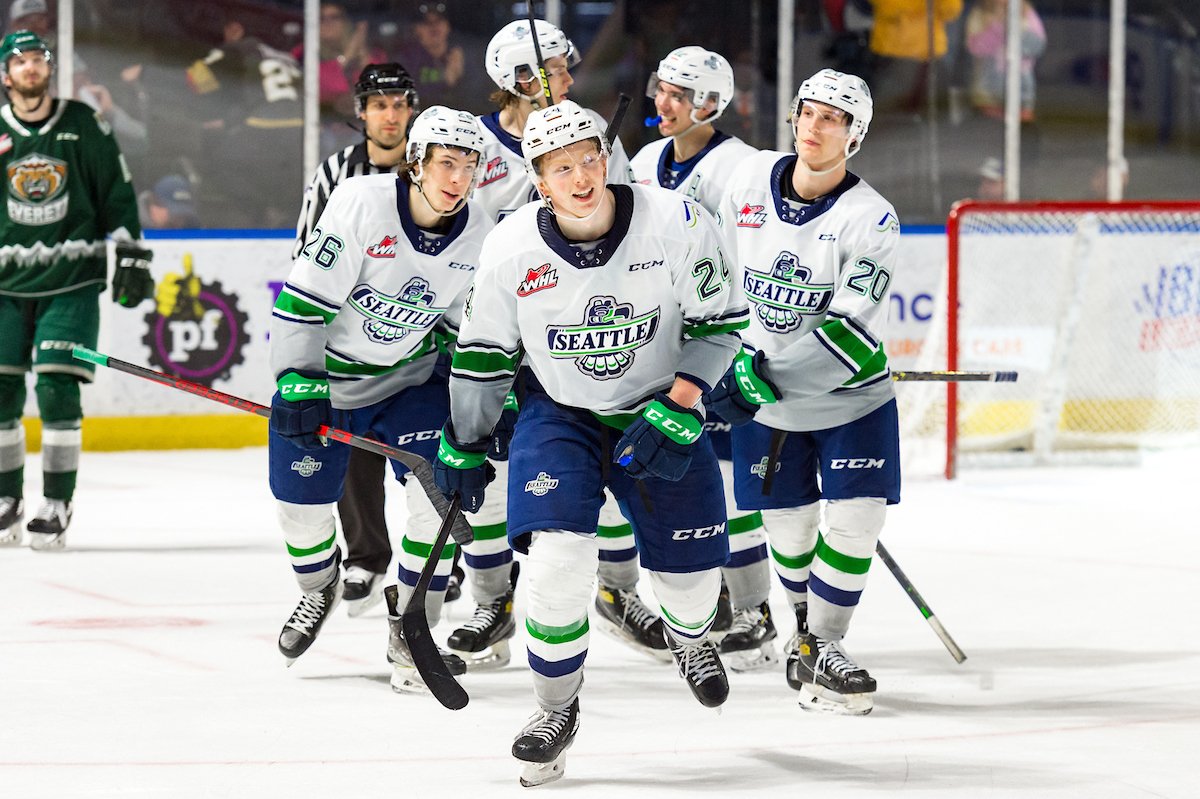 As for his time with the Seattle Thunderbirds, this is Schaefer's first full season, with 2020-21 being a shortened schedule. Coming into the 2021-22 season, Schaefer had appeared in just 25 games with the Thunderbirds, with seven taking place in the 2019-20 season, and had picked up two assists. This year, he wanted to make more of an impression and show how he had improved over the summer.
"Obviously having that shortened season last year it was nice to get the chance to play, but overall, I just didn't have the best season last year. So I used last off-season as an advantage and really worked hard, used time effectively, and I think that's definitely translated to this season. I think I've had a pretty successful season as an individual, but also the team we've had great success so that's awesome to see."
As for that personal success, Schaefer contributed 32 goals and 26 assists in 66 games in the regular season. Through 12 games in the playoffs, he's added another 5 goals and 9 assists. It's safe to say the work he put in has paid off.
One area where he says is a strength for himself is his skating ability.
"Being a bigger guy, I think I skate really well and I think I have a pretty good shot as well."
The several weeks have been busy for Schaefer. He participated in the CHL's Top Prospects game at the end of March, returned to help the Thunderbirds end their regular season on a high note, and has been rolling through the playoffs with the team, but through it all, Schaefer has been focused on staying ready for every game.
"It's been really busy, so I've kind of just been trying to take care of my body as much as I can. Definitely, the most important part of the year is playoff time, so just making sure you're healthy is the biggest player."
So far, that has been a good plan for Schaefer and the Thunderbirds as they knocked the Portland Winterhawks out of the playoffs with a game seven win on Tuesday night, but heading into the game, there was a confidence that the team went into the game sporting.
"A big game against your biggest rival so it was a really important game and it just had to be dialed in and so we just came more prepared than ever."
After the game, Schaefer says that the team had some time to revel in the victory, but of course, the team had just two days until the first game of the Western Conference Finals on Friday night.
"Yeah, we kind of soaked it in on the bus ride home but kind of the next day it's time to get prepared for the next round."
Heading into the series against the Kamloops Blazers, Schaefer says he's just enjoying the moment.
"It's definitely an awesome experience. I get to spend a couple more weeks with the boys so that's always awesome, but yeah, it's just a big series coming ahead. It's going to be exciting."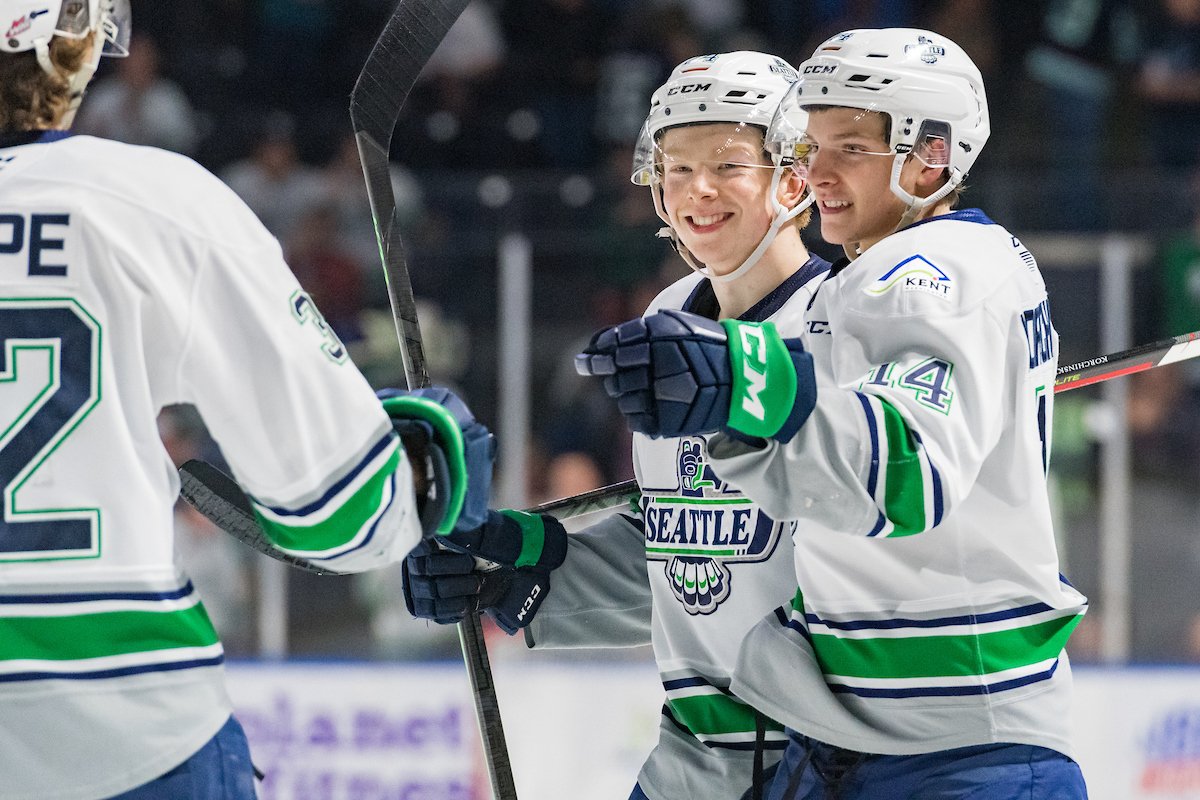 GET TO KNOW REID SCHAEFER
Gameday routine:
"Yeah, so I usually wake up and have my breakfast. And then we usually head to the rink either for pregame skate or just do a stretch. Then I'll go home. I'll have my nap, usually an hour and a half nap. I wake up and then I'll have my pregame and then head off to the rink."
Any superstitions built into the routine?
"I don't really have any superstitions. Really, the only thing I really have is I like to put on my left my equipment before my right."
What does a day off look like?
"I like to just chill around the house. At our billet house, we have a 12-year-old boy and I spend lots of time playing with him, either playing baseball or playing hockey outside. We spend a lot of time together, but I also live with Sawyer Mynio who's on our team, so sometimes we get out and go to the mall or something. We kind of just try and keep busy like that."
Perfect pizza:
"Probably my pizza I'd say just cheese and some pepperoni. I kind of just like to keep it plain."
Pineapple on pizza:
"I don't mind it, personally. I don't mind Hawaiian pizza. I know some people think otherwise, but I think it belongs on pizza.
Best nickname on the team:
"I have to think about that one. I'd say Sawyer Mynio has a pretty good one. His is Sniper."
Where did that nickname come from?
"Yeah, it was his first goal. He sniped it. We kind of just joked around saying he's a sniper after that first goal and it kind of just stuck."
(for the record, Thunderbirds defenseman Kevin Korchinski agrees that Mynio has the best nickname)
Best music on the team:
"Leon Okonkwo Prada and Ryan Gottfried"
Worst music on the team:
"I, personally, would have to say Conner Roulette"
Why Roulette?
"He just likes to play some goofy stuff like Star Wars themes or like, some Harry Potter. He's a little jokester like that.
Schaefer's favorite music artists:
"I like Dua Lipa and Morgan Wallen."
(Those two are pretty different in their style of music)
"Yeah, I like a wide variety."
Three teammates Schaefer would want on his zombie apocalypse team:
"Ty Bauer, Sam Popowich, and Sawyer Mynio"
What would everyone's role be?
"I'd say Sniper is the one in the back, just trying to snipe all of them. I'd say Bausey is the front runner, kind of just sacrificing everything and then I would just say [Popowich] would be maybe health provider."
What role would Schaefer give himself?
"I'd be there for moral support. Just supporting the guys."
Advice he'd give himself before his first game with the Thunderbirds?
"Just be confident. Definitely, it's kind of a rollercoaster ride here in this league. It's a lot of ups and downs but just have to be staying up and staying confident. You're not necessarily living at home either, so it can be tough at times, but you just have to stay up and just enjoy it."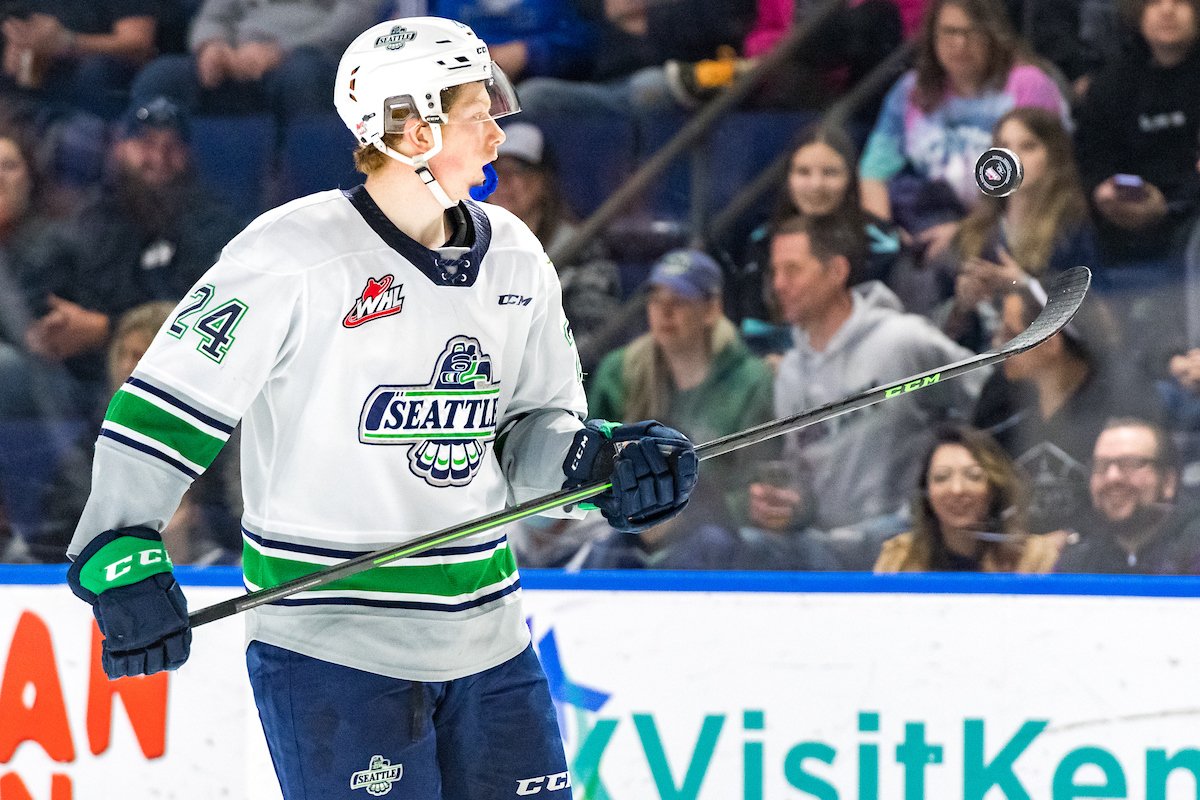 FOR THE FANS
"I just want to say thank you guys. They are the best fans in the WHL, so definitely love their support and what they've done for us this year."