The Seattle Thunderbirds finished the season with an incredible run to the WHL Finals. With a strong fight against the Edmonton Oil Kings, the Thunderbirds pulled off two wins against the eventual WHL champions. Those two wins were more than any other WHL playoff team.
In the upcoming NHL draft, the Thunderbirds have a number of draft-eligible players in their system. Let's look at six forwards, four defensemen, and one goaltender are eligible for selection in this summer's draft.
Forwards
Jared Davidson (2002)
Jared Davidson is probably one of the highest performing ignored players in the WHL this season. Finishing playoffs with the second-most points and goals, picking up 29 points in 25 games in the postseason. Of all WHL skaters, he also finished first in postseason shots with 109, picking up another 285 in 64 regular-season games. In the regular season, Davidson registered 89 points, including 13 goals and 17 assists on the power play. While it may be more likely that a team invites him to camp rather than use a draft selection to add him, a team could always see waiting as too much of a risk of losing him.
Reid Schaefer (2003)
A 2003-born player with a late birthday, this is the first NHL draft Reid Schaefer is eligible for. He's climbed many draft boards throughout the season, finding himself ranked 31st on NHL Central Scouting's final ranking of North American skaters. The 6-foot-3, 213-pound winger picked up 58 points in 66 games with the Seattle Thunderbids, adding another 21 points in 25 playoff games. He's not afraid to get in the mix and sometimes takes silly penalties, but he's got so many positives, that a team may should be willing to work with him. Any team looking for a quality power forward is taking a long look at Schaefer.
Mekai Sanders (2003)
One of those players that teams may regret not drafting is Mekai Sanders. Unable to take part in the 2022 playoff run with the Seattle Thunderbirds due to injury, that shouldn't hold a team back from taking a bet on this player's future. Sanders is one of the most fun players to watch. He works game in and game out and though his 27 points in 56 games may not stand out the most, watching him play tells a different story. He's one of the Seattle players poised to have a breakout season this fall and should a team pick him up in a later round in the NHL draft, they won't be disappointed with what they're getting.
Jordan Gustafson (2004)
Coming into the draft ranked 42nd on NHL Central Scouting's final ranking of North American skaters, Gustafson may be one of the least talked about top prospects heading into this draft. Throughout his sophomore season, Gustafson has tallied 52 points in 58 games. Despite this, talk around him has been less than that of Schaefer and Korchinski. However, it isn't because he's undeserving. Gustafson plays with such a passion for the game and is one of the smartest guys in every game, something you can see every time he takes to the ice. Likely a mid-round pick, Gustafson may just turn into a steal for some NHL team this summer.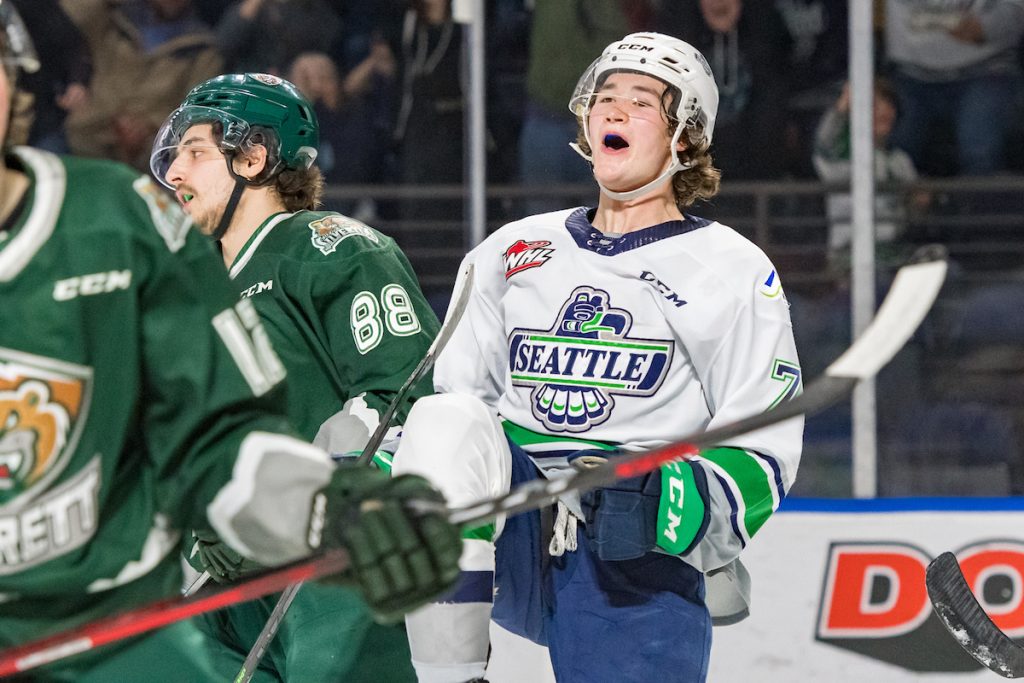 Popowich (2003) and Ludwig (2004)
Both Sam Popowich and Gabe Ludwig could be fantastic late-round picks for NHL teams. While they have been fairly quiet during their time with Seattle, you'll also hear their names come up often during games. Furthermore, both are likely to have much stronger years with the Thunderbirds in the upcoming season, having even more experience and a hunger to get back to the WHL Final.
Defensemen
Chase Lacombe (2002)
While Lacombe was a trade acquisition for the Thunderbirds, he fit in on the team well. Though his offensive numbers were not outstanding, he played well defensively with the Seattle roster. Should an NHL team use a late pick to grab him, don't be surprised… just, don't expect it.
Leon Okonkwo Prada (2003)
Just as with Lacombe, Okonkwo Prada's numbers won't wow you, but he does what is asked of him. The defenseman from Great Britan is not afraid to get into the corners and do some of the gritty work for his team. He could be a great late-round pick for somebody but he may have to wait a little longer.
Jeremy Hanzel (2003)
33 points in 63 games was a great showing from Hanzel in his sophomore season. One of the smartest guys leftover from last year's draft. He's one of the most skilled blueliners you'll watch, playing with creativity. Teams passed on him last season but it shouldn't happen again in the upcoming draft.
Kevin Korchinski (2004)
Is your favorite NHL team looking for an offensive defenseman? Yes? Well, meet Kevin Korchinski. Even if he isn't what your team needs, they likely will soon. Korchinski is one of the skaters who has seen his draft stock rise rapidly throughout the season. Initially given a B-prospect rating by NHL Central Scouting, he was ranked 7th in the final rankings. His skating ability is wildly fun to watch and he uses it effectively. Picking up four goals and 61 assists in the regular season, he finished with the most assists of any draft-eligible defenseman in the last 30 years. Of course, he added another 19 points in 25 playoff games from the blue line as well.
Projected to go in the 10-15 range in the draft, he could go even higher if a team really liked what they saw.
Goaltenders
Thomas Milic (2003)
Thomas Milic has undoubtedly caught the attention of many through the 2022 WHL playoffs. Appearing in all 25 postseason games for the Thunderbirds, Milic posted a 2.29 GAA to go along with a .925 SV%. In addition to this, in the regular season, he finished with a 2.44 GAA and a .912 SV% in 47 games. Despite his outstanding year, he sits in the 28th spot on NHL Central Scouting's final rankings. Ask anybody and they will tell you Milic was the most significant reason for the Thunderbirds success throughout the playoffs.
Though he was invited to development camp by the Seattle Kraken last year, Milic was unable to attend due to a broken finger. This year, he will undoubtedly be found at a camp somewhere, but as a draft pick.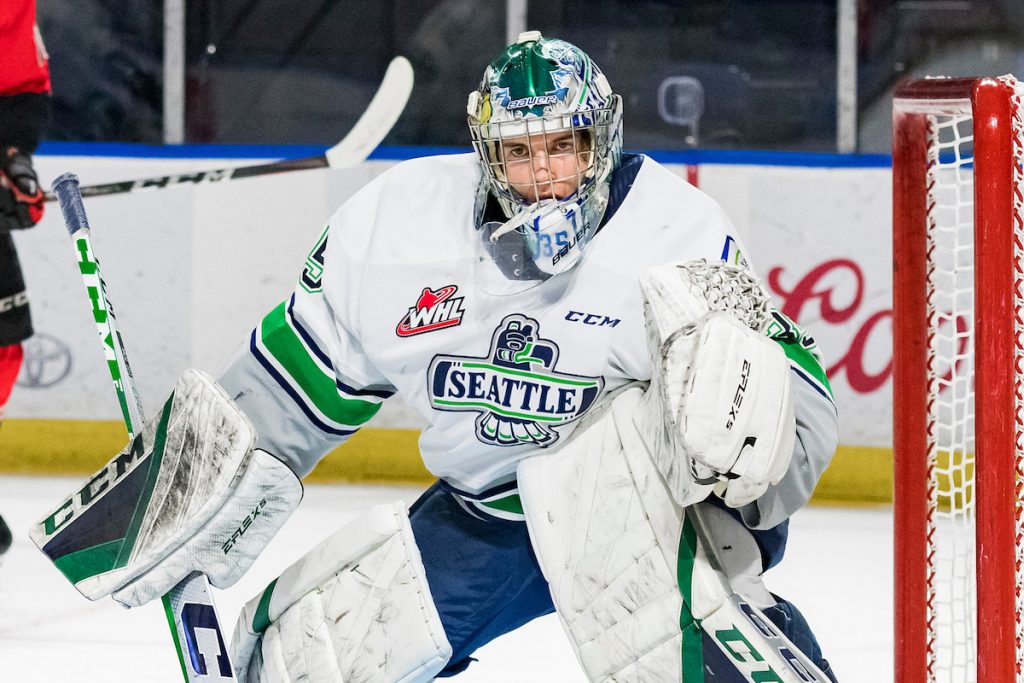 Lizz's Completely Biased Draft Thoughts
Jared Davidson has proven that he deserves a shot somewhere and I hope somebody decides it's too much of a risk to wait for him.
Someone is going to get one heck of a steal in Jordan Gustafson, and I hope it's a team I like.
Same goes for Jeremy Hanzel. He's got such an eye for the game and he's could bring so much to an NHL team as a later pick. I want to see him go somewhere.
Thomas Milic should go a lot higher than his NHL Central Scouting ranking suggests. He has been absolutely outstanding for Seattle over the last two seasons and has earned a spot in this draft.
#KorchToSJ. Do I need to say more? Okay, if you don't follow me on Twitter, that's been my entire MO over the last few months. Kevin Korchinski needs to go pick 11 to San Jose. I won't be upset if he goes higher (unless it's to Anaheim), but as I'm in San Jose, bring him here.