After being drafted in the first round of the 2023 NHL Entry Draft by the Calgary Flames, Sam Honzek returns to the Vancouver Giants looking to build off an impressive rookie season. Last year, the Slovakian winger recorded 56 points in 43 games, finishing second on the team behind Ty Thorpe. Now fully healthy, he is ready to show the entire WHL just how good of a prospect he is.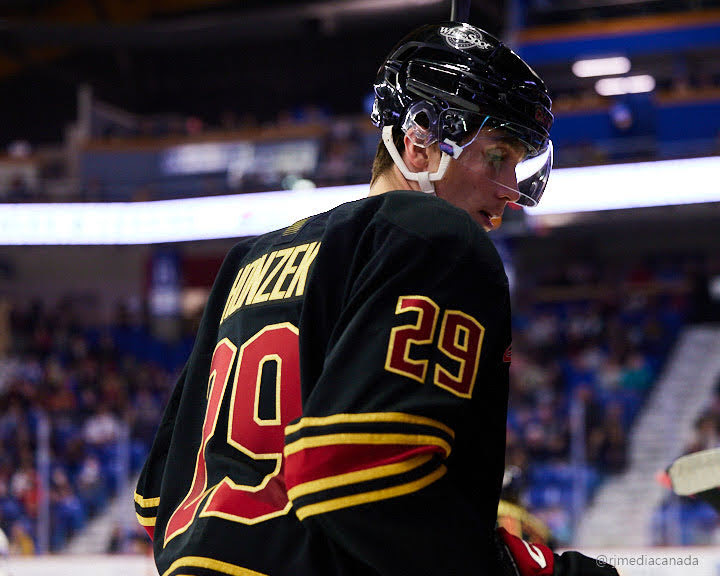 Heading into this season, Honzek is ready for whatever challenges may come his way. While his goal is to make the Flames opening night roster, he is looking forward to this year's Giant season if he returns to the WHL.
"I think we have a really good team," said Honzek when asked about this year's team in Vancouver. I would say better in the last year. We have some really good forwards coming in. I think it's gonna be a really fun season."
Now that Giants training camp is complete, Honzek's focus will shift to the Flames as he heads up to Penticton for the Young Stars Tournament. According to the Slovakian forward, the plan is to develop him as a winger, so that will be something to monitor as he heads into Calgary's training camp. Regardless of where he plays, though, his goal, as he states, is to show he can "impact the game" and "show that I was a good choice and I am a really good first-rounder."
If Honzek does play a full season with the Giants, the sky really is the limit to what he can achieve. Last season, he had 1.30 points per game, which, if averaged out to a 68-game season, equals out to an 88-point campaign. For reference, that would have been the most points in a season by a Giants player since the 2010-11 season when Brendan Gallagher posted 91. While he won't play an entire season as he will miss games due to NHL training camp and the World Juniors, it is an exciting exercise for fans in Vancouver to predict what he could do this season as his goal for the season is to be the best player on whatever team he plays for.