Ryan Hofer leads the way after scoring a goal (Photo: Brian Liesse/Seattle Thunderbirds)
"It was just me, my dad, and my older brother out there learning to skate. I had that little skater, helper, tripod thing along with me."
For Everett Silvertips centerman Ryan Hofer, hockey was always something of a family affair. From learning to skate on an outdoor rink built by his dad to taking shots on his older brother—current Springfield Thunderbirds goaltender Joel Hofer—during the COVID break, the sport was a constant in his life from the start.
"We grew up playing together because he's a year and a half older—almost two years. Growing up, for the younger hockey teams, I would be on the same team as him, so I got to play with him for a couple of years."
While his brother chose the position of goaltender at age 10—one that Ryan noted was "a good decision on his part" while laughing—he remained as a forward for the majority of his young hockey years.
"I've just always liked scoring goals since I was little, so I just stuck with it ever since. The only time I really played defense was when I was younger and they had us switching positions, but I've always been a forward since then."
As for idols in the league growing up, Hofer noted that he gravitates towards the players who have a similar game style to his own. Names like Jamie Benn and Mark Stone came to mind immediately, with the most impactful aspects of their game that he likes being their physicality and hard tenacity on the ice.
Working on himself
Not unlike a few of his teammates, Ryan Hofer's first full season with the Silvertips was this past season. After a 2020-21 season shortened by COVID-19, Hofer wanted to pick up right where he left off—this time, in front of a crowd.
"It was definitely a first season I'll never forget with the fans being as loud as they were for us."
Unfortunately, no season comes without its share of troubles, but Hofer says he wasn't afraid to take a step back and reevaluate his season as it progressed.
"I found throughout the season that I was struggling, so I kind of went back to the drawing board and tried to figure out what was going on. What I found was that I was trying to do too much, trying to be a player that I'm not. Once I got back to my roots—playing physical, playing hard, always being tenacious—that's where I found my success."
It's pretty clear that once Hofer found his groove in the season, he did a pretty good job maintaining it.
When asked if he could go back to the season opener and give himself one piece of advice, Hofer's answer was quite simple:
"Soak it in. We're super fortunate to have the organization we do in Everett with the people, fans, and teammates. Never take it for granted, always go in there every day and be super appreciative of what we have here."
Memories of a Season Well-Spent
As much of a shock it was when Silvertips were eliminated in the first round by the eighth-seed Vancouver Giants in the first round of the WHL Playoffs, Hofer stressed the kind of vital experience playoff hockey gave him.
"Our coaching staff did a great job of explaining to us what's going to come and what's expected of us, and we learned very quickly that it's hard, heavy hockey."
Hofer made sure to mention that playoff hockey is where he feels he thrives the most, as it emulates the kind of game he strives to play himself, even in the regular season.
While the season may have ended sooner than anyone would have liked, there were plenty of good moments from the centerman's sophomore season: his very own Taco Hat Trick, becoming the champions of the Western Division, and netting a goal in the Battle of the Sound. For Hofer, the most memorable one was the latter.
"Being in that brand new rink with the whole lower bowl pretty much full, that's a memory that will stick with me for sure."
Camping in the Mile-High City
Before his season with the Everett Silvertips began, Hofer was extended an invitation to attend development camp with the Colorado Avalanche back in September. For a player looking to break into the NHL in the near future, this was the perfect opportunity to get a first look.
"It was definitely an eye opener to be around those types of players. The caliber and professionalism of those guys, it's just like nothing else."
Hofer made sure to talk to the other players training there—some of which had already broken into the NHL and begun playing—and ask them how they looked at their own game. He referred to himself as a sponge in Colorado's camp, absorbing everything as much as he could. While he might not remember the exact people he spoke to, the advice he was given is something he internalized quickly.
"There was this one forward, and I asked him something like 'what would you say the most important thing is?' and he said you just kind of have to be obsessed with what you do, realize that everything you do, it has a purpose. If you don't get something, ask questions. He stressed that you have to take care of yourself because you have to exhaust everything to be able to even get there, and when you do, you figure out how to stay there."
Continuing the Lessons
Coming off of a crucial sophomore season where he gained multitudes of valuable experiences, Ryan Hofer deems himself ready to take his final year in the WHL head-on. Through the offseason, he plans on honing in on the aspects of his game that he's not entirely great with—or "getting uncomfortable" as he would say—in order to make his play style more well-rounded.
"I know what this offseason means to me. It means going in every day, you can't just go into training camp and expect results. It has to start from the end of the last season until you start training camp again."
Maddie's note: This interview was conducted a week prior to the draft, and I'm very happy to report that Ryan Hofer was selected by the Washington Capitals in the sixth round (181st overall) of the 2022 NHL Draft on July 8th, 2022. Congratulations, Ryan!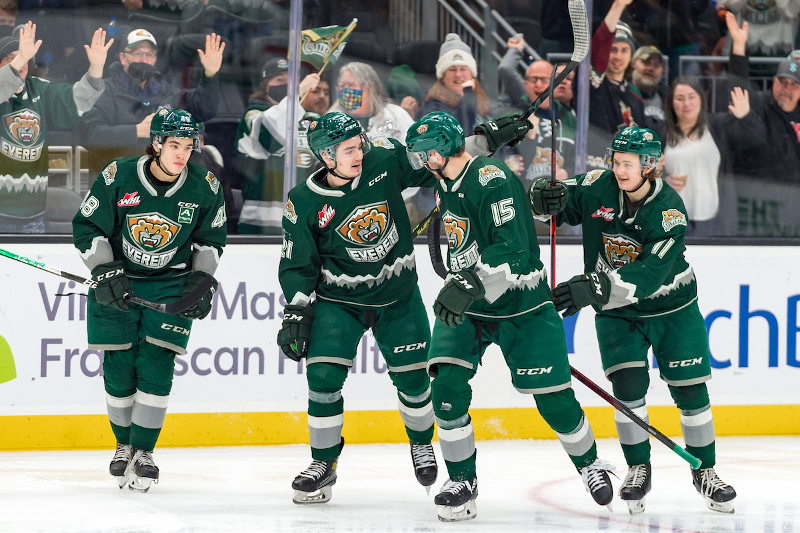 Get to know Ryan Hofer
A question you always wish you were asked, but never are?
"I guess something earlier could have been 'why do you play hockey?' I think that really would have forced me to look into the main reasons why I play. It was only until a couple of years ago that I really found out why I want to play it and why I want to excel in it. I think everything happens for a reason, so maybe it's good I didn't get asked that so I could find my reason out for myself."
Teammate most likely to run away from a spider?
"I'd like to say Ben Hemmerling. I feel like if he would see one of those, he'd definitely run the other way. I don't know what it is, but I think it'd be him for sure."
If you were a fruit, which one would you be?
"I'd have to just go with my favorite fruit: a strawberry. I think those things are very good. I just really like strawberries, and I feel like I want to be one of them."
Speaking of Hemmerling, which fruit would he be?
"Probably a blueberry. They're a little bit of the smaller fruits, but they're still a really top notch fruit. I feel like a blueberry would definitely suit him."
Most used app on your phone?
"Probably instagram. I feel like that's just where I get most of my news from. I follow a bunch of hockey and golf things. I always get updated about trades or plays that happen from there."
Last time you forgot your phone somewhere?
"Forgot my phone? I don't know, I'm usually good with that stuff. Whenever I leave the house, I think 'phone, wallet, keys,' but I think it was probably leaving for golf. I left it in my room because I guess I was in a rush to make the tee time. I think I left it at home, but luckily the golf course is just a minute away, so I drove back and got it."
A message for Silvertips fans:
"Don't stop what they're doing. We definitely know there's support, and it makes a huge difference when they're there and cheering loud for us. They do a great job of that, so definitely keep it up."