(Photo: James Doyle/Prince George Cougars)
Deemed a "creative and intelligent playmaker who displays a strong work-ethic" by DobberProspects, Riley Heidt has been putting in the work leading up to the 2023 NHL Draft. The young forward, who hails from Saskatoon, Saskatchewan, plays for the Prince George Cougars of the Western Hockey League and has made quite the name for himself in his WHL career. 
"It's a very exciting year for me and my family, and my teammates are there supporting me," Heidt said. "And my team's success is gonna help me in my draft, so I'm playing game-by-game, and not worrying about all the statistics. Just playing my game, doing the best I can every night, and showing [everyone] what I can do. I think that's the best way to go at it."
That mindset has been working well for him. Known for his consistency on and off the ice, Heidt describes himself as "a high-pace player with pretty good vision," and he certainly lives up to that. He was named WHL Player of the Week on November 14, after putting up nine points in only three games, and has so far maintained a ~1.5 point-per-game average this season.
Hockey has always been a big part of Heidt's life. "I'm from Saskatchewan and it's cold up there so we've got a lot of rinks," he said. "I was four or five years old— my brother's six years older than me and he was playing hockey at the time, so I stepped on the ice and I just loved it. I was out there every day after supper all night and you couldn't get me out of there." Before joining the Cougars, he played for the Saskatoon Contacts U18 AAA of the SMAAAHL, and before that, the Martensville Marauders U15 AA of the SAAHL U15.
The seventeen-year-old was drafted second overall by Prince George in the 2020 WHL Bantam Draft, right behind forward Connor Bedard. As Heidt's career in the WHL grew, so did he. "I think as a young guy, I put a little too much pressure on myself," he reflected.
His advice for his younger self? "You know, going in there and having fun is the biggest thing. I think learning from the older guys and your coaches, and stuff like that. It's the best junior league in the world, and it can be underestimated and you shouldn't do that. Play day by day. It's a long season. If you have a bad day, move on. That's just the way to go."
Last season, Heidt and teammate Koehn Ziemmer led the team in scoring. They both earned the Brett Connolly Rookie of the Year Award; Heidt had an impressive 58 points (21G-37A) in 65 games played, successfully establishing himself as someone to watch his first full year with the Cougars.
Leadership On and Off the Ice
Going into his second full season, and third year with the Cougars, Heidt is continuing to work hard. Late September 2022, it was announced he would wear an A for the Cougars' 2022-23 season. "Being a third year on the team, I'm a leader in the room now. It's obviously awesome. I think we've got a lot of leaders, whether or not they have a letter, and I think me leading by example on the ice is what I'm trying to do, and I've done a good job at it," Heidt said regarding his A.
"It's my third year on the team now, it's a big year for me and my team. I think we've got a lot of returning guys who just want to bring some of the experience we have to some people. I just want to help my team the best I can. Obviously our team goals…. We're first in our division right now. We're stepping in the right direction. That's huge for us. We've been working hard. We're a really close team this year and I think we all just got to work hard and we'll get 'er done."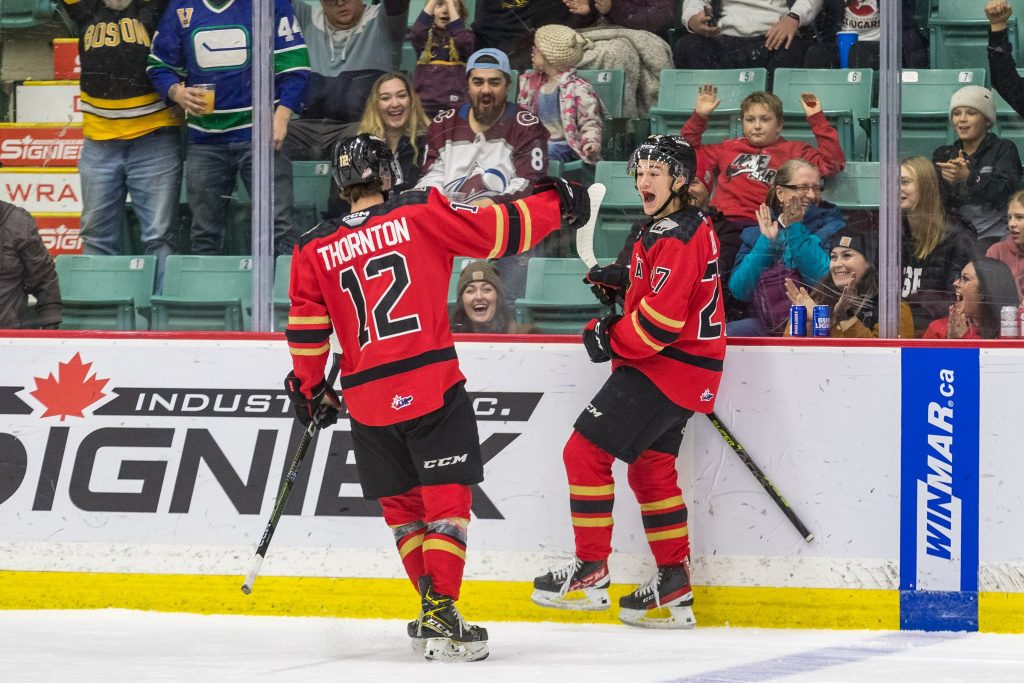 His Team
The Prince George Cougars have always been more of an underrated team. From a fan's perspective, it may seem like they don't get nearly enough attention for the amount of hard work they do. Known for their resiliency, the Cougars are a team who fights to the end, no matter the score. "We compete," Heidt said. "Our coaches are really stressing that this year. We all know there's no other way to play our game. We're really connected, we're really a team, we stick up for each other. We try to bring it every night." And bring it they do.
This year brings the return of interconference play for the WHL. Heidt's first year with the Cougars was during the shortened season due to Covid-19, and last year, each team only played within their own conference. This season, that changes.
"I think sticking in the BC and US division last year was better than the bubble year for sure. Obviously getting to play every team and all my buddies from back home who are on different teams out east. I'm probably excited to play Moose Jaw here at the end of the month. One of my best buddies is on that team, and obviously I've never played them, so I'm excited. Especially out in Saskatchewan, since that's where I'm from."
Heidt has had success outside of the WHL too. Before joining the Cougars, he had 37 points (17G-20A) in 44 games with the Saskatoon Contacts, and was fifth in team scoring. This is impressive enough, but when you factor in the fact that he was granted an exception by the Saskatchewan Hockey Association to play at midget level—and against competition up to three years older than him—it really puts into perspective how good those numbers are.
Before that, with the Martensville Marauders, he compiled a grand total of 153 points (58G-95A) in just 62 games played.
Reflecting
July of 2022, it was announced that Heidt was one of the 12 WHL players invited to the 2022 Hlinka Gretzky Cup. He helped lead Canada to the gold medal. When asked about his best hockey memory to date, Heidt went with that one. "I'll probably just go with the most recent, which was obviously pretty special: winning the gold medal at the Hlinka [Gretzky Cup]. That was the quickest to pop in my head; there were probably a lot growing up that were pretty special."
Regarding NHL idols growing up, Heidt was quick with his answer. "Growing up I was always a huge Crosby fan. If you look at my room, it's crazy, I've got Crosby stuff all over. Him for sure. And just recently I started watching Kucherov a lot on Tampa Bay. He's got a similar [play] that I do and I just try to watch that and get better."
Get to Know Riley Heidt
What does your game day routine look like?
Riley Heidt: We'll be here for probably an hour if I talked to you about my whole [game day routine]. (laughs) I'm pretty superstitious when it comes to that. I just do little weird things in the day, stuff I've done for the past six, seven years! They'll probably never change. If I'm hot or scoring goals I'll change it up maybe, or if our team's winning I'll do something I normally didn't do, stuff like that. I'm kind of a typical hockey guy. I think there's a lot of superstitious guys, but I'm a little over the top.
What's an average game day for you?
RH: Usually an early breakfast around nine o'clock, maybe head to the rink for a pre-game skate between 10 and 11 o'clock. Eat some food, lay down for a nap, head to the rink around four for a seven o'clock game.
Does that mean you're a pre-game nap guy?
RH: That's kinda a weird thing— if I'm tired I'll nap, if I'm not I won't. It's usually a hit-or-miss thing for me.
How about pre-game coffee?
RH: I used to [like coffee]. I'm into coconut water now. It's weird but that's what's been giving me energy.
Who on your team would you least want to play against?
RH: Probably my roommate Sammy, Ethan Samson. I don't like going one-on-ones with him in practice too much. He's got a pretty good stick and he's a big boy, so. I know he'd never hit me but I think in a game he would. And obviously our goalies, it's fun competing against those guys every day.
Who's an underrated teammate Cougars fans should keep an eye on this year?
RH: I think there's a lot of guys on our team who don't get a lot of credit, and they all should. Probably Fischer O'Brien. He doesn't necessarily put up all the points but he plays such an important role on the penalty kill and stuff like that. He's always blocking— blocks fifteen shots a game so I think him doing that is obviously a massive part of us winning. He's an underrated guy for sure.
Who has the best locker room music?
RH: I'd have to say… Ryker Singer.
What does he play?
RH: He plays more of like… pop. He's not the main aux guy but he's got more of a pop, faster pop kind of genre… I don't even know what kind of genre that would be. Like, more of pumped up music but not total rap.
Who has the worst music?
RH: I don't know, that's a tough one! I'm just not a huge fan of rap, so probably [Keaton] Dowhaniuk, he likes rap music."
What does a perfect off day look like for you?
RH: It's pretty… I don't know. I don't really like to take many days off, but maybe one once a week or something like that. I think it's usually just plans to hang out with the guys or just hang out at home, hang with my billet family. Getting to sleep in once a week is nice.
What nicknames do you have on the team?
RH: I got lots! I'm a nickname guy around here. I got Heidter, Two-Sev—my number's 27 so everyone calls me Two-Sever. I don't know, I've got a bunch.
Which one's your favorite?
RH: Two-Seven. It's funny.
Did you have any other ones growing up?
RH: My mom's always called me RJ, since my middle name starts with a J.
If you weren't playing hockey, which profession would you pursue?
RH: There's a lot of interesting things I'd like to do but I think… it's a weird one but maybe a pro-fisherman. I like to fish in the summer and stuff with my family. Or maybe a golfer, a pro-golfer, I love golfing too. I think it'd be pretty cool to be a pro-golfer.
What's your favorite away rink to play in?
RH: I'd say probably Spokane. Our last game there we had 8,500 fans which was crazy, so that's a pretty good one. Seattle's always a blast too.
If you were in a zombie apocalypse and you had to pick three teammates to fight with, who would you pick?
RH: Wow, that is tough. (laughs) I'd probably have to take… Koehn Ziemmer, he's a hunter, he likes to hunt in Alberta, so he'd be pretty good. Then I'd take, um… probably Fischer O'Brien, he's good at video games so maybe him, he'd bring that in there. And then [Cole] Dubinsky, he's a new add-on to our team but he's a hunter too, so maybe him too.
On the flipside of that, who would get you killed the fastest?
RH: Oof. I'd have to go Viliam Kmec. (laughs) Yeah, for sure. I think he wouldn't be able to— (laughs) maybe he wouldn't react quick enough. (laughs) I wouldn't want to be near him if he's got a gun.
Who's the loudest guy on the bus on road trips?
RH: Oh, [Chase] Wheatcroft, for sure. By a mile. He's always yelling memes from the back, funny jokes. He's a funny guy.
For Prince George Cougars Fans
RH: We love the support, I think our team hugely thrives off the fans, and when more come we play better. It's always a better feel having a big home crowd in PG. I think it's pretty special when we get a big crowd there, we all enjoy it. So come out! Thank you for the support and hopefully you guys all come to all the games you can!