(Photo: Keith Dwiggins/Portland Winterhawks)
*This was originally posted February 11, 2022*
232 minutes and 19 seconds. It has been 232 minutes and 19 seconds of play since a goal was last scored on Taylor Gauthier's net. He has appeared in only nine games with the Portland Winterhawks and has allowed only one goal or claimed a shutout in six of them.
The Portland Winterhawks have had an incredible slew of talent man the crease throughout the organization's 46 seasons including more recent netminders such as Mac Carruth, Brendan Burke, Adin Hill, and Joel Hofer. With both Hill and Hofer still with NHL contracts, they join the likes of Mike Vernon, Byron Dafoe, and Clint Malarchuk as netminders to have moved from the Winterhawks organization to the NHL. While Gauthier has yet to be picked up by an NHL team, his recent play may have turned some heads.
Setting a franchise record and getting a third shutout in a row is a big night for any goaltender, but how was Gauthier feeling after the game?
"Oh, I'm pretty good."
A very relaxed response from a goaltender who broke a record set by Brendan Burke in 2014, but don't let that fool you. Portland's newest goaltender was enthusiastic about his latest accomplishment.
"It's obviously something pretty exciting. You look at the history of the goalies that have been into this organization and how many of them have moved on to have really successful pro careers and to be a part of history here with that storied of a franchise? It's pretty special and it's a huge honor. I'm happy that I got it tonight, but you know, once it was over, it was just time to get back to work and worry about stopping the next shot."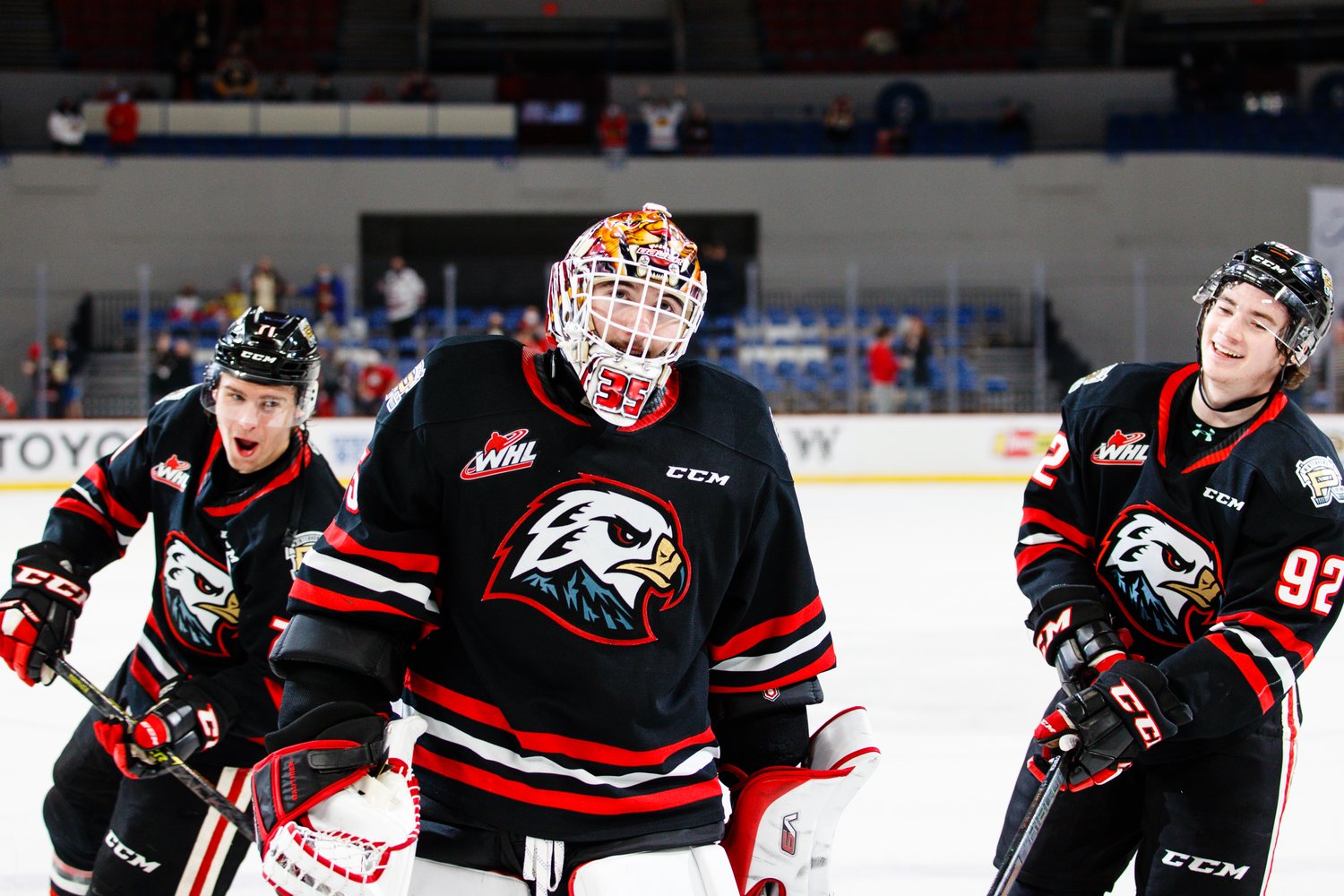 Heading into the game, Gauthier knew what was on the line. While you often hear from players that they just want to go in and play their game, Gauthier wanted to do even better.
"Honestly, [the mindset] was to get through the first two and a half minutes. I had that kind of ingrained in my head. Just really dial it in and then we can go from there," Gauthier said about how he headed into the game.
Gauthier does credit the team in front of him for much of his recent success.
"I think the boys did a really good job of keeping pucks out of our end and whenever [Spokane] got shots, they boxed out the other team really well all through the night. They made my night real easy, over the last four games now, if you date back to the Prince George game. It's fun to play with this team. They really do everything, everything they can to help one another out. You know, it's a real brotherhood in this locker room. It's just as much their record as it is mine."
Talk About a Team Effort…
8-0
6-0
9-0
Those are the scores of Gauthier's three most recent starts.
"I haven't been on that side of it too often, but it's nice whenever you score nine goals."
Well, it's starting to look like he may be on that side of it fairly often moving forward.
When it comes to the Portland Winterhawks, you often hear the phrase "scoring by committee," but with good reason. The Winterhawks see their entire roster getting in on the scoring from game to game. For instance, in the 9-0 win over the Spokane Chiefs, 13 different Winterhawks found their name on the scoresheet. The game before? Also 13. In fact, the Winterhawks have not had fewer than eight guys collect points in each of their last eight outings.
"You don't really go into a game expecting to score as much as we have lately. I think there's just so much confidence right to the group right now," Gauthier noted. "Right from the first line all the way down. Everyone's contributing. Everyone's having fun. Everything's coming together here."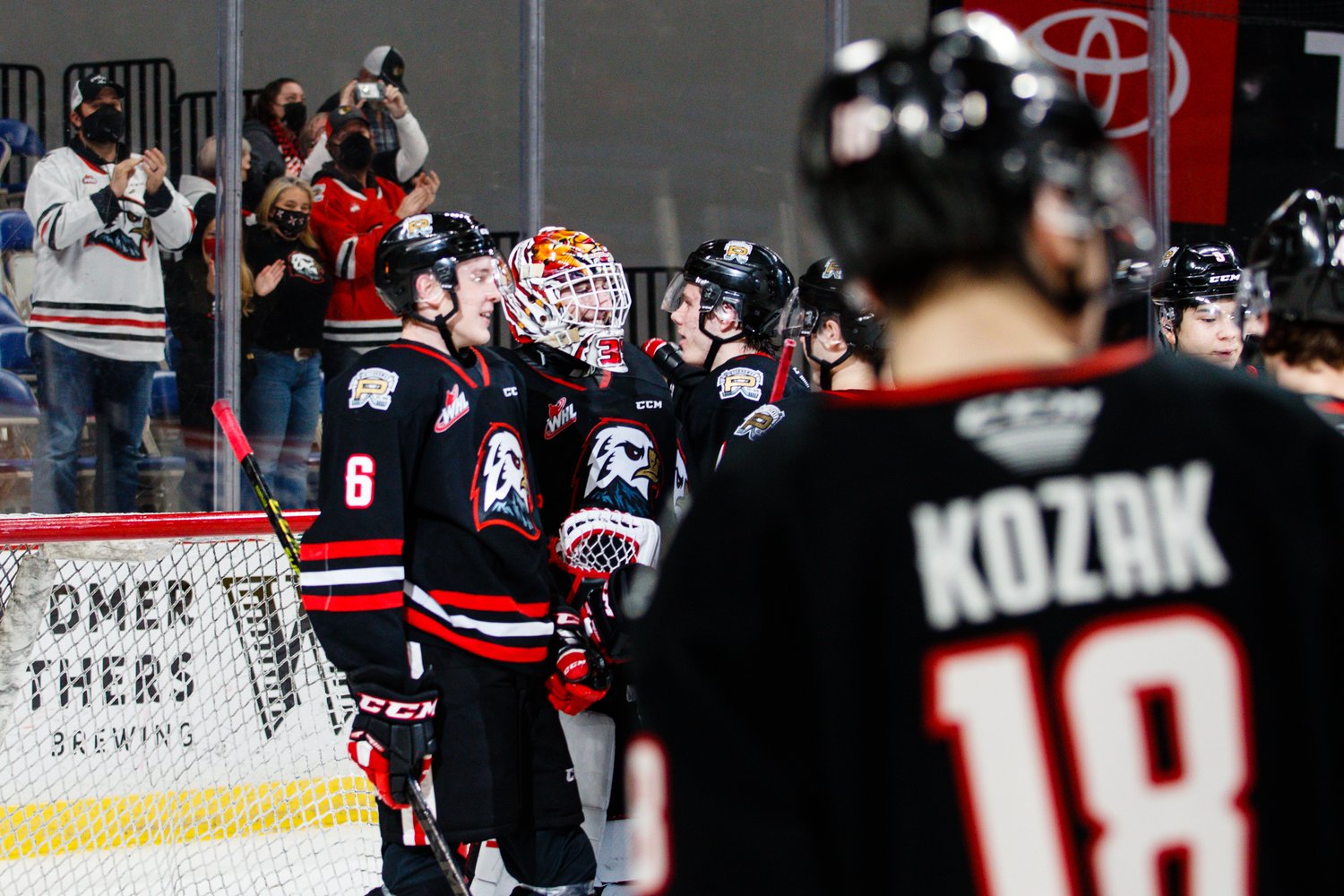 Throughout their 10-game win streak, the Portland Winterhawks have not scored fewer than four goals in a game. In fact, throughout the stretch, they have outscored opponents 60-19.
The Winterhawks have three games left of this five-game series against the Chiefs, all on the road, but Gauthier is not worried about the team's chances.
"I think it's hard not to be going into Spokane this weekend feeling confident in the group. The way that we've been playing since I've been here, and even before, I think that we go in every game and we expect to win and we do everything we can to win no matter what I think going in there, that's the huge three games. It gives us an opportunity to get lots of points heading down the stretch here. I think we'll be focused and hopefully we come out and give the same performance we did tonight for the next three games against them."
Does Gauthier Plan to Ever Allow Another Goal?
He laughed a bit at this, but the question needed to be asked. Obviously, the answer is no. Goaltenders never want to let in a goal, so the aim is to make sure it doesn't happen. However, sometimes, like this, fans can get a little bit of a glimpse into how the goaltenders think about things.
"Obviously, I think I'd like to keep the streak going all year, but it's pretty hard to keep every shot out, but I think I'm doing my best to get shutouts every game. I think that's the mentality that I've had is you know, try and let in no goals and have perfect games. So it's something that I hope for, but in reality, it's probably not going to happen."
It may be safe to say that he's doing a great job so far.
Get to Know Taylor Gauthier
You know we always have to ask the difficult questions here at the Area 51 Sports Network, and Taylor Gauthier didn't escape without a few.
Who would Goats want to play him in a movie?
"Oh, that's tough," he started. "I think I'd want a funny guy. Maybe John C. Reilly. I think I just like how funny he is. I like to think of myself as a guy with a good sense of humor so I think he would kind of portray my sense of humor well. I don't know how well he could skate though."
In the end, we agreed that's why there are stunt people. They could make up for lack of skating ability. Though, maybe they could simply use clips of Gauthier himself? Who else would line up to watch that movie?
His favorite thing about Portland?
Are you prepared for this? No, you aren't. Taylor Gauthier's favorite thing about Portland is Chipotle.
"Every time I used to come down here when I was playing in Prince George, I'd eat there like two times a day. So it's nice to have it at our disposal here. That's pretty much all I have every day after practice. It's something you can eat every day, and you don't really feel guilty about it. It's all pretty good food. So yeah, I like to take advantage of it."
His order?
"I like a bowl on white rice with some steak, medium salsa, and then some corn, cheese, and lettuce. Sometimes I double steak but it kind of hurts the bank account if I do that every day."
Maybe it's a goaltender thing (if you've read other player features, you know it isn't), but Gauthier's partner in net, Dante Giannuzzi, also enjoys some Chipotle.
"I usually get a bowl," says Giannuzzi about his order. "Chicken bowl with brown rice, throw some cheese and lettuce on there and then I'm a dipper. I like getting the chips in there and scooping with the chips. Can't go wrong with that."
(I Just had to throw that here in case you want to order like the best goalie tandem in the league as decided by me.)
Building a perfect sandwich
On another note, when building his favorite sandwich, Gauthier sticks to the basics.
"I'm big on just like the classics. It would be ham, cheese, lettuce, maybe some bacon. I'm not a big condiment guy. I like my sandwiches a little dry, so I think that would be what I would go with if I had to make my dream sandwich.
Music
He hasn't been with the team for a long time, but it's been enough to have an opinion on the locker room music.
"I don't know how long our streak is exactly. I think it's like nine or ten games and Clay [Hanus] has been playing 80s rock and it's been working well for us. So I think he should definitely keep it up."
80s rock promotes winning. Yeah, that sounds about right.
As for who should not be playing music, Gauthier has a bit of a different take from most of his teammates.
"It's kind of tough because I have a strong opinion on [music]. I like country music and rock, and that's about it. So I think [Jaydon] Dureau. He's big into the rap stuff, and I'm just not a big fan of it, so I would say he shouldn't play music, but that's just my opinion on it.
To the Fans
"Honestly, it's been really fun being here. The support from the fans that continue to come, I know I see a few of the same faces every night. It's good to have them out here cheering us on and I hope that more people come out as we get near playoffs here and get the get the rink really loud. It's definitely an atmosphere that's really fun to play in when the rink is bumping like we do, especially in all the games against Seattle."
Listen to Taylor Gauthier, folks. Head out to support your WHL team.
The Winterhawks return home for a Battle with Seattle game at the VMC on February 19. Puck drop is scheduled for 6 pm PST