Around this time last year, Robbie Fromm-Delorme was training in British Columbia with the Ludvigs– former teammate, and now Florida Panthers prospect John Ludvig and his father, and former NHLer, Jan Ludvig. It was there that Fromm-Delorme took the clippers to his usually-wavy hair and completely shaved it.
"I really do not want to do that again," Fromm-Delorme laughed.
Fromm-Delorme is entering his age-20 season, his last in a WHL career that he's spent exclusively with the Portland Winterhawks. He cracked the Winterhawks' roster in the 2018-19 season after playing for The Governor's Academy, a preparatory high school in Massachusetts, and has been a mainstay in the Winterhawk lineup ever since.
Though injuries cut his 2021-22 season short, the product of New Westminster, BC, still finished with 34 points (15 goals, 19 assists) in 34 games.
"Obviously, you can't be there for them on the ice," Fromm-Delorme said about his injury, "so as long as you can be there for them on the ice, that's the only mentality that I had."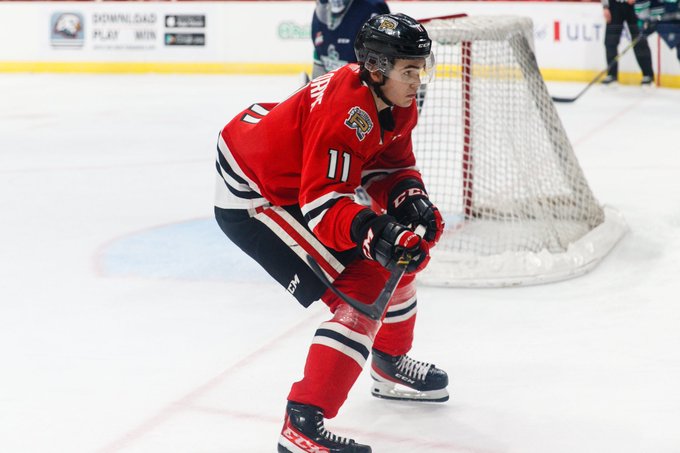 The Portland Winterhawks went into the WHL Playoffs finishing second in the U.S. Division and third in the Western Conference. They were matched up with the Prince George Cougars in the first round. Thanks to a strong Game 2 from Fromm-Delorme, where he was named the first star with two assists, the Winterhawks swept the Cougars and awaited their second-round opponents, who just so happened to be their bitter rivals, the Seattle Thunderbirds.
And so, another chapter in the rivalry was written.
The Winterhawks started the series hot, jumping out to a 3-1 series lead, but as that Seattle Thunderbirds team had shown all season, they were not going to go down that easy. There wasn't a better example of the Thunderbirds' "never say die" attitude than that series, as they scratched and clawed their way back out of a 3-1 series hole to shock the Winterhawks, eliminating them on home-ice.
It was shell-shocking, to be sure, but there's no other option than to move forward, and Fromm-Delorme plans on doing just that.
Fromm-Delorme was NHL draft-eligible last year but went undrafted. With that route to the NHL no longer an option, Fromm-Delorme now waits for an NHL team to offer him an entry-level deal, much like teammates Taylor Gauthier with the Pittsburgh Penguins and Jaydon Dureau with the Tampa Bay Lightning. Though Fromm-Delorme has yet to receive that offer, he knows he can't let that affect his mindset.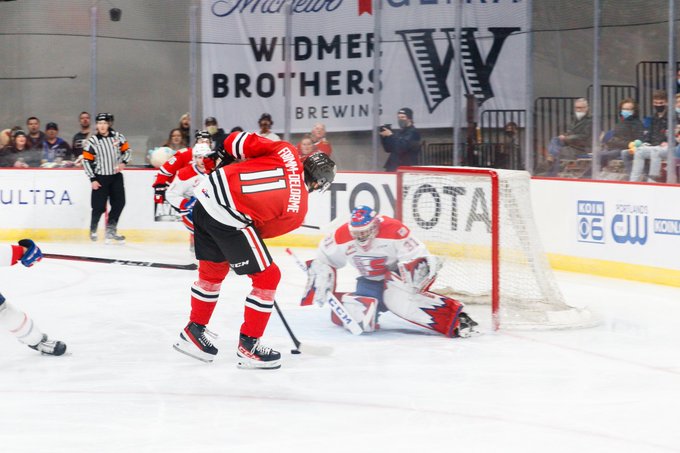 "Obviously, it's in my mind," Fromm-Delorme said, "but being someone who the team can rely on and being that player, I think that's what's going to help me out."
Speaking further on the upcoming 2022-23 season, Fromm-Delorme has two areas in mind where he can improve: improving his shooting percentage and working on his skating, the latter of which Mitchell Brown of Elite Prospects called "average" in a draft report from the 2019-20 season.
"I have different goals for my stride this summer. There's things I can work on and focus on making me become a better, more efficient skater, so I think if I could just focus on those two things this summer, then it's going to be a good summer."
Heading into his final season in Portland, Fromm-Delorme may well be saving his best for last as the Winterhawks remain a perennial contender for the Ed Chynoweth Cup.
Get to Know Robbie Fromm-Delorme
Do you prefer playing at Moda Center or the Veterans Memorial Coliseum?
Robbie Fromm-Delorme (RFD): I think from an aesthetic standpoint, I would choose the Moda Center, because it's the Trail Blazers' arena, and that's an awesome place to play, but from a playing standpoint, I think the VMC. At the Moda Center, they put in the ice the day of or the day before the game, and it's always really hot in there. Playing in the Moda Center is really cool, but I think playing in the VMC has always been our staple, and I really enjoy playing there.
If you were to be stranded on an island with two of your teammates, past and present, who would they be and why?
RFD: One would have to be John Ludvig from my 17-year-old year, just because he lives in the middle of nowhere and he's got great survival instincts… I would say Cross [Hanas], but he complains too much, so I don't know if I could take him. I might have to go with Jaydon Dureau. I think Jaydon would be a good person to be stranded with; I think those two guys would help me get through it.
Who on the team would you not give the aux cord to under any circumstances?
RFD: Taylor Gauthier, 110%. Never, ever, 100%. Definitely him.
What was your favorite moment from this last season?
RFD: I think when we won the first three games in Seattle in the playoffs, I think those were my favorite moments as a team. I've never seen any of the guys be like that, we were obviously super happy, and there was just a lot of passion involved. From a personal level, I'd say scoring the teddy bear toss goal. That was a lot of fun to be a part of something like that; I was really honored. But I think from a team standpoint, that's what matters, and winning those games in the second was really, really enjoyable for me.