(Photo: Keith Dwiggins/Portland Winterhawks)
*This was originally posted May 3, 2022*
Portland Winterhawks defenseman Marek Alscher was destined to end up in the sports world, and his time and effort have brought him from Czechia to Oregon, though with a slight detour in between.
While Alscher grew up in a family of basketball players, he instead ended up pursuing hockey with his time. However, the first sport he tried was soccer. For all of one practice.
"When I was little, five or four [years old], my parents just wanted me to do some sports because I was too fat. First, I tried soccer, in Europe it's a big thing. The first practice, we were just running around without the ball or anything. I told my parents I'm never going to practice again."
After that terrible first encounter with sports, he tried hockey.
"Since day one, it was the thing I wanted to do."
Just ten years later, a 15-year-old Alscher was moving from Czechia to Lahti, Finland on his own to play for the Pelicans U16 team, a Junior C club.
"It was a big experience," said Alscher about the move. "I know that my parents were scared." While he said their concerns were about things such as how he was going to wash his clothes, he mentioned, "Overall, they were just kind of scared because we were at the apartment, just me and my friend, and no one else."
He admitted that over the first couple of months, the apartment was messy. He and his friend had to set some rules about cleaning both every day and tasks once a week. Specifically for taking out the trash bags.
"You don't have those habits as my mom had, or probably every mom or dad, with those cleaning days. It takes a while, at least one or two months, but I think the experience was huge."
There was, however, one thing his parents didn't have to worry about.
"Actually, they were not afraid of how I [was] going to cook because, since I was probably 12, I started to do my own meals. I like to cook my own food."
His favorite thing to cook is pasta, with one dish, in particular, standing out as his favorite.
"One of my best friends from Finland was actually Italian, so he taught me how to make some good pasta. Spaghetti carbonara with the eggs and bacon. That's my favorite."
Making another move, this time across the Atlantic, Alscher joined the Winterhawks roster last fall and hasn't looked back. While he impressed during the first half of the season, he seemed to find another level to his game in the back half.
"I just think at the start of the season, I was still getting used to the small ice rink and a different style of hockey," noted Alscher about his transition to the North American style of hockey. "At the start, I had to play really simple, but then I started to add a little bit of my stuff."
The 18-year-old credited Winterhawks associate coach Don Hay with helping to develop his game.
"I know at the start of the season, we were going through almost every game, just going through my shifts. What have I done Right? What have I done wrong? I think he helped me a lot and then I just got used to the speed."
As for strengths in his game, Alscher noted that he believes two things stand out the most: his physicality and the simplicity of his game.
Specifically, among the powerhouse Winterhawks roster, Alscher recognized:
"We have different players to do some magic moves or something really complicated," he laughed a bit as he said that. "I'm there to just make simple plays. Maybe once in a while do something but mostly make a simple place and be the defenseman that you can really rely on."
When asked if he would say that he's more of a defensive defenseman than a defenseman that is concerned with the offense, he said: "Yeah. I think that's accurate."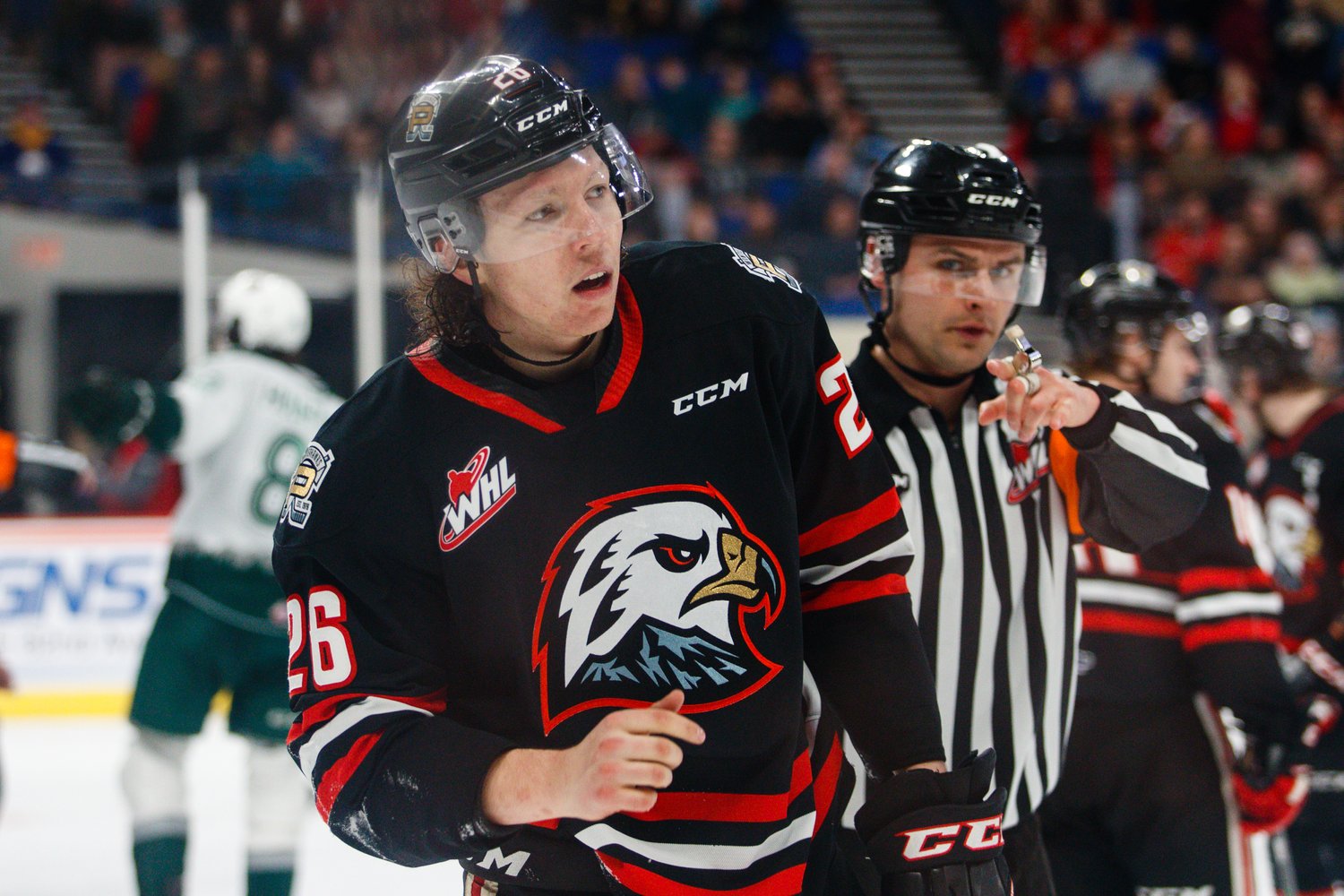 In terms of making the jump to playing in North America, Alscher thinks the biggest change he's had to adapt to has been the level of the other players around him. Overall, he says he is now just playing against better players.
"I just feel like here, [in the] US or Canada, you can choose from so many players. So you have the WHL teams, they are like the best of the best. In Europe, sometimes you don't have [as many] players to choose from, but here, you are choosing from 200 players almost, so it's really like only the best ones can play here."
However, even before coming to the WHL, Alscher knew that was the case, and it's a point of pride for him now, knowing that he is one of those players selected to be in this league.
"I felt really proud of myself that I made it," he said of the accomplishment. "The Canadian Hockey League, I knew about it since I was ten. I always watched those games and I was jealous that they had so many fans. I was like, it's already big hockey. It's almost like a mini NHL. When Portland drafted me and I made the team, and then I started to play with Clay Hanus almost every game, like a first [pairing], I think that is a really big thing for me."
Speaking of those mini-NHL-style crowds, he gets to play in front of them in every game now, and he says it is an incredible experience.
"Those games when we play at home, it's awesome. It's always like those fans are giving you [energy] and you are playing even better with all those fans cheering for you. Of course, the best ones are against Seattle. I think everyone is pumped up, including us. The fans are amazing so far."
We now know that Alscher and the Winterhawks will face the Seattle Thunderbirds in the second round of the 2022 WHL Playoffs, so the atmosphere in both the VMC and accesso ShoWare Center are going to be hitting their peaks. However, to reach the second round, the Winterhawks first swept the Prince George Cougars.
"Everyone was just so happy after all those years without playoffs," Alscher commented about the mood in the room after the team completed the sweep. "A lot of guys didn't have playoff experience. Maybe some from midget hockey but not really in a big league like the WHL. Everyone was just so happy and we were celebrating for the first day. Maybe a little bit of the second day, but then we just kind of had to realize now it's time to go back to work and prepare for a second round. Of course, the first mood in the locker room was just a big relief that we made it, and then the second mood was like yeah, now we gotta prepare. We gotta do it again."
The Winterhawks are no strangers to needing to work for their wins this season. However, one of the periods where they had to work the most turned out to be one of his favorite memories from the season (so far).
"It was probably the games after Christmas when we had a lot of guys [who were sick], so we had to play like 14 guys, and mostly it was the young guys. So we had to stand out for ourselves, and I think we had amazing games."
Just because it was a younger group, it didn't mean they were any more nervous to get out there and perform for each other and for the team. According to Alscher, every one of the guys wanted the opportunity to prove themselves.
"You could see how everyone from the team just wants to prove to the coach like hey, even though our best players are out we can replace them. We're really good too. That was probably the best memory for myself. You could see, on the bench, the team spirit. It was awesome. So that's probably my favorite memories."
With Aidan Litke, Jaydon Dureau, and Clay Hanus all not finishing the series against Prince George, the Winterhawks may find themselves relying on their depth yet again in the upcoming series against Seattle. A fully healthy Winterhawks roster is a force to be reckoned with, but so is one that is slightly banged up. One thing is for sure, everybody is in for a high-energy series in the second round.
GET TO KNOW MAREK ALSCHER
If he could be elite in any other sport, it would be:
It may seem fairly obvious, but…
"Basketball for sure. My family's kind of basketball-focused. My dad was playing basketball. He's still playing [as a] hobby. My sister used to play semi-pro, but then she quit because of school, and my mom was also playing basketball when she was young. I also used to play semi-pro basketball, but I had quit, of course, because of hockey, but always, in the summer, I play basketball."
While he says he misses playing basketball during the season, he enjoys it a little extra in the summer. The 6'3 Alscher also mentioned that his dad built a basketball court in front of their home, and he spends three to four hours on it during his summers back home
What does his perfect day off from hockey look like?
"I would probably call my friends from Czech and maybe play some video games, or just do something that we could do mostly online. I know previously we played Monopoly online or some kind of stuff. So yeah, contact all my friends, maybe some friends from Finland. Mostly that, and then I would go for tennis. We didn't go yet, but I'm always telling the guys that we should because I like tennis a lot in the summer also."
Why haven't the guys gone to the tennis courts yet?
"Mostly we are so tired, everyone is just doing something on their own. [Sometimes] someone goes golfing because golf is not that tough, but not everyone wants to go tennis."
Alscher's game day routine:
"Get up at 8/8:30 Go for a pregame practice. Then have a pregame lunch that's pasta with beef and tomato sauce always, every day, when we play home of course. And then take a nap for 30 or 40 minutes, and just prepare for the game. I also, after I take a nap, if I have time, I kind of like to play some quick video games. I know it sounds like I've gotta be focused but, actually before the game, I'm trying to get out of hockey for a while. Don't think about it too much, and then when I get in the locker room, then it's 100% focus."
Is Alscher team pre-game coffee?
"Yeah pregame coffee, sometimes double espresso."
Perfect sandwich build:
"I'd say cheddar, turkey, ham, tomatoes."
This would be on a French baguette
Has he been teaching any of the guys some Czech?
"Actually, some of the players know some Czech, like [James] Stefan, for sure from his dad. Robbie Fromm-Delorme, his grandparents are Czech actually I was talking with them in Vancouver. So yeah, they know some Czech but they're not really interested in speaking Czech."
Speaking of family making it out to games, Alscher's own family was in Portland not too long ago.
What was the first place he had to take them?
"Oh, it actually sounds pretty simple, but we went to Geraldi's [Italian Subs]. It's close to my billet house. It's a sandwich place, like Italian sandwiches. It's the best sandwich I've ever had. So that's actually the first thing I told them, that we have to go there because those sandwiches are awesome. I love them."
FOR THE FANS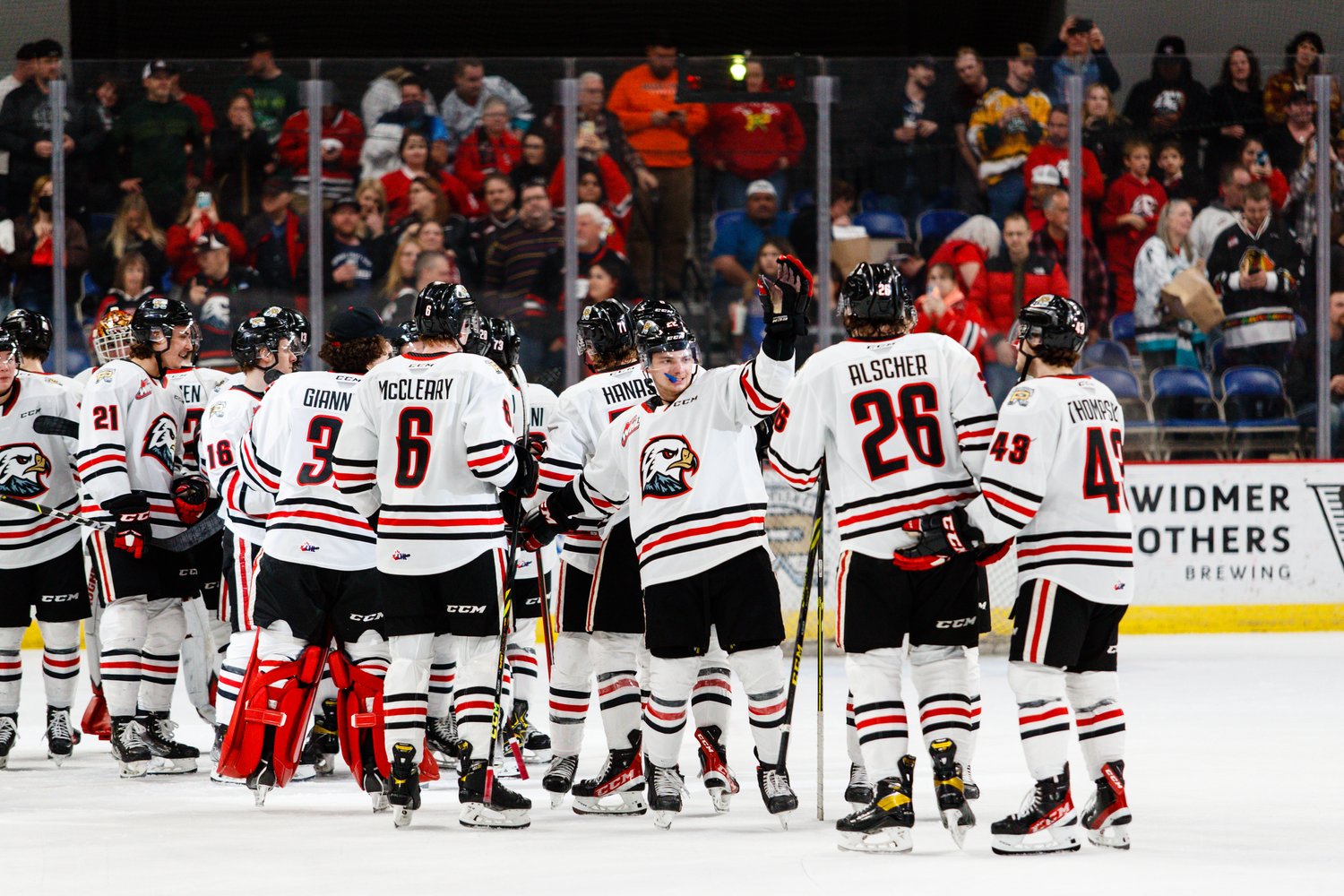 "Just thanks for the amazing season so far. Of course it continues, but I think fans are just giving us huge support and I have really good feedback from them. It's just awesome here. They've been awesome so far."