For the 46th year, the Men's World Juniors is on in Edmonton and Red Deer.
It's become a time where we have gotten to see some of the top Juniors un a world. It's an opportunity for stars like Shane Wright and Connor Bedard to get some exposure in a major tournament. It's a time where those that have a real, legitimate, chance to make a next step in their professional hockey career.
However, while we are all eating our favourite snacks and drinking our favourite beverage. I hope to put in the back of our mind, that some other young hockey players who have worked equally as hard will not have the same opportunity to take that next step.
For the second straight year, the IIIHF have cancelled the U18 women's world hockey championship. The reason given is in this statement is weird. While it appears to be a health and safety concern, they have found a way to pull off the men's world juniors. No fans or half capacity. Yet, the women's tournament is under "health and safety" concerns.
Now there is probably a really good chance this tournament has not been on your radar. More on this in a but. But like a lot of younger athletic competitions and tournaments, the IIHFU 18 women's tournament has been a quiet loss of the pandemic. Many young athletes in all sports have not been able some of their final years in their leagues due to age. And while you may want to give everyone involved in the World Juniors kudos for pulling this off, hold your applause for a moment.
Many, and I'll add myself have called for this tournament to happen. It's unfair to all involved, players coaches, and others that it is not. But the IIHF continues to be unreasonable. Chris Peters suggested that they move it from Sweden. No go.
The girls have worked hard for a simple opportunity to play this game at a high level. And as hockey, we should be angry this isn't happening. I can tell you from calling U15, U17 and U18, there is some really good women's hockey being played. There are also a lot of people standing in and growing this part of hockey.
Now, all involved can use Covid/Omnicron/Pandemic as their excuse for not holding this tournament. But we all know why this isn't happening. Ratings and money. Which brings us back to what's on our radar.
We can agree that the World Juniors is a ratings hit for the broadcasters. Not just Canada and the USA. But other countries too. It is a popular event. Unfortunately, the U18 women's hockey has not. And while we are taking baby steps to improve the popularity of watching women's hockey overall, it's not even close to where it needs to be. And it's hurting hockey.
We in Canada keep assuring everyone that we are a hockey country. Yet, if it is not NHL, well it struggles. Yes the men's World Juniors tournament. But what about the regular CHL season?
Even the Memorial Cup? Not so much Usports? Far too many empty seats. Women's hockey?
Unless it's the Olympics, no.
It's hurting hockey.
When you see the success soccer and tennis and how stars like Bianca Andreascu, Leylah Fernandez, and Stephanie Labbe have starred, it is frustrating to see this not happen to young female hockey players. Many are playing at a high level. For example, many are talking about Jarome Iginal's son Tij was drafted by the Seattle Thunderbirds. Did you know his daughter Jade was on the U18 women's roster? Coquitlam's Jordan Baxter, Hailey McLeod, Tova Henderson are starring at Delta's Hockey Academy. The same group that has developed NHL stars like Brendan Gallagher and Ty Smith.
The effort of developing women's hockey is there. But we need to support it. And it needs time, money and investment. Cassie Campbell-Pascal said it best.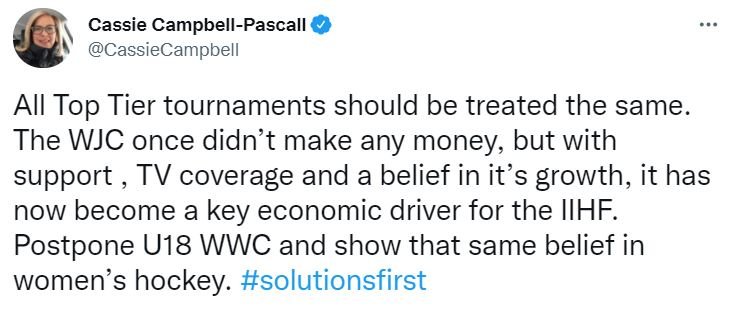 The game of hockey will not grow unless we seriously take the time to invest, support, coverage, and our eyes.
So while you are enjoying your favourite snack and drink on your couch watching what these prospects could do with your team, take a moment to remember some of well deserving stars are not getting the same opportunity.
And it's hurting hockey.