Obviously, I'm going to start my NHL Draft thoughts with Kevin Korchinski. This is my biased draft thoughts and I desperately wanted Korchinski to come to San Jose. Of course, the Chicago Blackhawks had to trade up and take the Seattle Thunderbirds defenseman seventh overall, which is outstanding for him. Going in the top ten is an incredible moment and I couldn't be happier for him about it.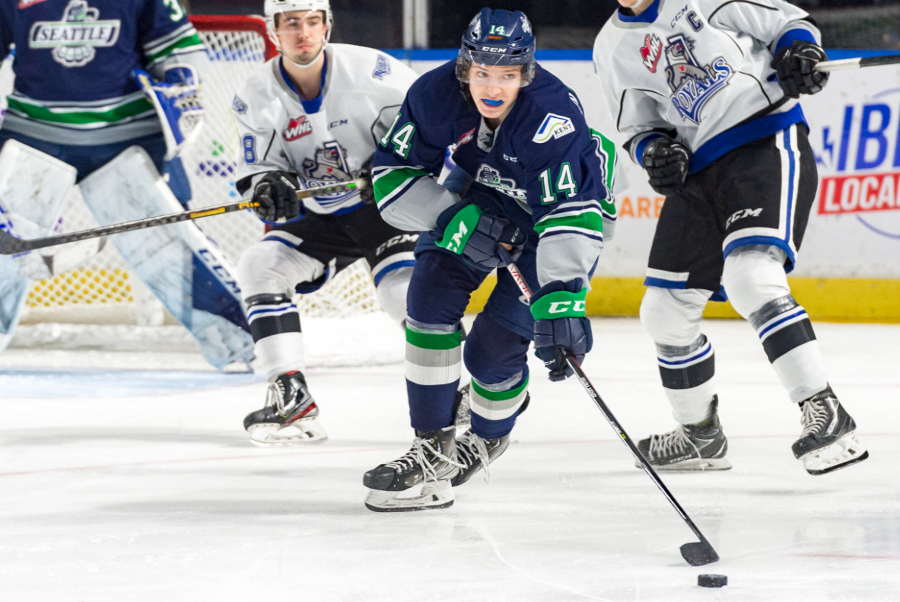 However, it meant he would not come to San Jose as the 11th overall pick and that, I didn't like so much. It seems that the San Jose Sharks also didn't like that and they traded the 11th overall selection and moved down to the 27th spot, picking up the 34th and 45th picks via a trade with the Arizona Coyotes.
San Jose did not have any selections in the second round previously, having traded their own pick to Arizona in last year's deal that brought former Winterhawks goaltender Adin Hill to San Jose. Anyway, all of this is a long way to just say that I'm upset that Kevin Korchisnki isn't a Shark right now.
The Rest of Day One of the NHL Draft
Backing up a bit, Shane Wright falling to fourth overall? WHAT? The Seattle Kraken are going to absolutely have a field day with Wright and, as I said a few times on Twitter, I can't wait for the Shane Wright revenge tour. Did you catch the glare he gave the Habs? I'm living for it and can't wait to see more.
David Jiříček (a Spokane Chiefs import selection!) went in the eighth slot to the Columbus Blue Jackets and I love this pick. I think this is a nice fit, and the Blue Jackets are going to be very happy with this pick.
The Winnipeg ICE's Matthew Savoie (9, Buffalo Sabres) and Conor Geekie (10, Arizona Coyotes) both went, as expected, in the first round and I'm very happy for them. However, I felt they went a touch early? Let me know if you disagree, I just was expecting them to both go about ten spots later.
Denton Mateychuk, a Moose Jaw Warriors defenseman went 12th overall to the Blue Jackets and I'm jealous. If I couldn't get Korchinski out here in San Jose, I wanted Mateychuk. I also don't know if I would have had him this high, personally, but I love this spot for him.
I love Jonathan Lekkerimäki going to the Canucks at 15. I was also really excited that the Vancouver Giants, who had selected him in the CHL's 2022 Import Draft were going to have a Canucks prospect on their roster. Unfortunately, Lekkerimäki has other plans. I still like the pick, but now I'm sad we won't see him in the WHL next season.
Honestly? Owen Pickering going to the Pittsburg Penguins 21st overall just feels right. I like this pick. I don't like that the Penguins now have Pickering (Swift Current Broncos), Ryan McCleary (Portland Winterhawks), and Lukas Svejkovsky (just finished his WHL career with the Seattle Thunderbirds). I really like all three of those guys and don't watch the Penguins that often. The Penguins also have Clay Hanus (Portland Winterhawks) signed to their AHL team for the upcoming season. (and yes, there's another one with them but shhhhh)
30th overall, Brad Lambert went to the Winnipeg jets and I LOVE THIS. Lambert's WHL rights were recently traded to the Seattle Thunderbirds by the Saskatoon Blades and his selection in the first round is exciting. Should he come to the WHL in the upcoming season, the Seattle Thunderbirds will be stocked, having a strong roster even without Lambert, his addition would make them a complete force in the league.
Speaking of that stocked Seattle roster, Thunderbirds forward Reid Schaefer went 32nd overall to the Edmonton Oilers and the smile on his face made me okay with the fact that he went to the Oilers.
He was another guy that I wanted the Sharks to bring out to the Bay Area, but you know what? Going in the first round is a major accomplishment and man, how can you not be stoked for any of these guys?
Anyway, check back after day two for more of my completely biased draft thoughts.
P.S. Somebody pick Dante Giannuzzi. Thanks.