(Photo: Joshua Griffith)
*This was originally posted on May 1, 2022*
The Nanaimo Clippers shut out the Langley Rivermen 3-0 to take a 2-0 series lead in round three of the BCHL Playoffs. Saturday night at a packed Frank Crane Arena saw the home side jump out to an early 1-0 lead and never look back. Cooper Black made 26 saves for his third straight shutout in the BCHL Playoffs.
Head coach Colin Birkas spoke highly of the team's play, "We had a game plan and we executed it, and it kind of went exactly how we had hoped and very happy with the effort."
Clippers Jump Out To An Early 1st Period Lead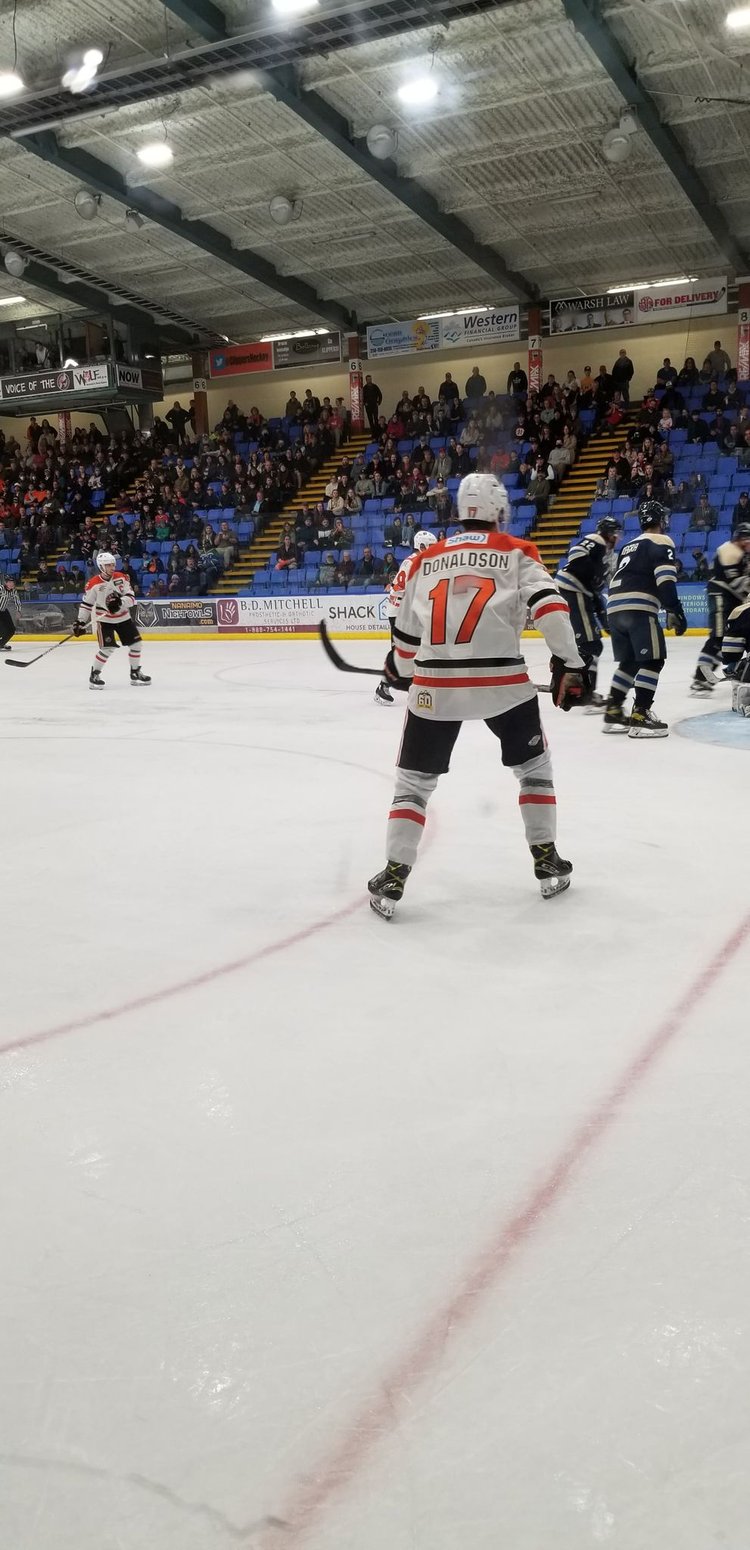 The Clippers started where they left off Friday night as they jumped out to an early 1-0 lead against the Langley Rivermen. Jake Hewitt scored his 3rd goal of the playoffs 4:55 into the 1st period. A quick start by Nanaimo and they were able to open the scoring once again with the assist to Kai Daniells. Nanaimo brought the pressure and would outshoot the Rivermen 14-9 in the first period.
The only powerplay of the period would go to Langley after a tripping penalty on Brody Waters. Langley was unable to beat Cooper Black who stopped all 9 shots he faced in the 1st period. The only other penalties in the 1st period would go to Keeton Oakley and Sean Donaldson for unsportsmanlike conduct at the 11:32 mark of the period.
Nanaimo Extends Their Lead In The 2nd Period
Langley would jump out in the 2nd period with a barrage of shots on Cooper Black. Nanaimo was able to weather the storm before tilting the ice the other way. Some nice work from Sean Donaldson on the rush for the Clippers would lead to a great scoring chance but it was stopped by Ajeet Gundarah. Donaldson would keep after the rebound and fire it from an awkward angle past the Langley Goalie to give the Clippers the 2-0 lead at the 13:00 minute mark of the period. Keighan Gerrie and Tristan Fraser would get the assists on Donaldsons' 10th goal of the playoffs.
Nanaimo would get a golden opportunity to extend their lead after Jospeh Messina would take a tripping penalty. The Clippers would control the puck with the goalie pulled and Chase Sandhu would be called for charging. Nanaimo had a full 2-minute 5-on-3 advantage but Gundarah was able to make some nice saves.
Langley would kill off the penalties but their woes to the box would continue seconds before the end of the period. Garret Valk would be called for hooking and Nanaimo would start the 3rd period with 1:57 of Powerplay time up 2-0. The shots were 38-15 in favor of the Clippers after all of the powerplay time.
Cooper Black Took Over The 3rd Period
The 3rd period was all about goaltending and Cooper Black was at the forefront of that making 11 saves in the period. It was a fast-paced period and Langley would get the only man advantage. After a great chance to get on the board for the Rivermen, Nanaimo's Michael Craig was called for holding. Black made some great positional saves to keep Nanaimo up 2-0.
Langley would keep pressing and the Clippers were able to keep everything to the outside. With under 2 minutes to go in the game head coach Burt Henderson would pull his goalie for an extra attacker. Nanaimo was able to seal off the victory when Jake Hewitt would find the empty net for his second goal of the evening with 1:23 to go in the game. Nanaimo would hold on for their 10th straight victory and 3rd straight shutout by Cooper Black who was fittingly named 1st star of the game.
Head Coach Colin Birkas On The Game For The Nanaimo Clippers
I spoke with the head coach of the Nanaimo Clippers, Colin Birkas after the game about what he liked about his team's play, the stars coming up big when they need to, and the play of his goalie Cooper Black.
Coach Birkas on being 10 out of 16 wins away from the Fred Page Cup and the how excited he is about the run, "Getting there, getting there for sure. you know, you lose yourself for a few minutes after a game and you really want to enjoy it. You don't want to be too big or too cool to enjoy a win so we just got to be mature about it. enjoy it for an hour. or two and then from now till Tuesday, it's all about rest and recovery."
I asked him about his stars like Sean Donaldson showing up every night, "Yeah, well, this is a league where coaching makes a difference, but really it comes down to kids' desire to win if they really want to win, that's huge. And then you have to have good players like you're not gonna win a championship league this caliber if you don't have good players and good players producing and you know what if our goaltending and our star players weren't producing, we'd be done."
Cooper Black made 26 saves for his third straight shutout, I asked Coach Birkas about the play of his goalie, "You know, the team we like when we bend, he's kind of getting a feel for where the breakdowns are gonna occur. And he's able to make those saves because they're kind of routine to him. We haven't hung them out to dry on many breakaways or too many two on one so when you limit those, it makes life a little bit difficult. More difficult for them to score on them. The PK has been great guys are blocking shots and then anything that he sees he stops."
On the play of his team in the first two games against Langley and Cooper Blacks shut out once again, "Yeah, it's just it's we work on it all week. We talked about we do a lot of videos, we see where they like to shoot from where they like to be where they you know, the scoring goals in their first two series against Victoria and Alberni and you don't places that they're comfortable to score and we're trying to take those away but like I said, they've got some good players and they're still able to get some blocks and Cooper's been there to make big saves."
Area 51 Sports Network And The BCHL
The Nanaimo Clippers will look to go up 3-0 in the series as it shifts to Langley for game 3. Cooper Black will try and keep his amazing shutout streak going, it now sits at 231:46!

Game 3 will go from George Preston Arena Tuesday night as Langley tries to make this a series and hand Nanaimo their first loss of the postseason. Make sure to tune into the Area 51 Sports Network as we get closer to the BCHL Championship and handing out the Fred Page Cup! Make sure to follow me on Twitter @JoshuaGriffith0 for the latest news and updates about the BCHL Playoffs.