Throughout the season, Jaden Lipinski has been a bright spot for the Vancouver Giants. He is the only member of the team to play in all 60 games, and has on a tear recently potting seven of his 14 points in the last ten games. The Scottsdale, Arizona native has taken full advantage of the opportunities given to him late in the season and will be a key factor as the Giants look to lock up a playoff spot this coming weekend.
Adapting to a new league and country is difficult but as the season has progressed, Lipinski has become more comfortable playing in the WHL.
"It's been a grind. We didn't have the best start but I really enjoyed the process of growing as a player. It took a while for me to find my game personally but I really enjoyed the process."
Lipinski path to the WHL was very different than most as he was never drafted in the Bantam Draft. Instead, the Giants found him while watching now teammate in Vancouver Colton Langkow.
"My time in Arizona was really good. Not many people come from there in hockey but I take a lot of pride coming from Arizona. The Giants came down to watch (Langkow) play and I had a pretty good tournament while they were watching. We've always played together and they noticed me which lead to them listing me. During the bubble season, they offered me a contract that I couldn't refuse and I was ready to come play for them."
Moving from Arizona to British Columbia was a big change for Lipinski. Whether it was adapting to new weather, culture or even the amount of lanes on the highway compared to the Interstate.
"One thing I noticed is it rains a lot more here and that my wiper fluid doesn't have anti-freeze in it. As for community, it is entirely different. Here in Delta, it's a smaller community. There are other little things like the roads are smaller up here. It is a whole different lifestyle and it took me a little bit to get use to it, but the people here are so nice and they really helped me settle in."
With the playoffs starting in just under a month, Lipinski is excited but is focused on clinching a playoff spot before focusing on the postseason. The Giants can punch their ticket during a weekend set versus Spokane on April 2nd and 3rd.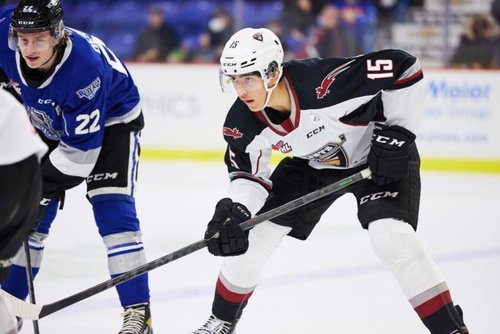 "Before we talk playoffs, we need to solidify out spot which I really believe this team will. Once the playoffs start, it's a whole different feeling. Being a first year guy, I don't know what that is yet but you listen to older guys in this league who have found success in the playoffs and it's a completely different feeling. Winning games in the playoffs comes down to coming together as a team. We will find our second gear and play for each other and find success that way.
This playoffs will be massive for Lipinski as he enters his draft eligible season. He has played well and has continued to improve all season which should bode well as he heads into the most important offseason of his career.
"It's similar to last summer but I just need to get stronger and fill out a bit more. I really think I need to improve my game as a whole by sharpening my strengths which I think are down low in the offensive zone. It's gonna be the same approach with the same intensity."
What really stands out about Lipinski is how much he loves playing for the Giants. This is a team that took a chance on him and he has repaid them with strong play while also improving Vancouver's center depth not just for this season, but the next few as well.
"Representing the Vancouver Giants away from the rink is the coolest thing. It's really an honour to be playing for this team and getting recognized away from the rink. Just knowing how much people care about this team is the coolest part. It truly has been an honour.
The Giants will hope Lipinski can continue his strong play during the final eight games of the season and into the postseason. He is a special kid who looks to be on the verge of becoming a bonafide top-six forward in the WHL. Vancouver's coaching staff should be applauded as they have found a diamond in the rough, or from the desert in this case.